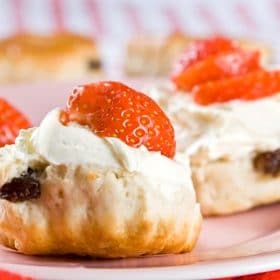 Print
How to Make Clotted Cream (Oven Method)
Clotted cream, also known as Devonshire cream, is a part of the traditional English "cream tea," during which the cream is served alongside scones, jam, and tea. You'll want to use the best heavy cream you can buy here, if it's available. Makes 2 cups.
Total Time
1
day
1
minute
4

cups

heavy cream

NOT ultra-pasteurized
Preheat your oven to 180°F (82°C). For many ovens, this is the lowest temperature.

Pour heavy cream into a shallow glass pan that allows for a lot of surface area. You want it roughly 2-inches deep. Place in the oven for 12 hours, which works best overnight. Do not stir!

After 12 hours has elapsed, carefully remove the pan from oven. Be very careful not to agitate the cream or it will start to mix back into the liquid layer underneath. Allow to cool. Cover the pan and refrigerate overnight.

With a slotted spoon, gently skim the thick layer of clotted cream from the surface, leaving the thin milk liquids behind. You can use the liquid much like you can reuse whey, in bread, soup, rice.

Gently stir the clotted cream to create a smooth, creamy texture. Store in the refrigerator for up to 5 days, in a tightly sealed container so that it doesn't pick up strange flavors. (I use a mason jar.) For best flavor, bring to room temperature before serving.
Calories:
821
kcal
|
Carbohydrates:
7
g
|
Protein:
5
g
|
Fat:
88
g
|
Saturated Fat:
55
g
|
Polyunsaturated Fat:
28
g
|
Cholesterol:
326
mg
|
Sodium:
89
mg