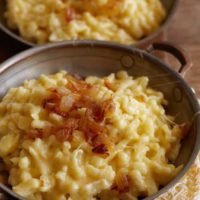 Print
Kasespatzle Recipe - Traditional German Macaroni and Cheese
Pronounced KAE-zeh-SHPET-zleh, this dish is a great example of simple German comfort food at its finest. While American renditions of this German dish may add any number of odd spices, such as nutmeg or mustard powder, a basic Kasespatzle consists only of soft, dumpling-like noodles mixed with melty, stretchy cheese and topped with a touch of caramelized onion. When made from scratch, Kasespatzle beckons to a simpler time when food didn't have to be complicated to be delicious. It just had to be fresh.
In a heavy-bottomed pan, heat the butter over medium heat. Add the onions and cook just until they begin to brown. Turn the heat to low and slowly caramelize the onions until they are soft, brown, and sweetly fragrant, stirring occasionally to prevent them from sticking to the pan. Add a tablespoon of water here and there if necessary to keep them from cooking too fast. When they are done, remove the onions to a bowl and set the pan aside. Do not wash it.

In a bowl, combine the eggs and 1/4 cup of the heavy cream, beating to mix. In another, smaller bowl, combine the flour, salt, and pepper, combining well. Slowly add the dry ingredients to the wet, stirring with a wooden spoon. Do not overmix: stop stirring as soon as the batter is smooth and the flour has disappeared into the cream and eggs. Cover the batter and let it rest for 20 minutes.

While the batter is resting, bring a large pot of water to boil. Once it's bubbling madly, add a few tablespoons of salt and bring it back up to a boil.

Set your spätzle maker over the pot and press the dough through the holes into the boiling water. (If using a flat cheese grater, just press the dough through the holes with your fingers or a wooden spoon.) You'll need to work in two or three batches depending on how big your pot is. Once the spätzle float to the top, let them cook for another 2 minutes. Remove them with a slotted spoon and set them to dry on a plate lined with a paper towel.

Once all of your spätzle are done, add them to the pan that you cooked the onions in. Turn the heat to medium and cook the spätzle for 2 minutes, tossing a few times to get them to heat evenly. Add the shredded cheese and remaining 3 tablespoons of heavy cream, stirring until all the cheese is melted. Salt and pepper to taste. Serve immediately, topped with a teaspoon of caramelized onions.
Calories:
606
kcal
|
Carbohydrates:
38
g
|
Protein:
27
g
|
Fat:
38
g
|
Saturated Fat:
22
g
|
Polyunsaturated Fat:
2
g
|
Monounsaturated Fat:
12
g
|
Cholesterol:
273
mg
|
Sodium:
548
mg
|
Potassium:
191
mg
|
Fiber:
2
g
|
Vitamin A:
1450
IU
|
Vitamin C:
1.7
mg
|
Calcium:
620
mg
|
Iron:
3.1
mg