– Behold, the gluten-free pizza roll! –
I've got a love/hate relationship with gluten free pizza. Living in the Bay Area, there are plenty of options around here for pizza sans-gluten, but out of the 10 or so places I know that serve gluten free pizza, only two are actually worth eating. It's really a bummer.
And if I can't find decent gluten free pizza, then imagine how hard it is to find anything else even remotely pizza-related that I can eat. There's no pizza-flavored hot pockets, no deep-fried pizza rolls, no cheesey pizza-bread. Grrrr. (And yes, I can hear those of you living in areas without any gluten free options telling me to shaddup and quit my squawking.)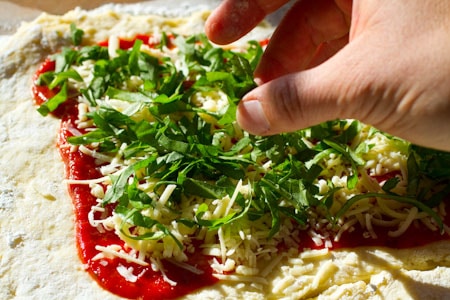 I've been playing with a gluten free brioche recipe lately, which you've seen in my gluten free chocolate things and my gluten free cinnamon rolls. The original brioche recipe, developed by the authors of Healthy Bread in Five Minutes a Day, has shown itself to be versatile – but could it be wrangled into a savory recipe?
So I rolled and mixed, buttered and baked. As luck would have it, the recipe could indeed be taken in a savory direction. And guess what I made?
Gluten Free Pizza Rolls
I rolled out my dough, filled it with cheese, tomato sauce and fresh basil, then baked the whole thing in a square pan. The resulting rolls were delightfully herby and cheesy with just a touch of sweetness, making for one of the best lunches I've had in a long time.
These little gluten free pizzas could be baked up and taken on road trips, packed in school lunches, or stuffed in a bag for a healthy dinner on the go. Since the dough has very little fat in it, the only thing you'd need to worry about is the cheese. And there's not a ton of cheese in each roll, so you won't have to sacrifice the Weight Watchers points you set aside for dessert.
Zesty Summer Gluten-Free Pizza Rolls
These gluten free pizza rolls are perfect for a zesty, hearty on-the-go lunch or dinner. Super tart and tender, these snacks are a savory dream come true! Based on a recipe from "Healthy Bread in 5 Minutes a Day" by Zoe François and Jeff Hertzberg. This recipe makes 6 gluten free pizza rolls
Print
Pin
Ingredients
1/2

cup

brown rice flour

1/2

cup

tapioca starch

(tapioca flour)

2

cups minus 2 tablespoons

cornstarch

1

tablespoon

granulated yeast

1 1/2

teaspoons

kosher salt

1

tablespoon

xanthan gum

1 1/4

cups

milk

2

tablespoons

honey

2

large

eggs

beaten

1

large

egg white

1/2

cup

vegetable oil

Several more cups of cornstarch for rolling and dusting

1 1/2

cups

pizza sauce

ideally homemade (though a jar sauce will do)

1 1/2

cup

shredded cheese of your choice

(I used a mix of Parmesan, asiago, fontina and provolone)

1

handful

fresh basil leaves

chopped (or chiffonade if you know how)
Instructions
Whisk together the brown rice flour, tapioca starch, cornstarch, yeast, salt and xanthan gum in a 5-quart bowl, or a lidded (not airtight) food container.

Combine the liquid ingredients and gradually mix them into the dry ingredients using one of the following: a spoon, a food processor (with dough attachment) or a stand mixer with a paddle attachment. Mix just until there are no dry bits of flour. You might need to use wet hands to get the last bits of flour to incorporate if you are not using a machine.

Cover (not airtight!) and allow the dough to rest at room temperature for 2 hours.

Coat your hands and a flat surface liberally with corn starch, and I mean liberally. Trust me – this dough sticks to everything, even parchment paper. Anything surface not covered in cornstarch will wind up sticking and causing drama.

Turn the dough out onto your starched surface, then spread and press with your hands until it is about 1 inch thick and roughly square shaped. Coat a rolling pin with cornstarch and sprinkle a little more starch on the surface of your dough. Roll the dough until it is 1/2 inch thick.

Using a knife dipped in cornstarch, cut the edges of the dough so it's relatively close to square-shaped. With a spoon, spread pizza sauce evenly around the dough, leaving a 1″ sauce-free border around the edges to allow for easier rolling. Sprinkle grated cheese around the dough square, giving it a good coating. Sprinkle chopped basil leaves around on top of the cheese, layering evenly.

As tightly as you can without breaking it, roll the dough into a thick log. Cut into 6 equal-sized rolls with a very sharp knife. Coat your hands with a little more cornstarch and gently form the rolls into rough ball shapes.

Line a 8″ square baking dish with a piece of parchment (don't worry – with the amount of cornstarch you used by now, nothing should stick at this point) and pack the pizza rolls snuggly together. Cover loosely and allow dough to rest for 60 minutes. Preheat oven to 350°F (176°C) while you're waiting, allowing at least 30 minutes for the oven to heat properly.

Bake in the center of the oven for about 45 minutes. The pizza rolls are done once they start to brown nicely and the tops are firm to the touch.

Once out of the oven, sprinkle the rolls with Parmesan cheese, allowing it to melt on the surface of the bread. If you like, you can pop the dish back in the oven for two minutes to crisp the cheese topping.

Let pizza rolls cool somewhat before eating. Eat warm, right out of the baking dish, or allow them to cool fully before storing them in the refrigerator for up to three days. Don't seal them up for cover them in plastic wrap while they're warm or they will get soggy.
Nutrition
Serving:
1
g
|
Calories:
611
kcal
|
Carbohydrates:
67
g
|
Protein:
15
g
|
Fat:
32
g
|
Saturated Fat:
9
g
|
Polyunsaturated Fat:
5
g
|
Monounsaturated Fat:
15
g
|
Cholesterol:
102
mg
|
Sodium:
1209
mg
|
Potassium:
480
mg
|
Fiber:
3
g
|
Vitamin A:
1000
IU
|
Vitamin C:
11.6
mg
|
Calcium:
290
mg
|
Iron:
1.8
mg
Variations on this gluten free pizza rolls recipe:
Cook up some diced pepperoni or other Italian sausage until it's nice and crunchy, then sprinkle heartily onto the dough with the pizza sauce.
If you're not feeling a melty kind of cheese, feel free to use fresh mozzarella or a generous sprinkling of parmesan instead of the four-cheese mixture.
Love hawaiian pizza? Try adding diced ham and pineapple chunks (dry the pineapple first on paper towels to avoid gooshy, soggy rolls).
Add a variety of veggies to up the health-quotient, making sure to dry them first. I recommend diced spinach, sundried tomato, or onions. Mushrooms go great as well if you slice them and leave them on the counter for an hour to give up some of their moisture.
This content was originally posted on FearlessFresh.com.