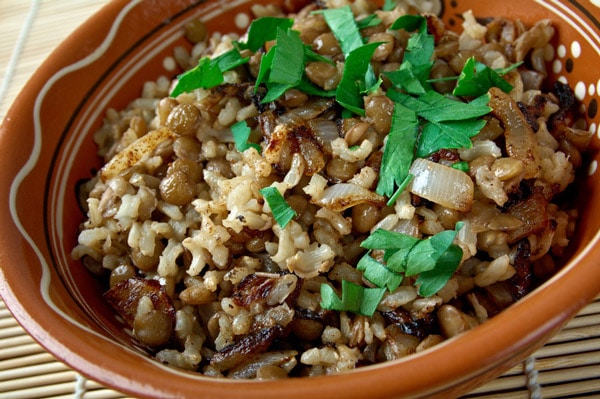 This story behind this Lebanese mujadara recipe is that thousands of years ago, Esau sold his son for a bowl of this vegan dish. That may seem like quite a trade, but damn, this is so good that I've been known to sit and wolf down a huge bowl of only this mujadara recipe for dinner. (It's just as addicting as this couscous salad with pickled rhubarb.)
Mujadara recipe – the perfect dinner for crazy weeks
It's a great recipe when you're busy or tired, and don't have a lot of food in the kitchen. I make up a big pot of it and stash some in the freezer, and it's there waiting for me when I'm in need of a fast, healthy, and delicious dinner without any work
Truly a crowd pleaser and super easy to make, this mujadara recipe can be throws together with literally 20 minutes of actual work – even less if you've got a rice cooker going to make the brown rice. Really, you can't ask for an easier dish. You can also use bulgar wheat instead of rice, or canned chickpeas instead of lentils. That makes the whole thing cook up even faster!
This Lebanese dish Curried Quinoa Salad Recipe with Fresh Fruit.
Super Easy Mujadara Recipe
This Lebanese mujadara recipe is Middle Eastern soul food at its finest. Warm lentils and hearty brown rice, with caramelized onions and a healthy dose of olive oil. Perfection, and totally healthy!
Print
Pin
Ingredients
1

cup

dry lentils

3

cups

water

1

teaspoon

salt

1

onion

chopped

1/2

cup plus 2 tablespoons

olive oil

2

cups

cooked brown rice

(or bulgur wheat works well)
Instructions
Spread the lentils out on a sheet pan and look for small rocks. Look carefully! There's usually at least two or three in every bag.

Rinse lentils and soak in cool water for 10 minutes. Add the lentils and 3 cups of water to a medium-sized pot. Bring to a boil, then reduce to a simmer and cover. Cook until lentils are tender, 15-20 minutes. Add salt after 15 minutes of cooking.

While lentils are cooking, add 2 tablespoons of olive oil to a frying pan over medium-low heat. Add the onions and cook, stirring every few minutes, until they caramelize and smell sweet, about 10 minutes. Add a little water if necessary to keep from burning.

Add the caramelized onions and 1/2 cup olive oil to the lentils. Stir well and let simmer for 10 minutes. Remove from heat and add more oil if the mixture is too thick. Stir in cooked rice, cover, and let sit for 10 minutes. Add more salt to taste, and serve.
Notes
*I like to add a little cumin and coriander with the onion, but the original recipe doesn't call for it.
This fabulous stuff is apparently known under many names, such as mujadara, mujadarra, khichri, imdardarah, mojadara, m'jadra, dargah, and koshary.
Nutritional analysis is based on using brown rice and for 4 servings.
Nutrition
Calories:
466
kcal
|
Carbohydrates:
41
g
|
Protein:
15
g
|
Fat:
28
g
|
Saturated Fat:
4
g
|
Polyunsaturated Fat:
3
g
|
Monounsaturated Fat:
23
g
|
Sodium:
539
mg
|
Potassium:
499
mg
|
Fiber:
16
g
|
Vitamin C:
6.6
mg
|
Calcium:
40
mg
|
Iron:
4.7
mg
This content was originally posted on FearlessFresh.com