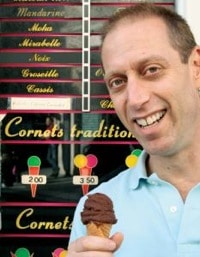 In keeping with the macaron theme this week, I've interviewed uber-pâtissier David Lebovitz about his thought on making French macarons. You probably already know David from his [now ridiculously popular] blog, DavidLebovitz.com. His site has been voted "best blog" countless times by countless sources, so let's just say that the world thinks the guy knows what he's talking about when it comes to making desserts.
David has written several books, including Perfect Scoop: Ice Creams, Sorbets, Granitas, and Sweet Accompaniments, and his most recent, The Sweet Life in Paris: Delicious Adventures in the World's Most Glorious – and Perplexing – City. Since he is quickly becoming the authority on all things sweet, I asked him to answer a few of my pressing macaron questions.
So here you go. Please welcome David!

Americans are falling in love with the macaron. Many folks see them as a tiny, perfect gourmet package, a gift straight from France. How do the French view these little cookies? Are they as enamored with them as we are?
Macarons are really a Parisian thing; you'd be hard-pressed to find many of them outside Paris. (Except in cities like Lyon and maybe Bordeaux.)
They do like them, and I'd say half the bakeries in Paris make and sell their own version. You can even buy them frozen in the supermarket and at the frozen food chain, Picard, who changes their selection seasonally.
Are there any French traditions that revolve around the macaron?
No, but they tend to like the ordinary flavors, such as lemon, chocolate, coffee, and pistachio. And dark coffee is obligatory. The latest craze is salted butter caramel, which is showing up in everything, including macarons. Thankfully.
One theory is that the macaron came to France through Italy. Can you shed a little light on macaron history?
It's said that a cousin of the founder of Ladurée was Italian, and he brought macarons to France.
What particularly creative macaron varieties have you found? Which were the most interesting? Have any of them just not worked in the flavor department?
Pierre Hermé is doing the most creative macarons. The white truffle one surprised me. I didn't think I would like it, but with a tiny, well-toasted hazelnut in the middle, the flavors worked perfectly.
His chocolate-foie gras one I couldn't bring myself to try. I love chocolate, and I love foie gras, but the two together in a sweet cookie didn't appeal to me. I did try his ketchup macarons, and posted the results on my blog. They weren't bad, but his "Arabesque," apricot macarons with praline and pistachio, are amazing.
Where have you had the best macaron of your life?
I'm a pretty big fan of the dark chocolate macarons at Ladurée, although that Arabesque at Hermé is pretty close.
I've heard that it's inherently difficult to make macarons in America. Can you elaborate on this? Do you have any inklings as to why this?
The short answer is that they just take a lot of practice, and just like Americans can't quite make a French baguette the same as in France, ditto for macarons. There is no rational explanation; it just is. I've stopped trying to figure it out. I think people should just come to Paris and eat their macarons here. Same with hamburgers. It's hard to find a decent one in Paris, so it's best to go to America to get your burger fix.
How did your first macaron-baking experience go? Can you tell us about a particularly tragic macaron flop, either yours or someone else's, if you've never personally had the process go awry?
I learned to make them when I was in school at Ecole Lenôtre, outside of Paris, years ago. This was before the craze hit. I learned a few secrets, but I was sworn by the chef not to tell. So I can't.
If a macaron-obsessed individual was looking for the best cookbook to learn how to make these cookies, which book(s) would you recommend?
The book by Pierre Hermé, called (appropriately) Macarons. It's in French, but there is a multi-page photo essay on the basic technique that really shows the whole process and is pretty easy to understand for anyone with a basic knowledge of French (or a French dictionary.)
If you could share one little pastry chef secret about making macarons, what would it be?
Don't over mix the batter, don't under mix the batter. Get it just to the point where it looks like molten lava, then get your pastry bag ready…
Thanks for stopping in and sharing your expertise, David! Check out his recipe below. Click here for more Food Bloggers Spotlight interviews.
Chocolate French Macarons
These tender chocolate French macarons are a perfect treat when you're trying to experience a little bit of Paris at home. They are light, tender, and decadently chocolatey.
Print
Pin
Ingredients
1

cup (100 grams)

powdered sugar

1/2

cup (50 grams)

almond flour

3

tablespoons (25 grams)

unsweetened Dutch-process cocoa powder

2

large

egg whites

at room temperature, left to sit out on the counter overnight

5

tablespoons (65 grams)

granulated sugar

1/2

cup

heavy whipping cream

5

ounces

bittersweet or semisweet chocolate

finely chopped

2

tablespoons

butter

cut into small pieces
Instructions
Preheat oven to 350°F (176°C). Line two baking sheets with parchment paper or silicon mats. Prepare a pastry bag with a plain round tip (about 1/2-inch) so it's ready to go.

Use a food processor to grind together the powdered sugar, almond flour, and cocoa so there are no lumps. Pulse a five or six times to make sure the almond flouf is finely ground.

In the bowl of an electric mixer, beat the egg whites until soft peaks form. Without stopping the mixer, beat in the granulated sugar until the peaks are stiff and firm, about 2 minutes.

Carefully fold the dry ingredients, in two batches, into the beaten egg whites with a flexible rubber spatula. Be very careful not to over mix and flatten the whites. When the mixture is just smooth and there are no large streaks of egg white, stop folding. Gently scrape the macaron batter into the pastry bag.

Pipe the batter on the lined baking sheets in 1-inch circles (about 1 tablespoon each of batter), evenly spaced one-inch apart.

Drop the baking sheet on the counter a few times to flatten the macarons and release any large bubbles (if you see any bubbles, pop them quickly with a toothpick). Allow macarons to sit on the counter, uncovered, for 30 minutes. Bake them for 15-18 minutes. Let cool completely before removing from baking sheet.

Heat the cream in a small saucepan. When the cream just begins to boil at the edges, remove from heat and add the chopped chocolate. Let sit one minute, then stir until smooth. Stir in the pieces of butter. Let cool completely before using.

To assemble, spread 2 teaspoons of filling onto the flat side of half of the macaron shells. Sandwich the filling with another shell. Seal the macarons in a plastic container and refrigerate them overnight, allowing the flavor and texture to mature. Enjoy cold or at room temperature.
Nutrition
Serving:
0
g
|
Calories:
194
kcal
|
Carbohydrates:
20
g
|
Protein:
3
g
|
Fat:
14
g
|
Saturated Fat:
8
g
|
Polyunsaturated Fat:
1
g
|
Monounsaturated Fat:
5
g
|
Cholesterol:
19
mg
|
Sodium:
35
mg
|
Potassium:
134
mg
|
Fiber:
2
g
|
Vitamin A:
250
IU
|
Calcium:
20
mg
|
Iron:
0.9
mg
Here are some of my favorite posts from David's blog, Living the Sweet Life in Paris:
This content was originally posted on FearlessFresh.com.