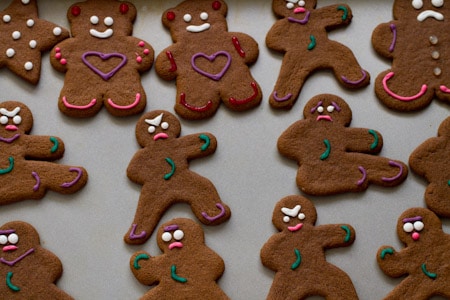 – Yay, Ninja-bread men! How awesome are these?? –
It had been years since I'd decided to make a gingerbread men recipe. In fact, the last time I made gingerbread cookies was when I was a little girl, living with my mom, grandma, and aunt. Every December my grandma would plan a cookie night, where she'd bake her now-infamously huge collection of cookies that she'd hand out to everyone on Christmas Eve. My grandma is hands down the bet baker I'd ever met. Every year she produces an incredible array of cookies for our family, and I remember feeling so excited to be involved in the process. She was definitely a big influence on my baking life as I got older.
Being so young, my brother and I weren't able to help with the more elaborate cookies, but we were happy with being in charge of anything that involved a cookie cutter. We cut out pointy reindeer, lanky candy canes, fat Santas, and curvy, bulging teddy bears. Once my grandmother had peeled the shaped dough off the wax paper and set them to bake, we prepared our decorations. She'd lay before us twenty or so bowls, full of colorful things to sprinkle on the cookies after my mom was through adding frosting accents. My favorite sprinkles were the tiny multicolor dots that came pouring from my fingers so fast that I'd coat every cookie I could get my hands on with a thick blanket of brightly colored beads. My mom would tap the excess sprinkles back into the bowl, and my masterpiece was complete.
So, it was once again time to make gingerbread men. I consulted my favorite baking books, but wasn't really happy with any of the gingerbread recipes they provided. I set to work developing my own.
So many Ninjabread Christmas cookies… so little time…
After five or six batches, I finally perfected the recipe, with one secret ingredient: curry powder. Now, I know what you're thinking. You're saying to yourself, "I know that gingerbread men are supposed to be spicy, but that spicy? This girl must be huffing that curry powder." Actually, you'll be surprised what the tiniest touch of savory spice will do for gingerbread. Just like a little salt will round out the flavor of your favorite chocolate chip cookies, a touch of curry added to an already spicy cookie dough presents just a note of savory flavoring. Not even enough to notice, really, but you WILL notice that these cookies are darn good!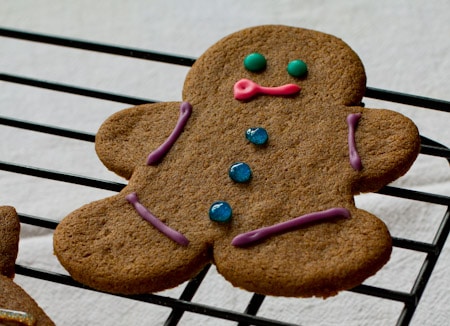 I really needed to make these cookies this year. It's been a tough few weeks for me, and sitting down at my coffee table, with frosting and sprinkles in hand, really made me smile during a time when happy times are a hot commodity. It made me think of future days with my own kids. Will they remember little things like this, keeping them close to their hearts when they're sad? I sure hope so.
A note on moving cookie dough
Anyone who's ever made dough cutouts with cookie cutters knows that it's tough – nay, nearly impossible – to move cookie dough to a baking sheet once it's been cut into shapes. Tender dough likes to bend and stretch, and what was once a teddy bear often looks like a circus acrobat after a car wreck by the time it gets to the cookie sheet. Gluten-free dough is even harder to work with.
I've come up with a solution – roll your dough out onto a piece of parchment, cut out your shapes with cookie cutters, remove the excess dough to be re-rolled, and then cut the parchment around the cookies with a pair of scissors. The cookies can then be moved without contorting into unrecognizable shapes, and since they're on parchment, they won't stick to the cookie sheet. You can even move the baked cookies with the parchment, leaving them on the paper until they're completely cooled and not likely to bend or break. Success tastes good, doesn't it?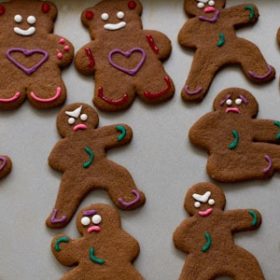 Spicy-Warm Gluten Free Ninjabread Gingerbread Men Recipe - Ninjabread Men!
This gluten-free gingerbread men recipe has a secret ingredient that takes the flavor and knocks it out of the park. Click to find out more. Yield: About 2 dozen 3-inch cookies
Print
Pin
Ingredients
1/2

cup

shortening

1/2

cup

granulated sugar

1/2

teaspoon

xanthan gum

1/8

teaspoon

guar gum

2

large

egg yolks

1/4

teaspoon

vanilla extract

1/3

cup

molasses

1 1/2

cups

gluten free flour mix

1/2

cup plus 2 tablespoons

sweet rice flour

1

teaspoon

baking soda

1

teaspoon

cinnamon

1

teaspoon

ground ginger

1/2

teaspoon

ground cloves

1/4

teaspoon

curry powder

1/2

teaspoon

salt
Instructions
With a stand mixer or electric hand beater, beat shortening, sugar, xanthan gum, and guar gum until well mixed. Add in egg yolks and beat for 1 minute, then add vanilla and molasses and mix until well incorporated.

Add gluten free flour mix, sweet rice flour, baking soda, cinnamon, ginger, cloves, curry powder, and salt. Beat until you've got a smooth dough. Roll dough out between two pieces of parchment until it is 1/2-inch thick and refrigerate for 1 hour.

Remove dough from fridge and cut with cookie cutters. Remove the excess dough from between the shapes and cut the parchment around the cookies with a pair of scissors. Gently move the cookies with their attached parchment to a cookie sheet and place the baking sheet in the refrigerator to keep the cookies chilled. Repeat until you've used up all the dough.

Once all the dough has been cut with cookie cutters and the shapes are arranged on a baking sheet, place the baking sheets in the refrigerator for 30 minutes. Preheat the oven to 350°F (176°C) while they are chilling.

Bake cookies for 7 minutes. Remove from oven and allow to cool on pan for 5 minutes before moving the cookies, with their attached piece of parchment, to a cooling rack. Allow to cool fully before decorating.
Notes
Nutritional analysis is based on using Bob's Red Mill G-F All Purpose Baking Mix, only for nutritional calculation purposes.
Nutrition
Serving:
2
g
|
Calories:
175
kcal
|
Carbohydrates:
22
g
|
Protein:
1
g
|
Fat:
10
g
|
Saturated Fat:
2
g
|
Polyunsaturated Fat:
2
g
|
Monounsaturated Fat:
4
g
|
Cholesterol:
35
mg
|
Sodium:
199
mg
|
Potassium:
147
mg
|
Fiber:
1
g
|
Vitamin A:
50
IU
|
Calcium:
30
mg
|
Iron:
0.7
mg
If you like this gingerbread men recipe, check out these others:
This content was originally posted on FearlessFresh.com.