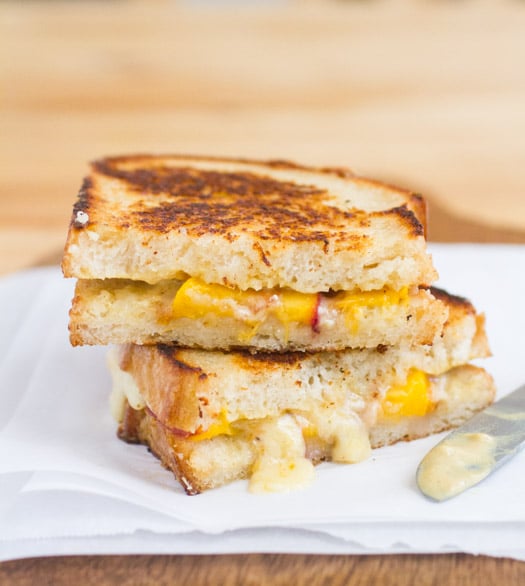 – Cabot Clothbound Cheddar, one of my favorite, makes an amazing gourmet grilled cheese sandwich. Here it's paired with peaches, Dijon mustard, and sourdough bread. –
Over the past month or so, I'm been working with my friend and food blogging colleague Amber Stott to help support her nonprofit, the California Food Literacy Center. Amber recently helped pass an initiative approved by the state, which declares the month of September "Food Literacy Month" in California. This is a HUGE step for her organization, whose top priority is "to inspire change today for a healthy, sustainable tomorrow through enduring community food education." Amber started the CFLC because only 25% of Americans eat five servings of fruits and vegetables daily. Low intake of vegetables in childhood is linked to health problems throughout the life span, including allergy, asthma, heart disease and diabetes. In Sacramento, 40% of children are overweight.
To gear up for this groundbreaking event, I recently teamed up with Amber to help teach young kids how to get more comfortable preparing food in the kitchen. I spent an afternoon helping teach a bunch of urban Sacramento children how to make pizza dough from scratch, which was hugely educational not only to the kids, but to me, too. (I was shocked when only two out of 20-something kids knew what a yellow squash was, and only one knew that flour was made out of wheat… wow!!).
Later that week, Garrett and I worked with a little girl named Michael to teach her the finer points of how to make a grilled cheese sandwich – and of course, since we were the ones running the show, we had to add a little oomph to the sandwich. The dish Michael created was a gourmet grilled cheese with Cabot Clothbound Cheddar cheese, fresh peaches, and Dijon mustard. Even though her dad said she was normally a picky eater, Michael was a great sport and dove into her sandwich like a champ. After making sandwiches, Garrett took Michael outside and helped her pick some fresh veggies from the garden.
Below you'll see a handful of photos that were taken with me, Garrett, and Michael as we enjoyed our time in the kitchen. It was a lot of fun!
– Mom voice: You need to TUCK your fingers, like this, so you don't cut them off! –
California Food Literacy Center presents the Kids Recipe Contest
To celebrate California's first Food Literacy Month, on September 7 the California Food Literacy Center will launch their Kids Recipe Contest, which encourages children to get into the kitchen and learn about the food they put into their bodies. Only kids can enter the contest, and the recipes they submit must be created entirely by themselves with no adult involvement. The recipe contest will run through the month of September. In early October a team of local chefs and food writers will select the winning recipes, and the lucky winning kid will get a certificate for a CSA box from Farm Fresh to You and their recipes will be posted on our California Food Literacy website.
Besides the Kids Recipe Contest, the Food Literacy Center will also be announcing the Veggie of the Year, with one vegetable being chosen by the K-5th graders at Capitol Heights Academy. Their choice will be the featured vegetable for the recipe contest. How cool is it that a bunch of elementary school students will be selecting their favorite veggie? That just tickles me.
More info:
The California Food Literacy Center
is a non-government 501c3 nonprofit. The organization helps kids develop healthy food habits while they are young by celebrating vegetables, teaching 2,400 low-income K-5
th
 grade students annually through local nonprofits and schools. Founded in 2011, their mission is to inspire change today for a healthy, sustainable tomorrow through enduring community food education. I'd also like to take a second to thank the sponsor for the contest, Elise Bauer and 
SimplyRecipes.com
.
– Oh the cutes, they kill… –
Gourmet Grilled Cheese Sandwich with Cabot Clothbound Cheddar, Peaches, and Dijon Mustard on Sourdough Bread
Nutrition Facts
Gourmet Grilled Cheese Sandwich with Cabot Clothbound Cheddar, Peaches, and Dijon Mustard on Sourdough Bread
Amount Per Serving
Calories 499
Calories from Fat 297
% Daily Value*
Fat 33g51%
Cholesterol 91mg30%
Sodium 962mg42%
Potassium 232mg7%
Carbohydrates 33g11%
Protein 20g40%
Vitamin A 1300IU26%
Vitamin C 4.1mg5%
Calcium 470mg47%
Iron 2mg11%
* Percent Daily Values are based on a 2000 calorie diet.
Sourdough bread, caramelly aged cheddar, tart peaches, and a touch of Dijon mustard make this the perfect gourmet grilled cheese sandwich for grownups. I only spread Dijon on one slice of bread per sandwich or the mustard tends to take over the flavor, but if you really, really like mustard, feel free to add more. Makes two hearty sandwiches.
Ingredients
4

slices

of sourdough bread

Butter,

at room temperature

2

tablespoons

Dijon mustard

1

yellow peach,

peeled, pit removed, and sliced

1/4

pound

Cabot Clothbound Cheddar cheese,

grated
Instructions
Spread butter on one side of each piece of sourdough bread and lay the slices butter-side down on a plate. For each sandwich, spread the un-buttered side of only one slice of bread with Dijon.

Cover just the mustard-spread slices of bread with a generous amount of shredded cheese, then follow with a layer of sliced peaches. Top each sandwich with another slice of bread, butter-side up.

Place the sandwich in a non-stick pan over medium heat. Cover with the lid and let them cook for 3 to 4 minutes, or until golden. Watch carefully - grilled cheese sandwiches go from golden to burnt in the blink of an eye!

Lower the heat to medium and very carefully flip the sandwiches, making sure they does not fall apart while flipping. Cook for another 2 or 3 minutes, until the bread is golden brown and the cheese is melted. The second side will cook faster than the first, so keep an eye on it. Slice each sandwich in half and serve immediately.
Recipe Notes
Nutritional analysis is based on using approximately 2 tablespoons of butter.
– Me guiding Michael's hand in a way to cut small slices of cheese –
– Carefully spreading the butter, making sure to get every corner –
– Garrett and Michael picking cucumbers in G's new garden –
– Isn't she the cutest? But I think she already knows that. ;) –
This content was originally posted on FearlessFresh.com.