– These super decadent raw vegan cinnamon rolls are THE ULTIMATE!! –
Apologies for the recent hiatus – summertime is generally a weird mix of busy and relaxed, so when I'm not running myself ragged, I'm a lump in a chair with a book. I've not really had the motivation to cook lately, though I've created a few interesting things that I will share here over the next week or two.
Lately I've been dabbling in raw food as I've had a ton of weird health issues over the past few years and I'm looking to increase my healthy food intake and limit my junk food obsession. Raw food allows you to eat a lot of the things that you would normally try to stay away from by making them out of healthy ingredients such as nuts, honey, fruit, etc. I've had some awesome pies over the past few weeks that would count as three of your daily servings of fruit. Not bad!
My latest endeavor was raw vegan cinnamon rolls. I know it sounds weird, but they were so fabulous that they tempted many of my omnivorous and anti-vegetation friends at a recent campout. They are quite rich though, so one will probably do it for breakfast – and the protein contained within these little babies will keep you going for hours!
Raw vegan cinnamon rolls once they're rolled, chilled, and ready to slice: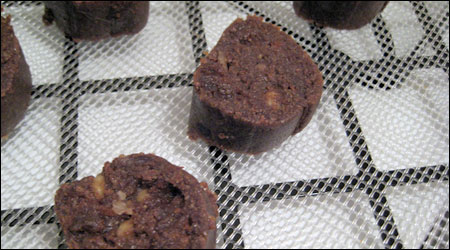 These cinnamon rolls can be eaten right out of the refrigerator or warmed on a dehydrator. Here are mine on the tray – I dehydrated them at 108 degrees F for 12 hours:
Cashew cream frosting in the food processor:
And the finished product! Delicious cinnamon roll goodness.
Edited to add: Elle over at Elle's Kitchen recently made this recipe and posted it on her blog. Her photos are beautiful, so with her permission I've posted them here for you to enjoy. Thank you so much, Elle!
Raw Vegan Cinnamon Rolls Recipe
Raw vegan cinnamon rolls recipes are not easy to come by, but this one if sweet, rich, and full of that cinnamon-goodness you miss from the Cinnabon at the mall. An awesome indulgence without a ton of guilt.
Print
Pin
Ingredients
For the raw vegan cinnamon rolls
1 1/4

cups

almond meal

1 1/4

cups

ground flaxseed

1

dash

cayenne pepper

1 1/2

tablespoons

cinnamon

divided

1

pinch

sea salt

1

cup

soft pitted dates

1/4

cup

water

1

teaspoon

vanilla

1/8

cup

coconut oil

1/8

cup

agave nectar

1/4

cup

raisins

plus a little extra

1/4

cup

chopped nuts
For the cashew cream frosting
1

cup

raw cashews

or pine nuts soaked 4 or more hours

1/8

cup

water

6

tablespoons

honey or dates

1

small

tangerine

juiced and reserve the peel

1

teaspoon

vanilla
Instructions
For the raw vegan cinnamon rolls
Combine the almond meal, ground flaxseed, cayenne pepper, 1/2 tablespoons cinnamon, and a pinch of sea salt in a bowl and set aside.

In a food processor or blender, process dates, water and vanilla into a paste. Remove half of the date paste and add it to the dry ingredients, along with the coconut oil and agave. Mix these ingredients with your hands until it forms a dough. You may need to add a little water and/or agave if it is too dry, but be careful not to add too much.

Spread the dough out on a piece of parchment paper, and flatten/shape it into a 1/4-inch thick square.

Add raisins and 1 tablespoon of cinnamon to the rest of the date paste left in your food processor or blender. Process until smooth. Then, spread a thin layer of the paste onto the dough square, making sure to cover the whole surface, and top with a sprinkle of extra raisins and the chopped walnuts.

Using the parchment paper to help hold everything together, carefully/tightly roll the square into a log. Chill in the refrigerator, and then slice into about 1-inch thick rounds.

These cinnamon rolls can be eaten right out of the refrigerator, warmed in a dehydrator at 108°F (42°C), or gently heated on the low setting of your oven for 10 minutes. After they've been dried, you can keep them in an airtight container in a dark place for a few days.
For the cashew cream frosting
Blend ingredients (including the peel) until smooth and creamy. Add a little extra water if you want it thinner. Drizzle on top of dehydrated cinnamon rolls.
Nutrition
Serving:
1
cinnamon roll
|
Calories:
576
kcal
|
Carbohydrates:
62
g
|
Protein:
20
g
|
Fat:
32
g
|
Saturated Fat:
7
g
|
Polyunsaturated Fat:
9
g
|
Monounsaturated Fat:
13
g
|
Sodium:
31
mg
|
Potassium:
898
mg
|
Fiber:
11
g
|
Vitamin A:
100
IU
|
Vitamin C:
5.8
mg
|
Calcium:
180
mg
|
Iron:
6.3
mg
This content was originally posted on FearlessFresh.com.