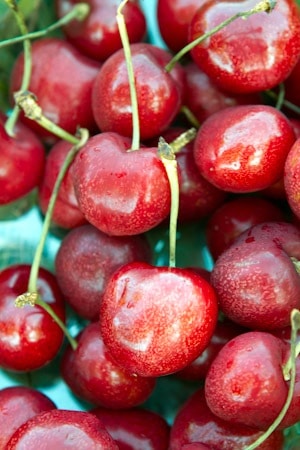 What are strawberry cherries? That's a very good question, and one I asked myself when Thad and I found ourselves face-to-face with a huge stack of them at the grocery store. He, a cherry connoisseur, and I, a general cherry nay-sayer, both scratched our heads, observing their large girth, mottled surface, and extraordinarily firm, juicy bodies. Not only were they oddly named, but they were on sale for 50% off. So, of course, we had to see what they were all about.
Apparently we weren't the only ones confounded by the idea of a "strawberry cherry" — several clamshell boxes were popped open, and countless cherries were strewn across the produce display, making their way towards the scandalized-looking Bings and Rainiers. He grabbed one first, took a bite, and looked surprised. I followed suit by reluctantly popping a richly ripe red cherry into my mouth, and shockingly, I liked it. A lot.

What exactly are strawberry cherries?
Strawberry cherries don't taste like strawberries, but they don't really taste like cherries either. I suppose you could say the flavor is somewhere in the middle; sweet and gently tart, without that weird "cherry" twang that I abhor. They have the characteristic cherry crunch that gives way to a lovely tender inside, where a pit hides, just waiting to take out your dental work. Overall, I like them a lot — because they don't taste like cherries. We bought a box and took them home.
Afraid we were eating some sort of GMO Franken-cherry, I did a little digging. Grown in Yakima, Washington, by a company called Yakima Fresh, strawberry cherries appear to be just another in a series of interesting cherry varieties. The company website has the following to say about strawberry cherries:
Our unique and exciting Premium Strawberry Cherries are exceptionally large, extremely firm and delightfully juicy. They are dark red with a slightly white to creamy pink flesh when ripe. Vibrant flavor and intensely super sweet, with natural fruit sugar levels that usually range from 19%-25%. … They are available late June though July, however, supplies are limited. The secret behind this new delicious variety is a unique tree stock grown in Washington State at Yakima Fresh along with ideal growing conditions and plenty of tender loving care.
So, I'm not sure if they're genetically modified, but they were good enough that we finished the box within a day and went back to the store to buy more. Three more boxes, to be exact, which we polished off just as quickly. Being the cherry-freak he is, Thad went back to the store several more times, until the display was cleared out and there was not a strawberry cherry in site. By that point they'd been knocked down to $2.99 a box, and when all was said and done, I believe that roughly eight or nine boxes of cherries were consumed at Chez Jones.
The final word on strawberry cherries? They're good, really good. I highly recommend them, especially if you don't like cherries. ;)
Best Way to Enjoy Strawberry Cherries
Strawberry cherries are one of the best new fruits on the market. Here's the best way to enjoy them.
Print
Pin
Ingredients
1

pound

strawberry cherries

halved

2

cups

whipped cream

4

ounces

of dark chocolate

shaved
Instructions
Pour the cherries into a bowl. Add a dollop of whipped cream and sprinkle with shaved chocolate. Enjoy immediately.
Nutrition
Calories:
786
kcal
|
Carbohydrates:
63
g
|
Protein:
7
g
|
Fat:
62
g
|
Saturated Fat:
28
g
|
Polyunsaturated Fat:
2
g
|
Monounsaturated Fat:
13
g
|
Cholesterol:
164
mg
|
Sodium:
53
mg
|
Potassium:
564
mg
|
Fiber:
7
g
|
Vitamin A:
3750
IU
|
Vitamin C:
6.6
mg
|
Calcium:
120
mg
|
Iron:
2.3
mg
If you like reading about strawberry cherries, check out these cherry recipes:
This content was originally posted on FearlessFresh.com.