– One Superlative Pumpkin Dal Soup Recipe, from The Kitchen Diaries, by Nigel Slater –
I'm very excited to review a book by one of my all-time favorite food authors, British food writer Nigel Slater. In his newest US release, The Kitchen Diaries, Slater chronicles twelve months of cooking and eating, sharing every step of his simple, flavorful cooking style. Here you'll find all sorts of recipes, from breakfasts to dinners to sides to desserts, and every one of them is worth making. I don't say that very often about a cookbook.
I've seen several cooking "journals" on the market, which many of them list a recipe for every single day that is logged. They're often gorgeous, generously-timed affair, but in reality, who cooks like that every day? I'd dare say most of us do not. Slater, on the other hand, does not necessarily include a recipe for every day of his year-long journey; rather, many  passages are actual journal entries, simply describing what he's cooked that day, with enough insight to allow you to recreate your own version at home, if you'd like. Like this particular entry on October 19th:
Still haven't made the vegetable soup I promised to make almost a week ago to clear out the vegetable rack. And now, where there is every opportunity to make a pan of creamy parsnip and carrot soup, I am distracted by half a dozen of the most meltingly ripe tomatoes on the vine, their skins ready to burst with juice. I slice them thickly, then toss them with black olives and pieces of thick toast torn into chunks and drizzles with unfiltered olive oil. No basil, no garlic, so seasoning; just the peppery rush of thick, green oil, ripe tomatoes, and black-edged toast.
What I love most about Slater's food–and you'll see this in his other books as well–is that his dishes are the exact opposite of pretentious. He's not opposed to making something unique and interesting out of whatever's hanging out in the pantry, and it's his inherent talent for coaxing impressive flavor out of ordinary, everyday ingredients that keep readers glued to his dishes.
Think
Asparagus-Lemon Risotto
,
Baked Mushrooms with Tarragon-Mustard Butter
, and
Roast Chicken with Cheese Mashed Potatoes and Garlic Gravy
. Not a single one of these dishes requires any more than basic ingredients and basic cooking skill. Slater's relaxed cooking (and teaching) style make this book a refreshing experience among a glut of fancy-shmancy gourmet cookbooks currently saturating the market. My own included. ;)
His lack of pretense permeates even the recipe titles in The Kitchen Diaries , with approachable dishes like "A wonderfully moist, fresh plum cake" and "Fava beans in their pods with dill and yogurt." Slater even takes his own photos, and their down-home style far outshines many of the glossy color gastro-shots you see in most books these days. You know why? Because they're real. The lack of upstaging in his books, especially this one, puts us all on the same level when it comes to kitchen.
I highly recommend The Kitchen Diaries to my readers.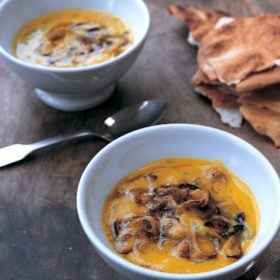 Pumpkin Dal Soup Recipe
Nigel Slater has a tradition of making soup on New Year's Day. This is a warm ochre pumpkin dal soup recipe, soothing, capable of releasing a slow build-up of heat from its base notes of garlic, chili and ginger; it's a bowl of soup that both whips and kisses.
Print
Pin
Ingredients
For the soup
1

small

onion

2

cloves

garlic

1

walnut-sized knob

ginger

1

cup plus 2 tablespoons

split red lentils

1 1/4

teaspoons

ground turmeric

1 1/4

teaspoons

chili powder

1

small

pumpkin

about 3 pounds

1/4

cup

chopped cilantro

or parsley, if you're cilantro-averse

Salt and freshly ground black pepper

to taste
For the onion topping
2

medium

onions

3

tablespoons

peanut oil

2

small

hot chili peppers

2

cloves

garlic
Instructions
To make the soup
Peel the onion and chop it roughly. Peel and crush the garlic and put it with the onion into a medium-sized, heavy-based saucepan. Peel the ginger, cut it into thin shreds and stir that in too. Add the lentils and pour in 6 cups of water. Bring to a boil, then turn the heat down to an enthusiastic simmer. Stir in the ground turmeric and chili powder, sea- son and leave to simmer, covered, for twenty minutes.

While the soup is cooking, bring a medium-sized pan of water to a boil. Peel the pumpkin and scoop out the seeds and pulp, then cut the flesh into fat chunks. Boil the pumpkin pieces for ten minutes, until they are tender enough to pierce with a skewer without much pressure. Drain them and set them aside.

Remove the lid from the lentils and turn up the heat, boiling hard for five minutes. Remove the pan from the heat, then add the drained pumpkin. Puree the soup in a blender (for safety, a little at a time) until smooth, then pour it into a bowl. Stir in the roughly chopped cilantro and check the seasoning. I find this soup likes a more generous than usual amount of salt.
To make the onion topping
Peel the onions and cut them into thin rings. Cook them in the oil in a shallow pan until they start to color. Cut the chili peppers in half, scrape out the seeds and slice the flesh finely. Peel and finely slice the garlic and add it with the peppers to the onions. Continue cooking until the onions are a deep golden brown. Set aside.
To serve the soup
Serve in deep bowls with a spoonful of the spiced onions on top.
Nutrition
Calories:
334
kcal
|
Carbohydrates:
45
g
|
Protein:
17
g
|
Fat:
11
g
|
Saturated Fat:
2
g
|
Polyunsaturated Fat:
4
g
|
Monounsaturated Fat:
5
g
|
Sodium:
19
mg
|
Potassium:
862
mg
|
Fiber:
19
g
|
Vitamin A:
1000
IU
|
Vitamin C:
93.2
mg
|
Calcium:
70
mg
|
Iron:
6.1
mg
This content was originally posted on FearlessFresh.com.