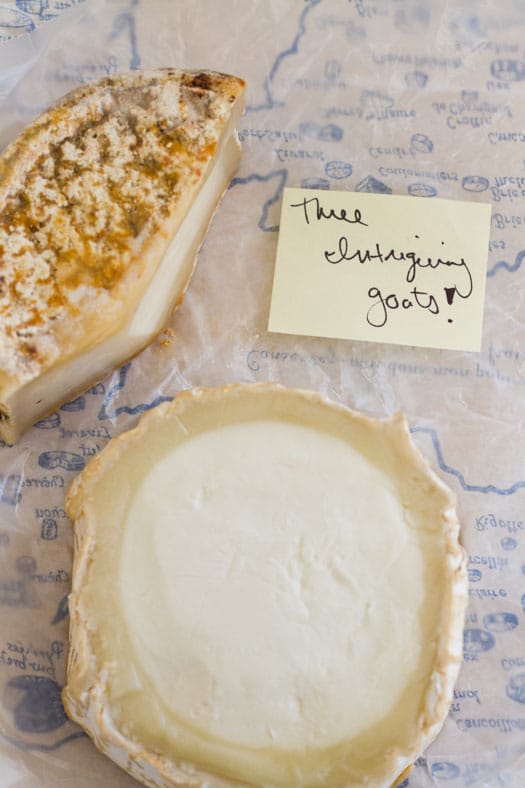 – Three unique goat's milk cheeses – this cheese plate stands out above the rest. –
Goat's milk has a very specific flavor: many would call it tart, and there are countless simple goat cheeses that play up this personality trait more than anything else. True goat cheese lovers, however, understand that goat's milk can carry with it a symphony of characteristic ranging from grassy, to meaty, to even a subtle sweetness that rewards those willing to pay attention to nuance of flavor. Which makes for a very engaging cheese plate.
It's these other traits that we're focusing on today. Below you'll find three goat cheeses that stand outside of the crowd, some with swagger, others with more sensitivity.
While these cheeses may provide a hint of that tart goaty profile, they are more subtle and complex than your everyday varieties of chevré. Folks who have historically thumbed their nose at goat cheeses might very find this cheese plate the perfect introduction to a whole new world of dairy love.
Chèvre de Argental – France
Tender and demure, Chèvre de Argental prefers to keep her goat's milk roots under wraps until she's gotten to know you better. This cheese likes to leave a simple first impression of silky flexibility, sharing tidbits of grass and sea breeze like you're talking a stroll along the coast. You may begin to believe that she's a cow's milk girl, with a rich texture that leaves you dreaming of fatty, fresh-churned butter. But pay attention to the followup: Chèvre de Argental's true nature shines through, playful, salty, and charming as all get out. As she kisses your cheek goodbye, you'll be pleased to discover a meat roundness that lingers like a light peck of terra-cotta lipstick on your skin, sweet and savory all at the same time. I do love a girl that keeps me guessing.
Vare – Spain
This firm, chalky cheese is a stout beauty queen who likes to toss out a little sugar with her sass. Nutty and complex with just a hint of capriciousness, Vare is barnyardy without a ton a funk, rolling across your tongue with a lovely hit of meatiness that reminded me of fat, tender noodles left to simmer in a pot of very rich chicken soup. If you listen closely to Vare's baritone song, you'll find the ending is both sweet and salty, pairing nicely with its gently goaty personality. Perfect on its own, or a superb treat when shredded over a green salad with peanuts and sautéed asparagus.
Bucheron – France
Meat: beef ribs, pork chops, chicken pot pie; these are all the things I dreamed of upon my first bite of Bucheron. A umami-bomb if there ever was one, this cheese is meatier than most carnivorous dishes I can think of, with a hint of vegetal notes hidden within its depths. Firm and pasty, the cream line that envelopes this cheese is a lesson in exquisite saltiness, with enough tender brine to cause salt-lovers to drop from their chairs in a fit of sheer bliss. You'll find a good dose of tart goatiness here, but not in the way you're accustomed to tasting it; with so much full bodied flavor, you'll have a hard time singling out Bucheron's capricious mids and highs, instead drifting off on a wave of deep, savory ecstasy.
And a late entry to the party, which came a few years after the fact: Coach Farms Triple Cream Goat Cheese, a really unique goat's milk cheese that is both creamy and tangy, with an epic cream line. Highly worth hunting out.
This content was originally posted on FearlessFresh.com.