– The maiden voyage: Roasted parmesan zucchini with balsamic vinegar! –
I bought a toaster oven last week, but it's oooooh so much more than that. I've been drooling over the new Cuisinart brick oven even since Eric Ripert launched his Avec Eric site with a series of short videos on how to make quick gourmet meals, using this very model of oven. Am I a sucker for brand propaganda? Nah – I've just got a weak spot for sexy kitchenware.
There are several brick ovens in the BRK series, the 100, 200, and 300. The BRK-100, which is a basic toaster oven with brick wall inserts; the BRK-200 that includes the convection feature; and then the BRK-300, which has all of that and a rotisserie. Of course I ended up going with the rotisserie model, with visions of all sorts of yummy goodness dancing in my little gastronautical head:
The first thing I made in my new baby? Ripert's Parmesan Roasted Zucchini with Balsamic Vinegar. I used a particularly good aged balsamic, and this was the perfect place for it to shine.
Toaster Oven Love, and Parmesan Roasted Zucchini with Balsamic Vinegar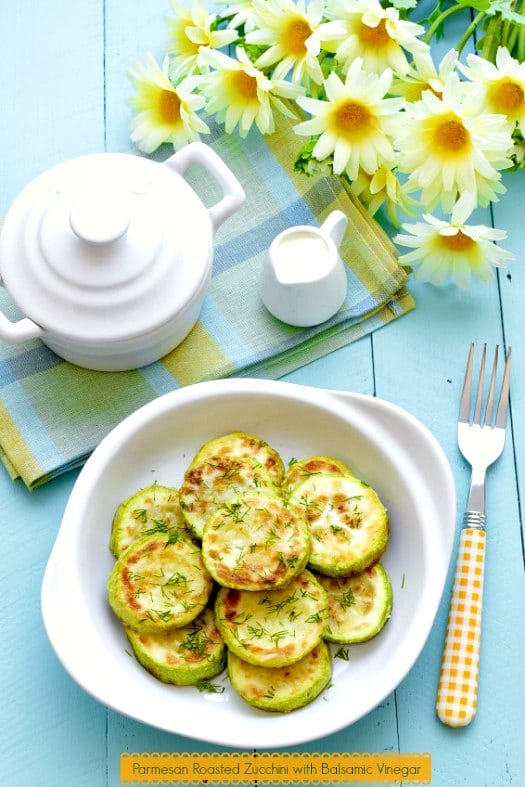 Nutrition Facts
Toaster Oven Love, and Parmesan Roasted Zucchini with Balsamic Vinegar
Amount Per Serving
Calories 149
Calories from Fat 135
% Daily Value*
Fat 15g23%
Cholesterol 4mg1%
Sodium 124mg5%
Potassium 132mg4%
Carbohydrates 2g1%
Protein 3g6%
Vitamin A 250IU5%
Vitamin C 7.4mg9%
Calcium 80mg8%
Iron 0.4mg2%
* Percent Daily Values are based on a 2000 calorie diet.
Parmesan Roasted Zucchini with Balsamic Vinegar: a perfect summer side dish that cooks up fresh, quick, and easy, even in a toaster oven!
Ingredients
1

large

zucchini

1/4

cup

olive oil

Fine sea salt

Freshly ground white pepper

1/4

cup

fresh grated Parmesan

1

tablespoon

chopped parsley

Aged balsamic vinegar
Instructions
Heat the toaster oven to broil, or heat the oven to 400F (204°C).

Line a baking dish or toaster oven tray with foil and brush with olive oil.

Peel alternating slices of the zucchini skin off, to give the zucchini a striped appearance. Rrim the ends and slice crosswise into very thin slices.

Arrange the zucchini slices on the tray, season with salt and pepper, drizzle with olive oil.

Bake for 3-4 minutes until just tender.

Sprinkle with grated Parmesan cheese. Arrange roasted zucchini on a platter. Sprinkle parsley and more Parmesan on top and drizzle with a little aged balsamic vinegar. Serve warm.
This content was originally posted on FearlessFresh.com.