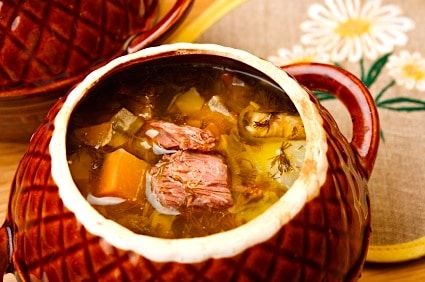 – Nothing warms you like Schi or Shchi, a beefy Russian cabbage soup. –
This week's post is care of Thad Jones, also known as The Boy Who Eats the Food I Cook (and occasionally cooks for me). While he grew up in Germany, for the past few decades his parents have lived Washington DC, where he visits for Christmas every year. Below, Thad shares one of his mom's recipes for a beef-based Russian cabbage stew, the perfect dish for those of you stuck in east coast storms this week.
When I look out the window of the plane, I can see the entire Washington DC mall spread out below me, with all its memorials dedicated to various political figures. Flying into Reagan National is one of the best routes for seeing most of what DC has to offer. The mall looks so small from the sky, but having visited my parents every Christmas over the past 18 years, I've learned that it takes well over a week to see most of the major museums and memorials. If you aren't a resident, there's so much to do, and so little time to do it. I've seen almost everything you can imagine exists in DC, but I never tire of visiting the Natural History Museum every year, no matter the weather.
Okay, I have to backtrack a bit. Up till 2009, the weather in DC had been mild to say the least. In fact, for a long time it felt like Bay Area weather. Sixty degrees, with wind and rain, but not much more than that. Since 2009, however, the weather pattern has changed. Storms that whip up from the gulf, full of moisture, meet with the bitter Arctic air coming down from Canada, colliding right over the Atlantic states. The end result has been intense blizzards, or as they are called here, Nor'Easters. It's like a hurricane of snow, and it can get so bad that entire swaths of eastern states completely shut down. Airports, government, even the reliable USPS.
Whenever there is an inkling that a storm in the near future, there is a run on every grocery and convenience store. People buying many things that they don't need, but panic has them going mad. I don't blame them at all, though. Last year alone, we had three blizzards in one month's time that put 24 inches of snow on the ground in DC. Everything just stops. Nothing happens — except shoveling till your back gives out.
My California mind thinks this is poetic, though: snow during Christmas. I don't even mind shoveling, and 18 degrees is cold, but I grew up in Germany, where the winter are equally chilly. What really makes these times special is my mom's cooking. She always makes a huge pot of cabbage stew, or as it is called in Russian, shchee, or shchi, or schi.' (Pronouced suh'shee)
Basically, schi is a peasant soup. It's made of whatever is left over in the cold, harsh, eastern European winters. Everything close at hand is thrown into the pot and cooked all day long. I can't even describe the smell that permeates the house. It's made for those days when there is a fire roaring, snow is falling outside, and all you can do is cuddle up with a blanket and read a book by the warmth of the fireplace. Or, these days, play games on your iPhone.
My holiday season would be so very different without a bowl shchi and a huge spoonful of sour cream on top, mingling with the vegetables and the soup stock. One bowl is never enough, but luckily there is enough left over to last through the snowstorm outside. I can't think of a better reason to go home for the holidays.
Be sure to check out some of Thad's other recipes: Bavarian Torte Recipe, German Cucumber Salad, and Hippyfied Banana Bread.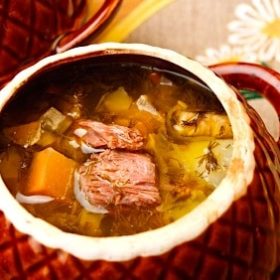 Schi: Beefy Russian Cabbage Soup - Shchi Recipe
Shchi, a hearty Russian cabbage soup, serves up warming beef and veggies. This soup likes to sit and simmer on your stove for half a day, making it the perfect nourishing meal when cold weather sets in. It's super tender and rich. Also known as "Schi."
Print
Pin
Ingredients
Shanks
2

whole

beef shanks

Salt

Pepper

1

tablespoon

garlic powder
Stew
8

cups

water

2

whole

celery stalks

chopped

1 1/2

whole

onions

chopped

4

small

turnips

peeled and chopped

5

whole

carrots

peeled and cut into 1/2-inch half-rounds

1

cup

dry lentils

2

whole

bay leaves

Two

8-ounce cans

tomato sauce

One

15-ounce can

crushed or diced tomatoes

1

teaspoon

paprika

2

teaspoons

fresh thyme leaves

2

teaspoons

salt

2

teaspoons

freshly ground black pepper

1

teaspoon

garlic powder

1/2

head

cabbage

shredded

6

medium

potatoes

quartered

Sour cream

for topping
Instructions
Preheat over to 400°F (204°C).

Season shanks with salt, pepper and garlic powder, then roast for 25 minutes in hot oven. Remove shanks from oven and allow to cool. Remove meat and chop coarsely, reserving bones.

To a large Dutch oven add meat, bones, water, celery, onions, turnips, carrots, lentils, bay leaves, tomato sauce, tomatoes, paprika, thyme, salt, pepper, and garlic powder. Bring to a boil over medium heat. Lower heat to low and simmer gently, uncovered, for 3 hours.

Stir in cabbage and cook for another 30 minutes. Add potatoes, cover, and cook for another 20 minutes, stirring occasionally to prevent burning.

Serve is large bowls with a dollop of sour cream, alongside a hunk of crusty bread.
Nutrition
Calories:
373
kcal
|
Carbohydrates:
67
g
|
Protein:
22
g
|
Fat:
4
g
|
Saturated Fat:
1
g
|
Polyunsaturated Fat:
1
g
|
Monounsaturated Fat:
1
g
|
Cholesterol:
12
mg
|
Sodium:
968
mg
|
Potassium:
2035
mg
|
Fiber:
19
g
|
Vitamin A:
9050
IU
|
Vitamin C:
139.4
mg
|
Calcium:
160
mg
|
Iron:
6.7
mg
If you like this soup recipe, check out these others:
This content was originally posted on FearlessFresh.com.