I'll bet you that the vast majority of my readers have never tried making congee, let along a vegetarian congee recipe. Maybe you've had it in Chinese restaurants (where it's often called porridge), maybe you've had it at a friend's house, but have you ever made it yourself?
Now that cold and flu season has set in, it's time to start hunting down comforting soup recipes. Besides the requisite chicken soup that we all need in our cooking arsenal, there's another kind of dish that will cure what ails you when you've contracted the creeping crud: congee. For those not in the know, congee, also known as jook, is a creamy rice porridge that's a staple in Asian cultures. Consisting of rice that's been slowly cooked down to the point that the starches disintegrate into a bowl creamy goodness — think risotto, only cooked longer — congee is warm and easy to digest. Plus congee recipes are gluten free by default, can be make either vegan or vegetarian, and keep well in the refrigerator for a few days.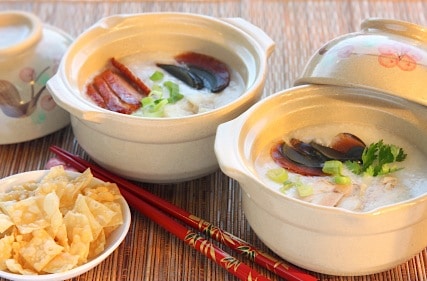 Congee can be eaten sweet for breakfast, but more traditional recipes add in any number of savory ingredients, such as chicken, mushrooms, onions, and egg. Simpler, blander congee recipes can be fed to infants, used as a cold/curative curative, and won't upset your stomach further when you've eaten something that doesn't agree with you. Overall, congee might be the perfect food when you need a comforting dish that's easy on your digestive system.
A basic congee recipe is easy to make at home. I like adding a tablespoon of butter or olive oil with just a sprinkling of curry powder, or else I make a more elaborate chicken congee recipe for those days when I want something meaty. The recipe below is perfect for when you're not feeling well and find yourself craving a dish that's warm, nourishing, and easy to prepare.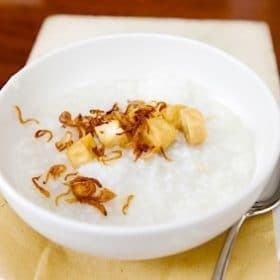 My Vegetarian Congee Recipe, the Perfect Cold Season Soup
This vegetarian congee recipe is soothing and creamy, with no meat or dairy. It's perfect for when you're sick, or need something easily on the stomach. Serves two as a meal, four as a side.
Print
Pin
Ingredients
6

dried shiitake mushrooms

1

cup

short-grain or glutinous rice

(which is gluten-free, by the way)

4

cups

vegetable broth

4 to 8

cups

hot water

One 2-inch

knob

of ginger

peeled and diced

1

large

carrot

peeled and finely diced

1

small head

of bok choy

chopped

1

teaspoon

salt

(more to taste)

1

whole

green onion

finely chopped, for garnish

1

teaspoon

sauteed garlic

for garnish
Instructions
Soak mushrooms in enough hot water to cover them. Once they are soft, discard water, drain mushrooms and remove the stems. Chop coarsely and set aside.

Rinse rice once and set aside.

In a medium saucepan, bring broth to a boil over high heat. Once the broth is boiling, add rice and 4 cups of hot water. Bring to a boil again, then reduce heat to very low, allowing to gently simmer for 30 minutes, stirring occasionally and adding more water as necessary to create a creamy consistency.

After 30 minutes, add mushrooms, ginger, carrots, and bok choy. Let cook for another 60 minutes, continuing to add hot water and stir occasionally. You'll need to stir and scrape the bottom of the pot every few minutes to keep the soup from burning and sticking to the bottom of the pot.

Once you've got a nice, creamy consistency and most of the rice grains have melted away into the broth, salt to taste. Serve hot in individual bowls, garnished with chopped green onions and sauteed garlic.
Nutrition
Calories:
372
kcal
|
Carbohydrates:
73
g
|
Protein:
10
g
|
Fat:
4
g
|
Saturated Fat:
1
g
|
Polyunsaturated Fat:
2
g
|
Monounsaturated Fat:
1
g
|
Cholesterol:
2
mg
|
Sodium:
2179
mg
|
Potassium:
641
mg
|
Fiber:
6
g
|
Vitamin A:
9800
IU
|
Vitamin C:
21.5
mg
|
Calcium:
70
mg
|
Iron:
4.5
mg
This content was originally posted on FearlessFresh.com.
If you like this vegetarian congee recipe, check out these other dishes:
Part of this post appeared on Bay Area Bites.