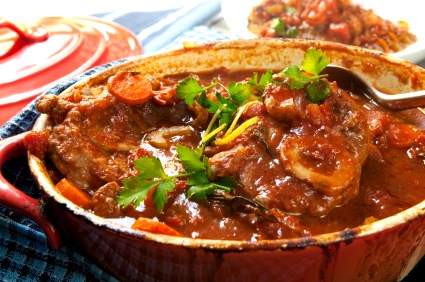 – A little crock pot osso bucco is just what the doctor ordered when it's cold out. –
I remember walking down a narrow cobblestone street in Florence, Italy, perusing the menus of the little sidewalk cafes that were just beginning to lay out the tablecloths for dinner service. The light had turned a deeper shade of blue, reflected off the darkening sky, while a warm breeze swept down the lane and kicked up spirals of tiny spring flower petals. I examined each menu carefully, overwhelmed by choices. So many lovely restaurants, so many amazing dishes, so many smiling waiters waving me down and begging me to come inside. "Ciao signora!" They called. "Che cosa vuoi per cena?"
In Italy, diners don't eat until late; many restaurants aren't even thinking of opening their doors until after 7:30pm. Americans, with our somewhat earlier dining habits, are often famished by the time Italian dinnertime rolls around, and the throngs of US tourists scuttling from menu board to menu board are always fun to watch. Tired of pizza, gelato, and fried risotto balls (or arancini ri riso), these hungry mobs just want a decent sit-down meal. And I was right there with them.
Food in Italy is highly regionalized, but as tourism grows and microcultures blend, we're beginning to see a wide range of foods that are migrating beyond the borders of their homelands. Now you can get Neapolitan pizza in Rome, sfogliatelle in Milan, and cannolis in Bologna. That night in Florence I sat down to a huge place of osso bucco, far from it's original Northern Italian home.
Historically, the dish was found in Milan. Italian for "bone with a hole," osso bucco is generally constructed of a cross-cut veal shanks braised with white wine, stock, and a handful of vegetables. Every family has their own special osso bucco recipe, though you'll often see it sprinkled with gremolata and served with risotto.
According to some older ladies that I spoke to, the original osso bucco alla Milanese was not made with tomatoes; rather it was prepared with only white wine, beef stock, vegetables, and a handful of spices. As times changed, tomatoes were added to make a redder dish, one that resembled more of a bolognese sauce.
After that night in Florence, I had a few different osso bucco versions, each time querying the restaurant owner in my broken Italian to find out how they made their dish. Chefs were very eager to share, and in many cases even wrote down their recipes for me, in a culinary pseudo-English that many kitchen staff seem to pick up through years of working with chefs from different countries. Using all the advice I received in those Italian restaurants (none of which were in Milan, by the way), I came up with a recipe of my own.
After I returned to the states, I began researching osso bucco recipes. I have a billion and one cookbooks, so I had more than a few at my disposal. After testing several versions, the best I found in an American cookbook was from one titled, Good Meat: The Complete Guide to Sourcing and Cooking Sustainable Meat by Deborah Krasner. I adored her dish and have made it time and time again, eventually implementing some of her methods into the recipe that I developed while traveling around Italy, which you'll find below.
For my osso bucco I use a Crock Pot, because I like to braise my meat for hours and not have to watch it. You'll want to use a larger Crock Pot for this dish, so that your shanks aren't piled one on top of the other; while some overlap isn't a problem, but ideally you'll have them sitting side by side, flat on the bottom of the crock. If you don't want to use a slow cooker, feel free to braise your shanks in a Dutch oven or other deep, heavy dish, in the oven at 200 degrees for 3 or 4 hours.
I also use beef shanks over veal (they're cheaper) and quinoa instead of risotto (quinoa is healthier and less time consuming to prepare). I eschew all veggies except tomatoes, because I prefer a more meat-heavy dish this time of year. If you like, feel free to add a few chopped carrots, parsnips, or any other sweet root vegetables to this crock pot osso bucco. Adding veggies will stretch the dish even further, though you may want to add an additional tomato and 2 tablespoons each of stock and wine to account for the additional ingredients.
Crock Pot Osso Bucco with Quinoa
This Crock Pot osso busso recipe brings a little taste of Italy to your home, with minimal work. Tender, slow cooked beef shanks fall off the bone, while white wine and heirloom tomatoes bring their signature brightness to the dish.
Print
Pin
Ingredients
2

large

beef shanks

Salt and freshly ground black pepper

Flour for dredging*

(about 1/2 cup)

5

tablespoons

olive oil

, divided

1

whole

leek

chopped

2

tablespoons

water

1

clove

of garlic

minced

2

large

heirloom tomatoes

peeled and diced

1

sprig

of fresh thyme

1

whole

bay leaf

1 1/2

cups

Italian dry white wine

1 1/2

cups

beef stock

1

tablespoon

cold butter

1

tablespoon

flour**

More salt and pepper

for seasoning

4

cups

cooked quinoa

(see below)

Freshly chopped Italian parsley

for garnish
Instructions
Dry both shanks with a paper towel, then season both sides with salt and pepper. Dredge in flour and shake to remove excess.

In a heavy-bottomed pan over medium-high flame, add 2 tablespoons olive oil and heat until it shimmers. Sear all sides of the shanks until they are a deep brown, being careful not to let them burn. Place side by side in the ceramic crock of a slow cooker and set aside.

Return the pan to medium heat, add the remaining 3 tablespoons of oil. Add leeks and 2 tablespoons water, cooking until the leeks are soft, making sure to scrape the tasty bit of browned meat from the bottom of the pan. Add garlic and cook for another minute, then add tomatoes, thyme, bay leaf, and white wine. Continue cooking for another 3 minutes.

Add beef stock and once the sauce begins to bubble, turn the heat to low and simmer for 15 minutes. Pour the sauce over the shanks in the crock pot, and cook on the low setting for 6-8 hours.

After 6-8 hours has passed, remove shanks from the crock pot and set on top of a mountain of quinoa. Turn the slow cooker's heat to high. Using your hands, mix 1 tablespoon of cold butter with 1 tablespoon of flour, turning it into a paste (also known as beurre mania). Add the beurre mania to the sauce in the slow cooker and cook for 3 minutes, stirring constantly.

Ladle sauce over shanks and quinoa. Serve garnished with freshly chopped parsley.
Notes
Nutritional analysis does not include the quinoa.
Nutrition
Calories:
413
kcal
|
Carbohydrates:
21
g
|
Protein:
12
g
|
Fat:
25
g
|
Saturated Fat:
6
g
|
Polyunsaturated Fat:
2
g
|
Monounsaturated Fat:
15
g
|
Cholesterol:
26
mg
|
Sodium:
867
mg
|
Potassium:
463
mg
|
Fiber:
2
g
|
Vitamin A:
550
IU
|
Vitamin C:
20.6
mg
|
Calcium:
60
mg
|
Iron:
4.7
mg
* If you wish to make this dish gluten-free, feel free to use a gluten-free flour mix in place of flour.
How to cook Quinoa
Quinoa is easy to make and far healthier than white rice. This easy grain is nutty, sweet, and full of flavor.
Print
Ingredients
2

cups

quinoa

1

teaspoon

salt

4

cups

water
Instructions
Rinse quinoa in a bowl for three minutes, using fingers to agitate grains. Quinoa has a coating of bitter saponin that needs to be removed before cooking, and agitating while rinsing will help remove it.

In a 5-quart pot, add salt to water and bring to a boil. Add quinoa and cook for 15 minutes, or until grains are cooked through but still hold their shape without being mushy. Serve immediately, covered with osso bucco.
Nutrition
Calories:
318
kcal
|
Carbohydrates:
59
g
|
Protein:
11
g
|
Fat:
5
g
|
Saturated Fat:
1
g
|
Polyunsaturated Fat:
2
g
|
Monounsaturated Fat:
1
g
|
Sodium:
558
mg
|
Potassium:
629
mg
|
Fiber:
5
g
|
Calcium:
60
mg
|
Iron:
7.9
mg
This content was originally posted on FearlessFresh.com.