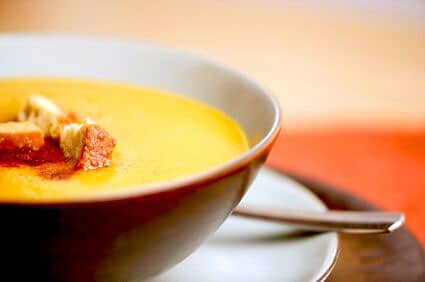 I love love LOVE potato soup recipes, and even though I haven't talked about it lately, I have a major thing for curry recipes. Now that the weather is turning cold freezing (I swear, I can't feel half of my toes right now), all I can think about is soup. I've been craving hearty soups that fill you up and keep you warm for the rest of the night. If they're not hearty, what the hell is the point?
When I was growing up, I hated soup. It was messy, it was sloppy and you couldn't really chew it. I was completely baffled by soup and wondered why people were so infatuated with it. But as I got older, I discovered something wonderful: blended soups. Here was something I could enjoy! These soups had some tooth to them, something I could savor and [almost] sink my teeth into. Blended soups were thick and velvety, not drippy and watery like the soups I'd grown up with. I was in love.
I still don't like runny soups, so I tend to throw every recipe I come across into the blender. This poses a problem, though – how do you blend soup without making a huge mess? With the advent of stick blenders came ease and convenience, but these things inevitably splatter a layer of soup across your stove and kitchen walls. Serious bummer.
We solved the problem, though. My husband fashioned a crazy simple solution out of a cardboard box that fits over our Dutch oven – he basically cut a hole in the top of the box where the blender fits in, allowing freedom of movement while still containing the mess. I should really post a photo of it one of these days. It's magical.
The curry potato soup recipe here is a slightly modified version of the Curried Potato and Vegetable Soup from Elise's site. I've changed a few things, but the biggest difference is the addition of lamb meatballs. One of my favorite flavor combos (besides peanut butter and chocolate) is lamb and yellow curry, so the first time I tried her soup, the only thing I could think was "OMG this would be incredible with lamb!". So, I added it. It was amazing.
This soup freezes well, so make a huge amount and save some for those nights when you just don't want to cook, or you've contracted one of the various plagues that get passed around this time of year. When I'm sick, this soup is my go-to meal. This stuff will cure what ails ya!

Curry Potato Soup Recipe with Lamb Meatballs
The ultimate cold weather curry recipe.
Print
Pin
Ingredients
1/4

cup

unsalted butter

1

medium

leek

chopped (use the white part)

1/2

medium

yellow bell pepper

deseeded and chopped

1

large

carrot

chopped

1

medium

turnip

or large parsnip, chopped

1/2

teaspoon

cumin seeds

1

teaspoon

ground turmeric

1

tablespoon

curry powder

1

teaspoon

yellow mustard seed

4

cloves

garlic

minced

2

pounds

red potatoes

peeled and cubed

4

cups

chicken

or vegetable stock

2

cups

water

1/2

head

of cauliflower

cut into florets

2

teaspoons

salt

1

pound

ground lamb

rolled into 1-inch balls, or one 14-ounce can of black beans

1

cup

frozen corn kernels

defrosted

3

small

zucchini

sliced in half lengthwise and cut into 1/2 inch rounds
Instructions
Melt butter in a large dutch oven over medium heat.

Add the leek, bell pepper, carrot, turnip (or parsnip) and cumin seeds. Cook until the leeks are soft, about 6 minutes, stirring occasionally. Add the turmeric, curry powder, and mustard seeds, cooking for 1 minute more. Add garlic and cook for another 1 minute.

Add the potatoes, stock, water, cauliflower, and salt. Increase the heat to high to bring to a boil, then reduce heat to medium. Let simmer uncovered for 20 minutes.

While the soup is simmering, heat a heavy skillet over medium heat. Brown meatballs on all sides (as well as you can with a ball), about 10 minutes total. Remove from heat. If using black beans instead of lamb, cook the beans in the skillet until hot.

Add the corn and zucchinis to the soup, cooking until the vegetables are cooked through, about 10 minutes. Remove from heat.

Remove 1/3 of the soup from the pot and set aside. Use a stick blender to purée the remainig 2/3 of the soup in the pot—be careful, this can make a huge mess!

Pour the unblended soup back into the pot and mix well. Add meatballs or beans and cook for another 5 to 10 minutes to incorporate flavors.

Add more salt, pepper, and curry powder to taste.
Nutrition
Calories:
630
kcal
|
Carbohydrates:
62
g
|
Protein:
33
g
|
Fat:
29
g
|
Saturated Fat:
12
g
|
Polyunsaturated Fat:
3
g
|
Monounsaturated Fat:
12
g
|
Cholesterol:
83
mg
|
Sodium:
1951
mg
|
Potassium:
2357
mg
|
Fiber:
9
g
|
Vitamin A:
5650
IU
|
Vitamin C:
104
mg
|
Calcium:
110
mg
|
Iron:
5.9
mg
This content was originally posted on FearlessFresh.com.