When we wrote Melt, we had a few astounding recipes that sadly just didn't make the cut for one reason or another. This recipe is one of them. This was a FABULOUS dish, but it just didn't fit into the overall narrative and flow of the cookbook.
Our love of jarlsberg cheese is mighty and unshakeable as was our desire to include it in Melt: the Art of Macaroni and Cheese. Sadly, it wasn't meant to be. This recipe, while fantastic, just broke too far away from our interpretation of mac and cheese (phyllo, technically, is a pasta). We tried to talk ourselves into it, but to no avail and it was dismissed from the lineup.
The creamy texture of Danish Havarti pairs well with the pithy personality of classic Jarlsberg. Combined with yogurt and egg, these two cheeses create a smooth, tender filling that plays off the salty, savory flavors of these decidedly Mediterranean ingredients.
I think you'll find this hearty pie a worthy departure from your standard definition of macaroni and cheese. Friends loved this recipe; in fact, panic ensued once the baking dish was empty.
This is a fantastic recipe for a lazy and chilly night indoors. Put on your favorite calming music and make away.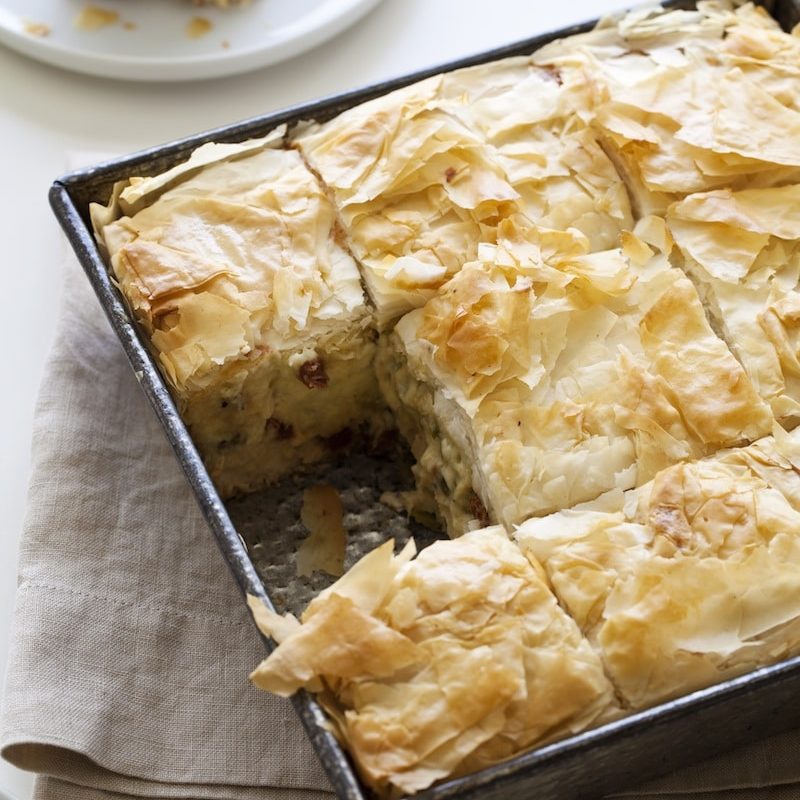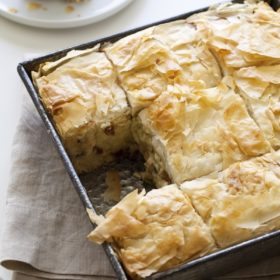 Havarti and Jarlsberg Chicken Phyllo Pie with Olives, Capers, and Sun-dried Tomatoes
Havarti and Jarlsberg Chicken Phyllo Pie with Olives, Capers, and Sun-dried Tomatoes: This is a fantastic recipe for a lazy and chilly night indoors. Put on your favorite calming music and make away.
Print
Pin
Ingredients
2

large

chicken breasts

3

large

eggs

1 1/2

cup

sun-dried tomatoes

1

cup

milk

3

tablespoons

butter

3

tablespoons

flour

3/4

cup

plain yogurt

1/2

teaspoon

freshly ground black pepper

4

ounces

grated Danish Havarti

4

ounces

grated Jarlsberg

Butter

for greasing

1

package

phyllo dough

defrosted

4

tablespoons

melted butter

1 1/4

cups

pine nuts

3

tablespoons

capers

8

ounces

coarsely chopped Kalamata olives

pitted
Instructions
Fill a medium-sized pot with water, add chicken breasts, and bring to a boil. Turn heat to a simmer and poach chicken breasts for 15 minutes. Remove breasts from pot and shred with two forks. Set aside.

In a large bowl, beat eggs. Set aside.

In a small bowl, soak sun-dried tomatoes in 3 cups warm water for 15 minutes. Drain tomatoes, gently squeezing out and discarding excess water. Coarsely chop tomatoes and set aside.

To prepare the mornay sauce, heat the milk in a small saucepan over medium heat. As soon as the milk starts to steam and form tiny bubbles around its edges, turn off the heat. Place the butter in a medium saucepan and melt over medium flame. Add the flour and stir with a flat-edge wooden paddle just until the roux begins to take a light brown color, scraping the bottom to prevent burning, about 3 minutes. Slowly add the milk and stir constantly until the sauce thickens. Remove from heat.

Temper the eggs by slowly pouring 1/4 cup of the mornay sauce into the bowl with the eggs while whisking continually. Once combined, add the eggs to the rest of the mornay and whisk together.

Add yogurt and pepper to sauce, stirring until well mixed, then add cheese a handful at a time, mixing until mostly melted.

Lightly butter the bottom and sides of an 9-inch square baking pan. Line pan with a sheet of phyllo dough, allowing the excess dough to hang over the edges of the pan, and brush dough lightly with melted butter. Add another layer, again brushing with melted butter. Pour in 1 cup of cheese sauce and spread with a spoon to form an even layer. Sprinkle with 1/3 of the chicken, 1/3 of the chopped sun-dried tomatoes, 1/3 of the pine nuts, capers, and 1/3 the olives. Layer in another two sheets of phyllo dough, brushing each lightly with butter. Repeat the layering of stuffing ingredients and phyllo two more times, finishing with phyllo. For the final layer, top with three sheets of phyllo dough, each brushed lightly with butter. Fold in the dough that is hanging over the edge of the pan to seal the pie.

Preheat oven to 375°F (190°C).

Cover pie with plastic wrap and chill in the refrigerator for 15 minutes. Before baking, cut into 9 equal-sized squares with a very sharp knife.

Slide uncovered pie into the oven and bake for 50 minutes. Allow to cool for 30 minutes before serving.
Nutrition
Calories:
757
kcal
|
Carbohydrates:
20
g
|
Protein:
42
g
|
Fat:
58
g
|
Saturated Fat:
21
g
|
Polyunsaturated Fat:
8
g
|
Monounsaturated Fat:
13
g
|
Cholesterol:
237
mg
|
Sodium:
1387
mg
|
Potassium:
926
mg
|
Fiber:
3
g
|
Vitamin A:
1200
IU
|
Vitamin C:
8.3
mg
|
Calcium:
420
mg
|
Iron:
5.2
mg
 This content was originally posted on FearlessFresh.com.