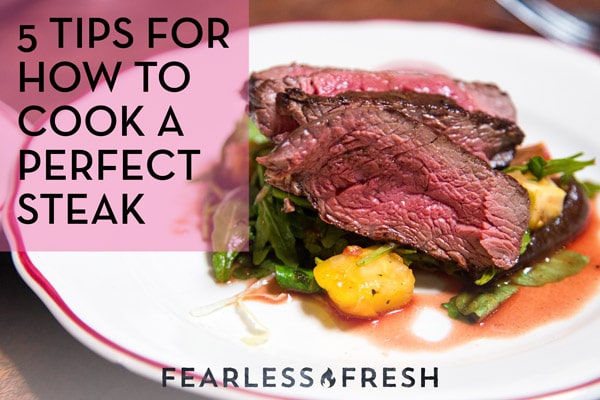 Ahhh, how to cook a perfect steak. While steak is easily one of the most popular meals in the country, the thought of dishing up steak for dinner causes a panic for many home cooks. It doesn't have to be that way. With the right skills and just a bit of practice, you can dish up perfect, restaurant-worthy steaks at home in less than 30 minutes. (You can also cook it up in the oven really quick, like this super easy marinated rib eye.)
If you're feeling particularly adventurous, you can also try cooking steaks using the sous vide method.
Learn How to Cook A Perfect Steak
Here are my top 5 tips for stepping up your steak game.
1. Know Your Steak Cuts
The key to learning how to cook a perfect steak is buying perfect steak cuts. Below are three of the most common steak cuts you'll find at your butcher:
Strip Steak: A tender, relatively lean cut of meat with a long strip of fat along one side. While it doesn't pack as much "beefy" flavor as some of the other cuts in this list, it's still a delicious and popular cut of steak. (also known as a NY strip steak)
Tenderloin: Tenderloin is the most tender cut of meat on the cow, simply because the muscle it's taken from does very little work. It is very lean but doesn't boast as much flavor as some other cuts.
Rib eye: A much fattier cut of meat taken from the animal's rib section. Thanks to being well-marbled, this steak is perfect for fast, hot cooking, and staying juicy while offering a lot more flavor than other cuts. It's great cut for learning how to cook an incredible steak.
These are all prime cuts of beef and tend to be very expensive. If you're on a budget, don't be afraid to try some of these cheaper cuts that are big on flavor without breaking the bank:
Skirt steak: This is easily one of my favorites cuts of meat for steak. Also known as "butler's" or oyster blade steak, this is a long, thin cut of meat taken from the plate of the cow just below the ribs. While not the most tender cut, it's got a big, bold, beefy flavor that will give any prime cut a run for its money.
Flank steak: This is another budget cut that offers big flavor for easily a third of the price of the prime cuts I mentioned above. When serving flank after cooking, try cutting against the grain for extra tenderness.
Flat iron steak: Similar in appearance to the skirt steak, the flat iron comes from the animal's shoulder. Again, it isn't the most tender cut of meat, but it's big on flavor.
Pro tip: Regardless of what cut you choose for cooking your perfect steak, make sure to pay extra attention to its marbling. Well-marbled cuts of meat will be more tender and flavorful. All the great cooking in the world won't transform a sub-par cut of meat. Also, try to buy steaks that are at least 1-inch thick. This will help you to get a good sear on your steak without overcooking it.
2. Bring Your Steak to Room Temperature
Don't cook a steak straight out of the fridge. Ever. Throwing an ice-cold slab of meat on a screaming hot pan will result in one thing only: disappointment. The extreme heat of the pan will make the meat tense up, and the coldness of the steak will make it almost impossible to get a nice, even sear.
For a tender, juicy, well-seared steak, take your meat out of the fridge 1 hour before cooking and let it get to room temperature. Then, just before you drop it into the pan, dress it up with your favorite seasonings. More on that below.
3. Season Well. Like, Really Well
There's no learning how to cook a perfect steak without one key ingredient: salt. When it comes to serving awesome steaks, salt is your best friend. Seasoning your steak with a splash of olive oil and a liberal sprinkle of salt and you're well on your way to dishing up restaurant-worthy steaks.
The key is to salt your beef ahead of time — like 12-24 hours before cooking. The sooner ahead of time you salt your steak, the longer the salt will have to penetrate the inner fibers of the meat. That's how restaurants get the inside of the steak to taste just as good as the outside. They salt ahead of time. Even salting your steaks an hour ahead is better than nothing, so if that's all the time you've got, take advantage of it.
Here's the method: remove your steaks from the refrigerator and salt generously on one side. Then flip the steak over and salt the other side. Cover the steaks with plastic and place then back in the fridge, allowing them to self-season until you're ready to cook them. When you cook them, don't add anymore salt.
If your perfect steak is on the spicier side, don't be afraid to experiment other spices, too. Meat-friendly spices like cumin, cayenne, garlic powder, and paprika (smoked and sweet) all go beautifully with steak. Green herbs like rosemary and thyme also help add extra flavor to meat. Here's a recipe for a quick herb rub that goes great on steaks.
Pro tip: I like to top my steaks with a knob of butter once they're finished. The butter melts down over the steak, combining with the meat's natural juices to make a simple, yet super tasty sauce. I also season my steak with pepper after cooking, not before.
4. Get Your Pan Really Freakin' Hot
I can't stress this enough: The best way to cook a perfect steak is hot and fast. And I mean really hot. Don't get your steak anywhere near your pan if that thing isn't close to smoking.
If you cook your steak at a lower temperature, you'll end up with a bunch of liquid in the pan which should be in your steak. In order to preserve a steak and keep it juicy, it's absolutely vital you cook it on an extremely hot pan. Once your steak is in the pan, let it sit until it's ready to be flipped. Then, quickly sear the other side before taking it off the heat
Pro tip: Don't use non-stick pans for steaks because they can't handle the heat. Instead, use a cast-iron skillet. If you don't have one, a thick, heavy steel pan will work too.
If you're intent on learning how to cook a perfect steak, a 12-inch cast iron skillet should be on your shopping list. You can get a new one for about $25 (affiliate link), but they're a cheap find at garage sales and vintage shops. I got my handy 1950's skillet for $5 and it will last forever.
5. Rest Your Steak After Cooking
Once you take your steak off the heat, let it rest for 3-5 minutes. I know it can be hard to resist the urge to sink your teeth into a freshly grilled steak, but it's worth the wait. What you're waiting for is the carryover cooking to finish. Resting your steak after you take it from the pan will allow the meat fibers to relax and reabsorb their juices, giving you a juicy, tender final product. The ideal resting time will vary depending on the size of the cut, but 3-5 minutes is a good rule of thumb for standard size steaks.
That's it! Now that you know how to cook a perfect steak, go get your steak on. Then join the Cooking Support Group on Facebook and let me know how it went.