– At a great Bay Area Indian cooking class, we made an excellent chickpea spinach curry recipe –
A few weeks ago, some friends and I took an Indian cooking class with a local Bay Area teacher, Rashmi Saini. Rashmi was a wonderful instructor, and we spent the afternoon chopping, stirring, and cooking while enveloped in the pungent aromas of cumin, coriander, and asafoetida. Dinner was a colorful chickpea dish called chana, or a chickpea spinach curry recipe. Not only was it deliciously filling, but it was vegan and gluten free, too! Hallelujah.
I took a series of photos to document the experience, which you'll find below the recipe. I highly recommend that you look in your area for an Indian cooking class – such a fun way to spend the day!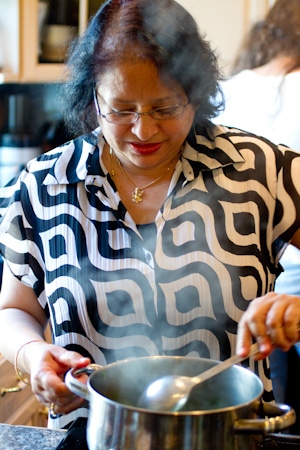 Chickpea Spinach Curry Recipe
Author:
Stephanie Stiavetti
Nutrition Information
Fat:

12g

Saturated fat:

1g

Unsaturated fat:

11g

Carbohydrates:

33g

Sodium:

612mg

Fiber:

7g

Protein:

7g
Prep time:
Cook time:
Total time:
This chana spinach curry recipe is a spicy vegan dish that's quick, easy, and full of flavor. Chickpeas and spinach are a healthy, protein-rich combination. This dish can be served with roti, naan or any other bread.
Ingredients
One 15 ounce can of chickpea (chole, garbanzo)
3 cups chopped spinach (palak)
2 medium tomatoes, chopped
1 to 2 hot green chili, chopped
1/2-inch piece of ginger (adrak), chopped
3 tablespoon canola oil
1/4 teaspoon asafoetida (hing)
1 teaspoon whole cumin seeds (jeera)
1/2 sweet onion, finely chopped
3 cloves garlic, chopped
1 tablespoon ground coriander (dhania)
1/2 teaspoon turmeric (haldi)
1/2 teaspoon red chili powder
1/2 teaspoon salt
1 cup water
1/2 teaspoon garam masala
More salt and red chili powder to taste
Instructions
Drain the chickpeas and rinse well in a colander. Set aside.
Bring a large pot of water to boil. Lower heat to medium-low and add spinach, simmering for 5 minutes. Drain and set aside to cool.
In a blender or food processor, blend boiled spinach, tomatoes, green chilies, and ginger until smooth.
Heat canola oil in a saucepan over medium heat. Test the heat by adding one cumin seed to the oil; if seed cracks right away oil is ready.
Add asafoetida and cumin seeds to oil. After about 3 minutes, the cumin seeds should begin to pop. Add onions and cook just until they begin to turn brown, then add garlic and cook for another 3 minutes.
Sprinkle in coriander, turmeric, and red chili powder, stirring and cooking for 2 minutes. Add chickpeas and salt, mashing them lightly with a spatula so they soften.
Pour in 1 cup water and spinach puree, stirring well to combine. Allow the mixture to cook for 5 more minutes.
Add garam masala and cook for another minute. Serve hot.
Notes
This content was originally posted on FearlessFresh.com.