– This lemon verbena French macaron recipe is pure gold. Cha-ching! –
It's no secret that I love macarons – in fact I dedicated an entire week to the art and craft of French macaron recipes earlier this year – so it would be an understatement to say that I was excited to team up with my friend Anita Chu from the gorgeous baking blog Dessert First to photograph the preparation of a recipe she developed, lemon verbena macarons. Yum! Anita and I are synchronizing our posts today, so please click over to her post on making macarons to see her story behind this fabulous macaron recipe.
To give you a better idea on how to prepare macarons with the Italian meringue method, Anita and I photographed almost every step in the recipe. We hope that these pictures will guide you through making your own macarons, and if you have any questions, please leave either of us a comment!
Lemon Verbena French Macaron Recipe
Prep time:
Cook time:
Total time:
This lemon verbena French macaron recipe makes a dozen fresh, tender cookies that taste just like springtime! Perfectly yellow bites of sunshine. All measurements are by weight, because macarons are a precision project.
Ingredients
200g almond meal or ground blanched almonds
200g confectioners' sugar
200g sugar
50g water
150g egg whites
Lemon verbena buttercream (recipe below)
Instructions
Stack two baking trays on top of each other. Line with a silicone baking mat or parchment paper.
Process almond meal with confectioners' sugar in a food processor.
Sift out any large bits of almond or big chunks of powdered sugar. Set aside.
Combine sugar and water in a saucepan. Heat on medium until all the sugar is dissolved. Continue cooking until the sugar syrup reaches 245°F (118°C).
Meanwhile, place egg whites in a mixer bowl with the whisk attachment. While the sugar is cooking, begin whisking the egg whites on medium speed. They should reach soft peaks by the time the syrup is at 245°F (118°C). Do not over whip the eggs. If it whips too fast, turn down or turn off the mixer.
Turn the mixer speed to low. Carefully pour the sugar syrup in a slow stream into the mixer. To avoid splattering, carefully pour the sugar syrup down the inside of the bowl, along the side.
Turn the mixer speed to high and let the meringue whip for several minutes until it has cooled and appears glossy and firm. The bottom of the mixing bowl should be room temperature to the touch.
In a large bowl, combine the almond meal mixture with the remaining about 1/4 of the whipped egg whites and fold until partially combined.
Scoop the remaining whipped egg whites into the bowl. Using a spatula or dough scraper, carefully fold the meringue in, trying not to deflate it.
The final batter should be thick and flow slowly like magma. Do not overmix the macaron batter.
Scoop the batter into a piping bag fitted with a 1/2" diameter plain tip.
Preheat the oven to 320°F (160°C)
Pipe 1 1/2" rounds of batter onto the prepared baking sheets. Let the sheets sit for about 20 minutes to let the shells harden.
Bake one set of macarons for 15 minutes, rotating once.
Let tray cool for a few minutes before removing from the silicone mat. Let finish cooling on wire racks.
Once macarons have completely cooled, sandwich them together with a tablespoon or so of lemon verbena buttercream. Store in an airtight container in the refrigerator for 24 hours before eating.
Notes
This content was originally posted on FearlessFresh.com.
Lemon Verbena Buttercream Frosting
Nutrition Information
Serving size:

2 Macarons

Calories:

474
Fat:

25g

Saturated fat:

14g

Unsaturated fat:

10g

Carbohydrates:

59g

Sodium:

39mg

Fiber:

1g

Protein:

10g

Cholesterol:

43mg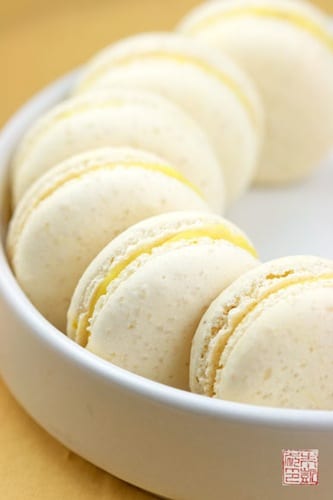 This lemon verbena buttercream frosting is creamy and fragrant, a perfect filling for macarons.
Ingredients
100g sugar
2 large egg whites
6 ounces unsalted butter, at room temperature, cut into 1 inch pieces
100 ml heavy cream
1/2 cup (3 g) lemon verbena leaves, washed and dried
250g white chocolate, coarsely chopped
Instructions
Combine the sugar and egg whites in a medium heatproof bowl and place over a pan of simmering water.
Whisk the sugar mixture constantly over heat until the sugar is dissolved and the mixture looks smooth and shiny, about 3 minutes.
Remove mixture from heat and pour into a stand mixer bowl. Whisk on medium speed for about 5 minutes until the mixture has cooled.
Switch to the paddle attachment and with the speed on low, add the butter a few pieces at a time, beating until smooth.
When all the butter has been added, beat the buttercream on medium-high speed for about 6-10 minutes until it is very thick and smooth.
In a medium saucepan, combine the lemon verbena leaves with the cream.
Heat on medium until warm. Remove from heat, cover, and steep for an hour.
Place chocolate into a bowl.
Strain the leaves from the cream. Reheat the cream until it just comes to a boil.
Slowly pour the cream over the chopped chocolate, let sit for 5 minutes, then stir to melt the chocolate. Begin stirring in the middle and work your way out as the emulsion forms. Continue stirring gently until mixture is completely smooth. Allow to cool and thicken before proceeding.
Fold the room-temperature chocolate into the buttercream until well incorporated. Use as filling for macarons.
Notes
Nutritional analysis includes buttercream frosting below.

This content was originally posted on FearlessFresh.com.