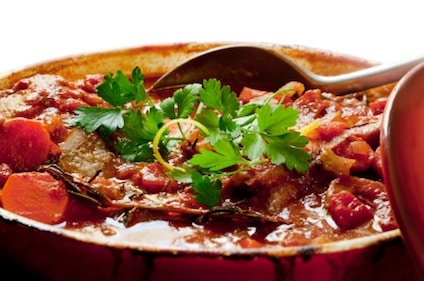 I can't think of a better cold-weather dish than a good, hearty oxtail soup recipe. The idea of eating oxtail might put some people off, which is a shame. The cow's tail is full of bone and connective tissue, which provides that lovely signature oxtail soup flavor as the dish is cooked slowly over a few hours. The longer you cook it, the more tender the little bits of meat become, until they're spoon-scoopable without a hint of resistance.
This is a bit of a departure from the traditional oxtail soup recipe. I've thrown in a few spices that might cause purists to raise an eyebrow, but really, this soup is a superbly warming main dish that will chase away any hint of damp winter chill. Coriander, cardamom and cumin lend their signature spiciness to balance out the beefy goodness, while a touch of cinnamon provides a gently sweet undertone that will remind you it's almost time for the holidays. I'm actually smiling just thinking about it!
This recipe can be prepared in either a Dutch oven or a slow cooker. Regardless of which you use, you'll be cooking this stew for about 8 hours.
A few notes: when you buy your oxtail, make sure to have your butcher cut it into 1″ segments. You don't often find oxtail in one long piece, but I've seen it enough times to make this point worth mentioning. And, this soup freezes really well, so I recommend doubling the recipe and then freezing a good portion for those last-minute meals when you want something hearty but don't have 8 + hours to simmer something on the stove.
Also, this is a nice, thick soup, verging on a stew, so have fun with it! The sizes of your vegetables don't need to be perfect, as long as they're big, hearty chunks.
Do you have a favorite oxtail recipe? Share it in the comments and let me know what you love about it.
Uber-Hearty Oxtail Soup Recipe - Slow Cooker Method
This oxtail soup recipe is rich and meaty, with the perfect thick brown sauce that clings to the beef. It's a perfectly deliciously and hearty dish. Yield: feeds 4 people a hearty portion
Print
Pin
Ingredients
2

pounds

oxtail

cut into 1″ segments

1

tablespoon

olive oil

1

medium

sweet onion

chopped

3

cloves

garlic

diced

2-inch

knob

ginger

peeled and diced

One 14-ounce

can

diced tomatoes with juice

1

teaspoon

ground coriander

1

teaspoon

ground cardamom

1

teaspoon

ground cumin

1/2

teaspoon

ground cinnamon

1 1/2

teaspoon

salt

1

teaspoon

freshly-ground black pepper

2

cups

beef stock

1

whole

carrot

cut into 1″ rounds

1

whole

parsnip

cut into roughly 1″ rounds

5

small

red potatoes

cut into quarters

1

yam

cut into roughly 1″ cubes

1

sweet apple

cored and chopped

One 14-ounce

can

kidney beans

drained and rinsed

Freshly chopped parsley

for garnish
Instructions
If you're preparing this recipe in a Dutch oven, preheat your oven to 200°F (93°C). If you're using a slow cooker, get it ready by plugging it in and setting it to its lowest setting.

Brown the oxtail in a very hot pan. Remove to a large Dutch oven or slow cooker.

Add the olive oil to the pan you browned the oxtail in and turn the heat to medium. Once the oil shimmers, add the onions and cook, stirring occasionally, making sure to scrape along the bottom and get up all the meaty bits that stuck to the pan while you were browning the meat. Cook the onions just until they start to brown, about 5 minutes.

Stir the garlic and ginger into the onions and cook for another minute, until the garlic and ginger become extremely fragrant. Pour onions, ginger and garlic into Dutch oven on top of the oxtail.

Pour the can of tomatoes into the same pan you cooked the onions in again scrap the bottom to get up anything stuck to the pan. Add coriander, cardamom, cumin, ginger, salt and pepper, stirring well. Cook tomatoes over medium-low heat for 5 minutes, just until it begins to thicken, stirring occasionally.

Add beef stock to tomatoes and continue to cook until it comes to a simmer. While you're waiting for the tomatoes and beef stock to heat up, add the carrot, parsnip, potatoes, yam, apple and kidney beans to the Dutch oven or slow cooker and mix well with the oxtail and onions.

Once the tomatoes and stock are at a simmer, add them to the Dutch oven or slow cooker. Give the whole thing a good stir to make sure the sauce covers everything, cover with a lid, and set to cook. For a Dutch oven, place it in your 200°F (93°C) oven and let cook undisturbed for 8 hours. If you're using a slow cooker, turn it to the "LOW" setting and let cook for 8 hours.

Serve hot, garnished with fresh parsley. I serve my oxtail soup with the bones in because I'm too lady to pick them apart before serving – plus I think the bones add to the rustic feel of the dish. If you're so inclined, feel free to pick out the bones before serving.
Nutrition
Calories:
992
kcal
|
Carbohydrates:
80
g
|
Protein:
82
g
|
Fat:
37
g
|
Saturated Fat:
13
g
|
Polyunsaturated Fat:
2
g
|
Monounsaturated Fat:
17
g
|
Cholesterol:
239
mg
|
Sodium:
2927
mg
|
Potassium:
2648
mg
|
Fiber:
14
g
|
Vitamin A:
5700
IU
|
Vitamin C:
99.8
mg
|
Calcium:
140
mg
|
Iron:
13.3
mg
This content was originally posted on FearlessFresh.com.