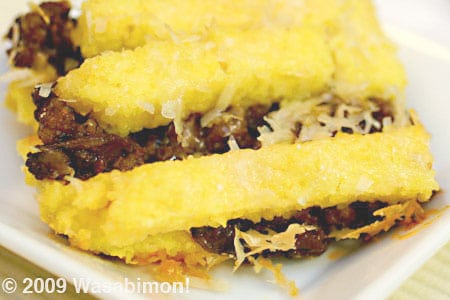 I'm a sucker for easy Italian food recipes – I mean, I am Italian after all. That said, I haven't had traditional pasta since the day that I learned I have a gluten sensitivity. Let me tell you how much of a damper that put on my cucina libertà (excuse the bastardization – I haven't spoken Italian since my grandfather died when I was five).
Since that fateful day I've scoured cookbooks and the internet looking for gluten free Italian recipes – and I discovered something I wasn't really aware of before: Italian cooking is in fact not all about pasta. Who knew?
Um, Duh?
Before you go getting all judgy on my naivety, let me explain that once my grandfather died, I didn't have any contact with my Italian family for almost 30 years. No one's really sure why that happened, but they've recently tracked me down via Facebook and now we're in the process of getting to know each other (hello Stiavetti clan!
Simple, Easy Italian Recipes
Now that I've gone off on a semi-emo tangent, let me bring it back home. Lately I've been craving some serious Italian food, and after my discovery a few years ago that Italian cooking was far more than the sum of its noodles, I've made it my personal quest to understand what Italian food really is.

After years of digging, cooking and eating, I've learned that Italian cooking comes down to two priorities: fresh and simple. Fresh, meaning the freshest in meats, herbs and vegetables, and simple in that a truly Italian recipe is not going to be laden down with a long list of ingredients. For the most part, the predominant style of Italian cooking was constructed out of necessity – think poor country folks eating whatever they grew locally. There weren't all sorts of extravagant ingredients in their dishes because they didn't have them on-hand, and as a result, Italian food allows each ingredient to shine in its own way, unfettered by complicated superfluous flavors.
Whooo, that was a mouthful!
Enter a Spiffy Italian Cooking Show
As I was digging through the internet for examples of simple, easy Italian recipes, I stumbled upon a television show called Ciao Italia with Mary Ann Esposito. I've seen countless gimmicky Italian cooking shows – I won't name any names – so I was so pleased to find Mary Ann's show because her cooking style is so simple yet ridiculously flavorful. There's no pretension here, just marvelous Italian food.
Oh wow, I used the word marvelous. That doesn't happen very often.
I've asked Mary Ann if it was alright to post some of the recipes that she's featured in her Italian cooking show, and she's graciously agreed. This is going to be three-part series, and the first recipe I'm going to share with you is my very, very favorite – a sausage and polenta pie that will make your heart sing. This dish is so good that when my husband and I first tasted it, we just started at each other in disbelief.
"Hey babe, this is really good!" he'd said. "Too bad it's not your recipe!"
Ciao Italia - Layered Polenta Pie with Mushrooms and Sausage
This is going to be three-part series, and the first recipe I'm going to share with you is my very, very favorite - a sausage and polenta pie that will make your heart sing. This dish is so good that when my husband and I first tasted it, we just started at each other in disbelief.
Print
Pin
Ingredients
2/3

cup

dried Porcini mushrooms

3

cups

water

3

cups

milk

1

pound

stone-ground cornmeal

6

tablespoons

unsalted butter

1-1/2

pounds

sweet pork sausage

removed from the casing

2 to 2-1/2

cups

prepared tomato sauce

Salt

to taste

Freshly ground black pepper

to taste

1

cup

grated Parmigiano Reggiano cheese
Instructions
Put the mushrooms in a bowl and cover them with hot water. Set aside and allow them to soak to rehydrate them for at least 35 minutes. This step can be done a day ahead.

Combine the water and milk in a large saucepan; stir in the cornmeal and whisk it until it dissolves. Over medium-high heat, cook the cornmeal, whisking constantly until the polenta thickens and begins to leave the sides of the pan and forms a loose ball.

Scoop the polenta out onto a lightly oiled large cutting board or baking sheet and spread it evenly. Allow it to cool. It is best to refrigerate the polenta for an hour before slicing it or make it ahead and hold it covered overnight in the refrigerator.

Drain the mushrooms, reserving the water. Chop the mushrooms coarsely.

Melt 1 tablespoon of butter in a sauté pan and cook the loose sausage grounds until they are browned. Add chopped mushrooms to the pan with the sausage.

Stir in the tomato sauce and cook for 20 minutes. Add 1/4 cup of the porcini mushroom liquid and cook 20 minutes longer. Season with salt and pepper.

Preheat the oven to 350°F (176°C). Butter a 9 X 12-inch casserole dish.

Spread a thin layer of the sausage sauce in the base of the casserole dish. Cut the polenta into 1/2-inch thick slices to fit the pan and make a layer in the casserole over the sauce. Spread more sauce over the polenta and sprinkle with some of the cheese.

Continue making layers, ending with the polenta and sprinkle the top with the remaining cheese and dot with the butter.

Bake until the cheese is nicely browned and the casserole is hot, about 25 to 30 minutes.

Let the casserole stand for about 5 minutes before cutting.
Nutrition
Calories:
721
kcal
|
Carbohydrates:
59
g
|
Protein:
26
g
|
Fat:
42
g
|
Saturated Fat:
19
g
|
Polyunsaturated Fat:
4
g
|
Monounsaturated Fat:
17
g
|
Cholesterol:
108
mg
|
Sodium:
1323
mg
|
Potassium:
835
mg
|
Fiber:
6
g
|
Vitamin A:
1500
IU
|
Vitamin C:
9.9
mg
|
Calcium:
280
mg
|
Iron:
4.1
mg
This content was originally posted on FearlessFresh.com.