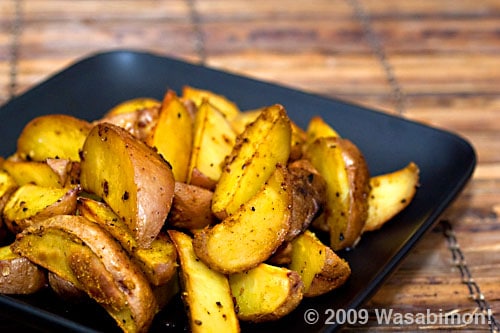 I've been in love with Asian food recipes for as long as I've been cooking. As I mentioned in a post last week, I learned to cook – and I mean really cook – in Thailand. While I'd always been a "fan" of Asian cooking, it was at that point that I truly fell in love with it.
So of course, I was ecstatic when Tuttle Publishing sent me a copy of The Asian Barbecue Book: From Teriyaki to Tandoori by Alex Skaria. I'd heard about the crazy-delicious* recipes in this cookbook, and I was chomping at the bit (so to speak) to get my hands on a copy.
Asian Food Photography
First off, I'd like to comment on the photography. I know I always start here, but honestly, a book's visuals are usually the first thing that grab you when you pick it up. As a wanna-be food photographer, I can tell you first-hand how tough it can be to photography meat – and photographer Alberto Cassio pulled it off beautifully. This book is very meat-heavy, and almost every single photo looks appetizing and makes you want to pluck the dish straight out of the pages of the book.
Asian Recipes and Cooking Instructions
The overall content of the book is well-done. I would have liked to have seen a little more conversational tone in the writing, but the information contained in these pages are well laid out and easy to understand. There's a complete charcoal barbecue primer for those that know nothing of grilling, so you bbq novices should be able to find your way around the recipes pretty easily with minimal fussing. I would have like to seen a little more on gas grills, since many people have them these days, but what's there is solid and should be helpful to anyone who still hasn't read the manual to their propane setup (RTFM!).
Also, it's important to note that many of these recipes can be prepared in a regular oven in case A) you're barbecue illiterate or B) it's freaking cold and rainy outside, and grilling is just a bad idea. So if you don't have a grill or have closed yours up for the winter months, this book will still suit you just fine.
I made three recipes from the book – two vegetarian (for you veg* folks out there) and one meat dish:
Curried Potato Wedges on page 148
Teriyaki Tofu Skewers on page 149
Coconut Roast Chicken with Soy Honey Glaze on page 86
I made the potatoes and tofu at a dinner party I went to at a friend's house, and the potatoes were a huge hit. In fact, I heard the phrase "best I've ever had" a few times, and I'd have to agree. They were easy to prepare and cooked quickly – I've since made them in the oven as well, and they actually tasted better baked than they did grilled.
The tofu wasn't as huge a hit with the friends, though I and one other person loved it a lot. Tofu's one of those hit or miss things – if people don't like tofu, they won't change their opinion based on this recipe, but if you do love the stuff (like i do), you'll really dig this dish.
Now, on to the coconut chicken. Hrmmm. All I have to say is "wow," talk about a dramatic presentation. This dish was kind of a pain to prepare, since you have to track down either coconut water or a whole, young coconut, but honestly, it's well worth it. I'm familiar with working with young Thai coconuts so it wasn't a big deal for me, but if you're not used to hacking at things with a meat cleaver, you might want to just use a soda can filled with coconut water or enlist the help of a axe-proficient friend (instructions are included for both options).
I made this dish in the oven since this is a tall order (literally) and won't fit vertically in the grill we have. After baking this in the oven at 350 and using a digital thermometer in the breast to tell me when it was done, this chicken came out beautifully. I had slightly overcooked the soy honey glaze before basting the bird with it, so the result was a smoky, caramel-y coating that stuck like glue and created a gorgeously crackly shell around the chicken. The end result was a lusciously tender bird with a sweet/smoky tang. While this recipe was a bit of a project, the finished product was well worth the effort.
Note: there's a typo in this recipe, where at some point it calls for coconut milk, which never appears in the ingredients list. I used coconut water and it came out perfectly.
Overall Rating for "The Asian Barbecue Book"
Overall, I'd have to give The Asian Barbecue Book a high rating: four out of five stars (or forks or frying pans or whatever kitschy icon-based rating system you'd find appropriate). In case you think that missing one star is a bad thing, let's just say that I've yet to give a book five stars.
I'll sum it up: buy this book. Even if you're a grilling-tard, you should be able to pull off many of these recipes without having to call your dad or next-door neighbor for help. Just keep a digital meat thermometer handy if you're unsure of the timing.
*By adding a contemporary co-adjective to the word 'delicious,' I feel like it's no longer a foodie cliche. So *ptttthhhhhbbbb* to you, grammar police! ;)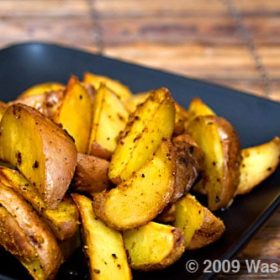 Review: The Asian Barbecue Book, and Curried Potato Wedges
A super simple Asian recipe for almost everyone
Print
Pin
Ingredients
1/2

teaspoon

freshly ground black pepper

1/2 to 1

teaspoon

cayenne pepper

1/2

teaspoon

ground cumin

1/2

teaspoon

curry powder

(I used twice as much)

2

teaspoons

salt

4

large

potatoes

each cut into 6 wedges
Instructions
In a large bowl, combine all ingredients except for the potatoes. Mix well.

Add the potato wedges and rub the spice mixture onto the wedges with your hands. Let the potatoes marinate for 30 minutes.

For oven: preheat oven to 350°F (176°C). Once potatoes are done marinating, pour them out into a lightly greased baking sheet and make sure they sit in a single layer. Cook for 45 minutes, then turn oven up to 400°F (204°C) and cook until potatoes are nice and firm on the outside, about 15-20 minutes. Wedges should be easily pierce-able with a fork.

For grill: Preheat grill. Just before you begin grilling, oil the hot grate. In a medium-hot zone on your grill, place the wedges directly on the grate and cook for about 35-40 minutes. Move the wedges to a low-heat zone if they begin to cook to quickly.

It's important not to let the wedges brown too much, or else the curry rub will become bitter.

Serve right out of the oven or fresh off the grill.
Nutrition
Calories:
100
kcal
|
Carbohydrates:
22
g
|
Protein:
3
g
|
Sodium:
1074
mg
|
Potassium:
679
mg
|
Fiber:
2
g
|
Vitamin A:
100
IU
|
Vitamin C:
33.8
mg
|
Calcium:
20
mg
|
Iron:
1.3
mg
This content was originally posted on FearlessFresh.com.