– 'Tis the season for grilled peaches, fresh goat cheese, and incredible macaroni salad. –
When I was writing Melt: the Art of Macaroni and Cheese, I had to relearn almost everything I thought I knew about flavor. Cooking with cheese is a unique experience, and so it's important to take the cheese's personality into consideration when picking herbs, spices, or other additional flavors for a dish.
When cooking with cheese, you certainly don't want to drown out the flavor of the cheese, given it's probably your intended star of the show. There was a lot of trial and error in recipe testing for the book, making sure I had a deep understanding of what ingredients paired well with what cheeses. Finding those magical flavor pairings took time and patience… especially when it came to pairing cheese with herbs and spices.
It turns out cheese and herbs go hand in hand like Fred Astaire and Ginger Rogers, but only if you let the cheese lead. What I learned in writing Melt is to look at the flavor profile of the cheese (is it nutty? grassy? sweet? salty? funky?) and then consider what spices you would pair with these flavors on their own.
I've got some great cheese and herb pairings in Melt, such as Petit Basque, a sweet, nutty sheep's milk cheese, coupled with sage for an unexpectedly smooth herbaceous experience. I've also got Humboldt Fog, a very famous goat cheese, paired with mint and parsley for an incredibly refreshing swath of flavor across your palate. Talk about memorable flavors!
Speaking of memorable flavors, what could be familiar than a fresh summer peach? The sun-kissed color, the ticklish feel of the fuzz, the sweet-tart-as-Mae-West flavor. As it turns out, if you grill peaches the flavor soars to a whole new level. If you've never grilled a peach, it's an experience you should consider: Think sweet-tart peaches + caramelization + gentle smokiness from the grill. Halle-freaking-lujah.
And if there is any cheese that pairs best with a peach, it's goat cheese. Any goat cheese will work, but if you can find it, try Humboldt Fog. Beneath its bloomy rind and runny sole lies a thick, intoxicating paste that guards the savory core. A line of decorative vegetable ash runs through the middle, which gives it its distinct layer cake appearance.
This simple macaroni salad combines these three amazing flavorings into one magical dish: think creamy-tart goat cheese paired with refreshing mint and the zing of grilled peaches. Summer in a bowl, this is. (Even if summer is quickly slipping away.)
This recipe appeared in Melt: the Art of Macaroni and Cheese, along with 74 other inspired cheese and pasta dishes. I do hope you'll check it out.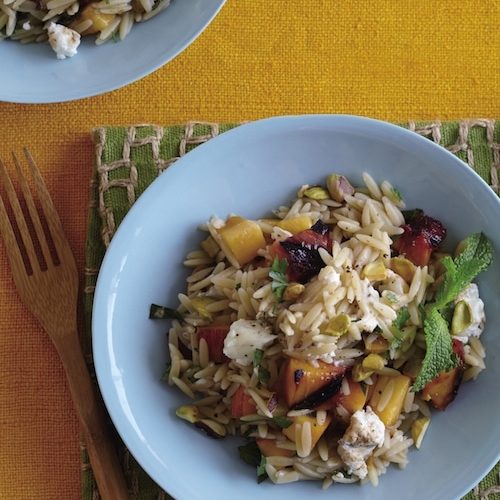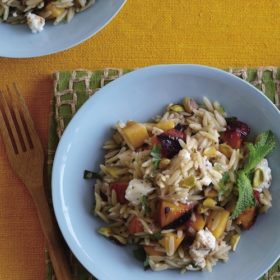 The Ultimate Macaroni Salad: Humboldt Fog with Grilled Peaches and Orzo
What could be nicer than a blushing peach? The sun-kissed color, the ticklish feel of the fuzz, the sweet-as-sugar cane flavor. Then you grill it and the flavors soars to a whole new level. This simple orzo salad lets the grilled peaches shine--and without the nuisance of peach juice dribbling down your arm. Summer in a bowl, this is, along with fresh goat cheese, chopped pistachios, and a hint of mint for a little extra *zing.*
Print
Pin
Ingredients
3

large

freestone yellow peaches

2

tablespoons

honey

2

tablespoons

balsamic vinegar

2

tablespoons

olive oil

Sea salt

10

ounces

orzo pasta

1/4

cup

chopped parsley

plus more for garnish

1/4

cup

chopped spearmint

Freshly-ground black pepper

1/3

cup

chopped pistachios

6

ounces

Humboldt Fog

rind removed and cheese coarsely crumbled
Instructions
Using a damp paper towel, lightly scrub and clean the peaches of any extraneous fuzz. Don't wash the peaches as they will soak up the water. Using a sharp knife cut the peaches in half lengthwise around the pit, using the peaches' crevices as a guide. Discard the pits.

Set the peach halves in a ziplock bag and toss with the the honey, olive oil, balsamic vinegar, and a pinch of sea salt allowing it all to marinate for 10 minutes. Reserve the marinade and place the peach halves on a hot and oiled grill, cut side down, and cover and cook for 5 to 8 minutes until the peaches are soft and have developed some charmingly dark grill marks. Roughly chop into bite-sized pieces and set aside.

While the peaches marinate, cook the orzo in some salted boiling water until al dente. Drain the pasta through a colander and set aside.

Combine the peaches, marinade, orzo, parsley, spearmint, and pistachios in a bowl and toss. Add a bit more sea salt and some freshly ground pepper to taste. Plonk in the Humboldt Fog and toss once or twice, just enough to bring everything together--over-mixing will melt the cheese and turn it to liquid.
Notes
Alternative cheeses (though Humboldt Fog is widely available): Goat's Leap Eclipse, Bermuda Triangle, any stellar chèvre you love Wine pairings: Rosé, Sauvignon Blanc, Grüner Veltliner, Gewürztraminer Additional pairings for the cheese, outside of this recipe: plums, cherries, balsamic reduction.
Nutrition
Calories:
490
kcal
|
Carbohydrates:
81
g
|
Protein:
12
g
|
Fat:
14
g
|
Saturated Fat:
2
g
|
Polyunsaturated Fat:
2
g
|
Monounsaturated Fat:
9
g
|
Sodium:
11
mg
|
Potassium:
413
mg
|
Fiber:
6
g
|
Vitamin A:
600
IU
|
Vitamin C:
14.9
mg
|
Calcium:
40
mg
|
Iron:
4.3
mg
 This content was originally posted on FearlessFresh.com.