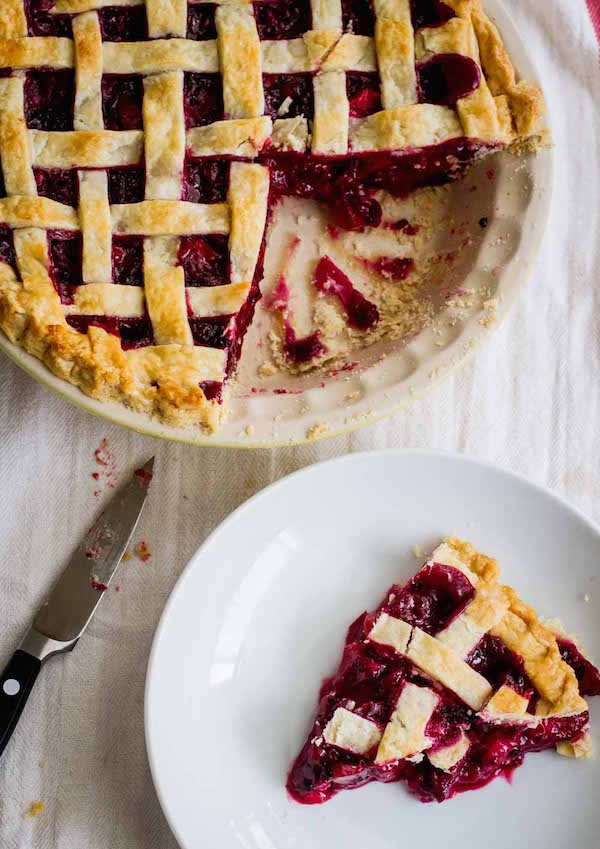 – Pretend summer isn't over with this incredibly easy blackberry pie recipe –
Can I ask you a question? Where the hell did summer go? I'm not really sure what happened, but I woke up this morning and realized, Cripes! It's almost September! Were I still a youngling, I'd be heartbroken that it's time to go back to school; but as I'm in my 20th+ year of adulthood, I'm more bewildered than anything else.
I'm a little panicked. I didn't eat enough peaches while I had the chance! No more tomatoes in the markets! The nectarines will be gone soon! Where the bork did all these pears and pumpkins come from??
To mourn the passing of this summer season – and the halfway point of yet another year – I've got a song to share with you. It's called Autumn Tactics, and it's a very nice segue into the fall season. I hope you enjoy it.
For as sad as I am to see summer go, I have to admit I'm almost giddy at the prospect of fall. Autumn is my favorite season, with the promise of bitingly chilly weather and warm, fuzzy scarves peeking out from their long hibernation in a box under the bed. That also means STEWS! BRAISES! MEAT PIES! And all the other lovely comfort foods that magically appear in my kitchen once the days start getting shorter.
So no, I'm not grieving for our soon-to-be dearly departed summer. I will miss the fresh fruit, though, specifically my favorite dessert this year: blackberry pie. A brandy-kissed blackberry pie so tart you're left wondering who gathered your lips into a bouquet and synched them with your tongue.
A few months ago I visited a U-pick farm in Portland, Oregon and relieved them of a bumper crop of blackberries. I came home with six crates of blackberries, for the ridiculously low sum of something like six dollars. Most of them went into the freezer, for that inevitable January day when I'm laying prostrate beneath a full-spectrum lamp, sucking my thumb and begging for anything that at least vaguely resembles a sunny day. Before this gold mine of berries hit the deep freeze, however, I snagged a few handfuls to develop you an insanely tart, ridiculously easy blackberry pie recipe. You're welcome.
This blackberry pie is special. Yes, it's easy to make, and yes, it's full of fruit. But beneath the bracing, brandy-soaked blackberries you'll find a layer of sour cream custard, spiced with cinnamon and fresh ginger, nipping at your olfactory senses and calling you to faceplant into the pie plate. The whole pie is then topped with a cinnamon crumble, as tender and warm as slow, naked kiss under the goose-down comforter.
And if you're averse to the drama of chilling, rolling, and fitting infuriatingly fragile pie crusts, then I've got you covered. This no-roll pie crust is thrown together quicker than a wink, then pressed into a pie plate without even a sideways glance from your rolling pin.
​​HALLELUJAH. It's a little known StephFact(tm) that I hate hate HATE making pie crust. I'm old enough now that I straight up refuse. That's why I love this no-roll crust recipe… there's no sticky, uncooperative dough, no discovery that every inch of your kitchen is covered with a fine layer of pastry flour. This pie crust recipe is a savior to those of us who wave the white flag after 60 minutes of unsuccessful mucking around with disagreeable crusts. FEH.
Now, if the fresh blackberries in your area have flown south for winter and you don't find yourself in possession of a freezer full of organic fruit (nyah nyah) feel free to buy a sack of frozen blackberries from the grocery store. A fact about frozen berries: They are often more rich in nutrients than those you buy fresh, as berries grown for freezing are left to ripen on the vine far longer than their cousins bound for the produce section. Berries grown for fresh sales are picked early, to ensure they are more durable for transport. So frozen berries are often deeper, darker, and more supple than fresh berries. Of course, farmers markets are a happy exception to this rule.
Also, while you're buying frozen blackberries, buy organic if you can. Commodity berries tend to be especially heavily-laden with pesticides to keep their delicate curves away from the jaws of garden creepers.
This easy blackberry pie recipe is my homebound version of a summer stay-cation. Make it now, while the sun is still high in the sky at 7pm, then make it again when the days are two hours long and you're neck-deep in the quicksand of seasonal affectation. Come January, this pie may very well be your security blanket. And a damn tasty one, at that.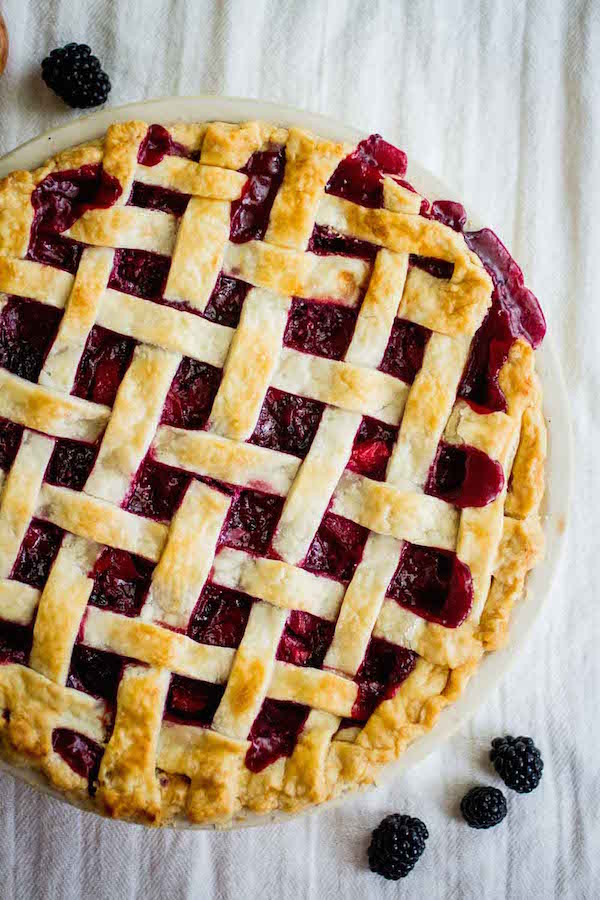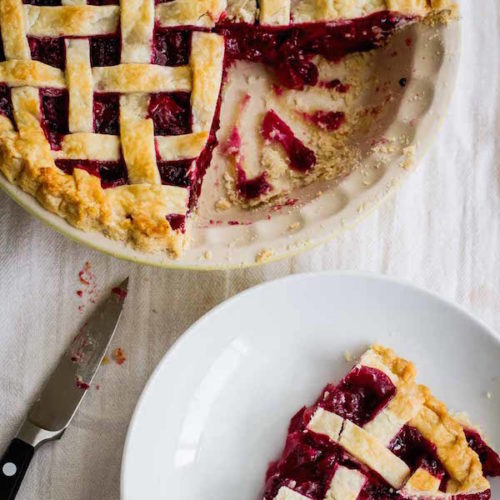 Easy Blackberry Pie Recipe with Spiced Sour Cream Custard (and No-Roll Pie Crust!)
This super easy blackberry pie is a recipe for anyone who wants to try their hand at pie-making. With a no-roll crust and simple filling, this pie comes together with less actual work than most pie recipes. You can even use frozen berries, if you want to make it in the off-season. Frozen berries are often higher in antioxidants that the fresh ones you buy in the produce section, because they're left to ripen on the vine longer than berries picked for fresh sales. The more you know...
Print
Pin
Ingredients
Crust:
1 1/2

cups

all-purpose flour

3/4

teaspoon

salt

1/8

teaspoon

baking powder

1

tablespoon

sugar

1

tablespoon

brown sugar

1/4

cup

frozen butter

1

tablespoon

sour cream

4

tablespoons

vegetable oil

2

tablespoons

cold milk

2

cups

of dried beans or pie weights
Crumble:
1/2

cup (1 stick)

butter

refrigerated

1/2

cup plus 2 tablespoons

flour

1/2

cup

powdered sugar

1/2

teaspoon

baking powder

1/2

teaspoon

salt

1/2

teaspoon

cinnamon
Pie filling:
4

cups

whole fresh blackberries

5

tablespoons

brandy

divided

1/2

cup

sugar

divided

2

tablespoon

lemon zest

divided, from one large lemon or two smaller lemons

2

tablespoons

cornstarch

1/2

cup

sour cream

divided

1/2

teaspoon

cinnamon

1/2

teaspoon

freshly grated ginger

1/4

teaspoon

salt

Additional sour cream for topping

about 2 cups
Instructions
Crust:
Whisk together flour, salt, baking powder, sugar, and brown sugar in a medium bowl. Set aside.

Use the smallest-holed side of a cheese grater to grate the frozen butter onto a plate. Place the butter in the freezer for 5 minutes. Use a fork or pastry blender to cut the frozen butter and sour cream into the flour mixture, making sure to incorporate everything until it's the size of small peas. Parts of the dough may have a sandy texture, which is fine.

Whisk together the vegetables oil and milk in a small bowl. Pour into the flour mixture and use a fork to completely incorporate the wet and dry ingredients. The finished texture should be relatively loose and gravely.

Pour the crust mix into a dry 9-inch pie plate. Use your fingers to press the dough into the bottom and sides of the pan, making sure to cover all surfaces, including the rim. Cover the pie crust with tin foil, pushing the foil down so that it comes in contact with the bottom and sides of the crust. Place the pie crust in the freezer.

Preheat the oven to 350°F (176°C). After 20 minutes, remove the pie crust from the freezer and fill the foil-covered crust with dried beans or pie weights. Bake for 10 minutes. Remove beans and foil from crust and bake another 5 minutes uncovered. Remove from heat and allow to cool. Do not turn off oven.
Crumble:
Remove butter from refrigerator and cut into small chunks. Lay butter chunks in a single layer on a plate and place back in the refrigerator for 10 minutes.

Combine flour, powdered sugar, baking powder, salt, and cinnamon in a small bowl. Add chilled butter and use a fork or pastry blender to to cut the butter into the dry ingredients. The crumble should cling together like small stones. Place crumble in refrigerator until ready to use.
Pie filling:
In a small bowl, combine blackberries, 2 tablespoons brandy, 1/4 cup sugar, 1 tablespoon lemon zest, and cornstarch. Toss together gently. Cover and allow to sit at room temperature for 30 minutes. Occasionally stir the whole lot to ensure even soaking.

While the berries are soaking, combine the remaining 3 tablespoons brandy, the remaining 1/4 cup sugar, the remaining 1 tablespoon lemon zest, sour cream, cinnamon, ginger, and salt in a small bowl. Cover and let sit for 15 minutes.

Spread the spiced sour cream custard into the bottom of the pre-baked pie crust, creating an even layer. Remove the crumble from the refrigerator, use your fingers to break it into small chunks, and spread half of the crumble in a layer on top of the sour cream. Lay the soaked blackberries and their brandy syrup in an even layer on top of the crumble layer, making sure to use all of the berries and syrup. (They'll all fit if you nudge them around, I promise!) Sprinkle the top of the pie evenly with the remaining crumble and dot with six teaspoon-sized dollops of sour cream.

Cover just the edges of the crust with tin foil to prevent them from burning. Bake the pie in a 350°F (176°C) oven for 50 minutes, or until the crumble is golden brown. Once the pie is done, remove the foil from the edges and let cool on a wire rack for 30 minutes before serving. Serve each slice topped with a generous dollop of sour cream.
Notes
If using frozen blackberries, make sure to defrost them first.
You can also use raspberries, blueberries, or mixed berries, if you like. Nutritional analysis does not include sour cream for serving.
Nutrition
Calories:
520
kcal
|
Carbohydrates:
59
g
|
Protein:
5
g
|
Fat:
28
g
|
Saturated Fat:
14
g
|
Polyunsaturated Fat:
2
g
|
Monounsaturated Fat:
10
g
|
Cholesterol:
54
mg
|
Sodium:
626
mg
|
Potassium:
218
mg
|
Fiber:
5
g
|
Vitamin A:
900
IU
|
Vitamin C:
23.9
mg
|
Calcium:
90
mg
|
Iron:
2.2
mg
This content was originally posted on FearlessFresh.com.