It started innocently enough. "Let's make a peach pie," I barked out loud, unaware of my desire to bake a pie until that very moment. We were going to our friend Ben's house later that afternoon, stopping first at the farmer's market to grab a few bits of produce for the week. It seemed like the perfect opportunity to flex my pie muscle, which has atrophied in a near decade of decline. I wanted fresh summer fruit, flaky pastry, something sweet to celebrate the warm day… and I wanted it now.
At the farmers market, there were stone fruit of all varieties – peaches, plums, nectarines, pluots, nectaplums. A fragrant cloud hovered over the stand, drawing shoppers in to fondle the fruits and gawks at their smooth, colorful skins. The most heavily scented that day were the apriums, a hybrid fruit that combines the sweet apricot with the tart, rosy personality of a plum. These particular apriums were pink with a light mottling of orangy-brown. I didn't even try to resist the urge to buy three pounds.
With fruit in hand, I decided to make the pie at Ben's place. Ben, of course, was fair game. The boy will eat anything and he's always happy to let me take over his kitchen in the name of mad scientist experimentation, so we loaded up the car with what ingredients I could pull from the fridge and headed over to the Lower Pacific Heights neighborhood of San Francisco. There was a festival going on in Japantown, which sounded like a fun way to spend the afternoon.
We got to Ben's house and headed out to the Festival. We chatted about nothing, looking at the funny t-shirt booths and exploring the other random things lined up along a blocked-off section of Post Street. Ben absentmindedly asked if we needed anything to make the pie. I slapped my head in response.
"I forgot butter!" I cried. "Dammit, I have a whole pound in the refrigerator."
He shrugged. "I don't have any, but it's no big deal. We'll just walk over to Safeway. It's not too far."
One trip to Safeway later, we had butter in hand. We wandered back to the festival, where it was discovered that Ben also had no rolling pin. Merde. Thad suggested that maybe one of the Japanese dollar stores might have one, so we spent the next hour crawling Japantown for a rolling pin. We found tart pans, eyebrow shavers, tofu strainers, blow up male implants (????), and a host of other strange and wonderful things, but no rolling pin. The one place that might actually have it, Soko Hardware, was sadly closed on Sundays.
Sans rolling pin, our pie plans appeared dashed. Then I thought, wait, I've seen a no-roll pie recipe. I has just bought Joy the Baker's cookbook, and perhaps she had the recipe on her site as well. A quick search for the proper post. Thank the baking deities for smartphones.
– There are few things finer than a fresh aprium pie. Hallelujah! –
We get back to Ben's house and start digging through the cupboards for ingredients. At some point I decide to up the ante and make a sour cream pie with cinnamon crumble flavored with ginger and Malibu spiced rum; and guess what? There was no sour cream or ginger to be had. (Ben thankfully had a copious amount of rum ;) Being a good sport, Ben walked to the local Whole Foods to get the rest on the ingredients we needed for the pie.
I swear, after all the walking involved, I should have titles this post "The Pie that Almost Wasn't." Or, "The Pie that We Walked Off All the Calories for Before We Even Ate It."
Once we set to work, the pie came together very quickly. I showed the boys how to peel a aprium (or peach or apricot or tomato, for that matter) before Ben set to work chopped the fruit into thin slices. Thad is a prize-level pastry blender, so I often defer to him for creating the perfect pie crust texture. I myself stood back and watched the magic happen, soaking in how awesome it feels to truly make something with a group of loved ones. Everyone contributes, and everyone savors the finished product that much more.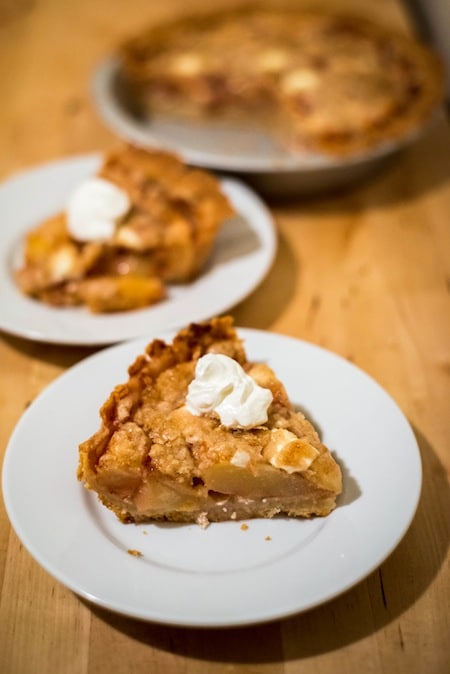 In the end, our aprium pie was perfect. The flavors bloomed together in a sweet/tart/spicy harmony, hitting a high note just a seconds after the first bite. This was one of those desserts that deepened in intensity with every taste, leaving the eater scrambling for a second piece immediately after the first.
It was well worth every mile we covered that day. :)
Photos by Ben De Jesus.
Aprium Pie with Sour Cream Custard, Rum, and Ginger with No-Roll Pie Crust
Apriums are half apricot, half plum, and 100% delicious. This aprium pie puts this unique fruit's sweet-tart flavor to work with sour cream custard, spiced rum, and a touch of ginger. If you don't have apriums, white or yellow nectarines make an excellent stand-in. Yield: one 9-inch pie
Print
Pin
Ingredients
For the crust
1 1/2

cups

all-purpose flour

3/4

teaspoon

salt

1/8

teaspoon

baking powder

1

tablespoon

sugar

1

tablespoon

brown sugar

1/4

cup (half a stick)

frozen butter

1

tablespoon

sour cream

2

tablespoons

vegetable oil

2

tablespoons

coconut oil

you can substitute with more vegetable oil if you prefer.

2

tablespoons

cold milk

2

cups

dried beans

or pie weights
For the crumble
1/4

cup (half a stick)

butter

refrigerated

5

tablespoons

flour

1/4

cup

powdered sugar

1/4

teaspoon

baking powder

1/4

teaspoon

salt

1/4

teaspoon

cinnamon
For the pie filling
1

medium-sized

bowl of ice

2

pounds (approximately 12)

fresh apriums

make sure you get extra sweet-tart ones if you can

3

tablespoons

spiced rum

such as Malibu

3

tablespoons

sugar

1/2

teaspoon

cinnamon

1/2

teaspoon

freshly grated ginger

1/4

teaspoon

salt

1/2

cup

sour cream

divided

Additional sour cream

for topping
Instructions
Make the crust (adapted from Joy the Baker):
Whisk together flour salt, baking powder, sugar, and brown sugar in a medium bowl. Set aside.

Use the smallest-holed side of a cheese grater to grate the frozen butter onto a plate. Place the butter in the freezer for 5 minutes. Use a fork or pastry blender to cut the frozen butter and sour cream into the flour mixture, making sure to incorporate everything until it's the size of small peas. Parts of the dough may have a sandy texture, which is fine.

Whisk together the vegetables oil, coconut oil, and milk in a small bowl. Pour into the flour mixture and use a fork to completely incorporate the wet and dry ingredients. The finished texture should be relatively loose and gravely.

Pour the crust mix into a dry 9-inch pie plate. Use your fingers to press the dough into the bottom and sides of the pan, making sure to cover all surfaces, including the rim. Cover the pie crust with tin foil, pushing the foil down so that it comes in contact with the bottom and sides of the crust. Place the pie crust in the freezer.

Preheat the oven to 350°F (176°C). After 20 minutes, remove the pie crust from the freezer and fill the foil-covered crust with dried beans or pie weights. Bake for 10 minutes. Remove beans and foil from crust and bake another 5 minutes uncovered. Remove from heat and allow to cool. Do not turn off oven.
Make the crumble
Remove butter from refrigerator and cut into small chunks. Lay butter chunks in a single layer on a plate and place back in the refrigerator for 10 minutes.

Combine flour, powdered sugar, baking powder, salt, and cinnamon in a small bowl. Add chilled butter and use a fork or pastry blender to to cut the butter into the dry ingredients. The crumble should cling together like small stones. Place crumble in refrigerator until ready to use.
Make the filling and construct the pie (adapted from Smitten Kitchen):
Prepare a large pot of boiling water and a large bowl of cold water. After the water is boiling, add ice to the bowl of cold water. Carefully set the apriums in the hot water, 3 or 4 at a time, and allow them to boil for 1 and 1/2 minutes. Fish them out of the boiling water with a slotted spoon and slide them into the bowl of ice water. Turn the apriums in the ice water until they are cool on all sides. Using your fingers, gently remove the skin from the fruit - it should slide right off. Repeat until you have peeled all the apriums.

Cut the peeled apriums in half and remove the pit from each one. Slice into uniform 1/2-inch slices and set the slices aside in a large bowl.

In a small bowl, combine rum, sugar, cinnamon, ginger, and salt. Mix well using a fork and pour over aprium slices. Use your hands to gently mix the fruit slices with the rum mixture, making sure every slice is covered with rum. Let the apriums soak in the rum for 20 minutes, occasionally stirring the whole lot to ensure even soaking.

Spread 1/4 cup of sour cream into the bottom of the pre-baked pie crust, creating an even layer. Remove the crumble from the refrigerator, use your fingers to crumble it into small chunks, and spread half of the crumble in a layer on top of the sour cream. Lay the soaked aprium slices in circles on top of the crumble layer, making sure to use all slices. (they'll all fit if you nudge them around, I promise!) Dot the top with the remaining 1/4 cup of sour cream and sprinkle the top of the pie evenly with the remaining crumble.

Cover just the edges of the crust with tin foil to prevent them from burning. Bake the pie in a 350°F (176°C) oven for 50 minutes, or until the crumble is golden brown. Once the pie is done, remove the foil from the edges and let cool on a wire rack for 30 minutes before serving. Serve topped with a generous dollop of sour cream.
Nutrition
Calories:
460
kcal
|
Carbohydrates:
59
g
|
Protein:
7
g
|
Fat:
24
g
|
Saturated Fat:
13
g
|
Polyunsaturated Fat:
1
g
|
Monounsaturated Fat:
7
g
|
Cholesterol:
43
mg
|
Sodium:
511
mg
|
Potassium:
71
mg
|
Fiber:
5
g
|
Vitamin A:
600
IU
|
Calcium:
50
mg
|
Iron:
1.4
mg
Cooking Resources:
If you like this recipe, you might be interested in the following resources:
A heavenly peach galette.
This content was originally posted on FearlessFresh.com.