My homemade chicken soup is the BEST chicken soup. And I mean it. It's better than my grandma's… and I'll bet it's better than YOUR grandma's, too.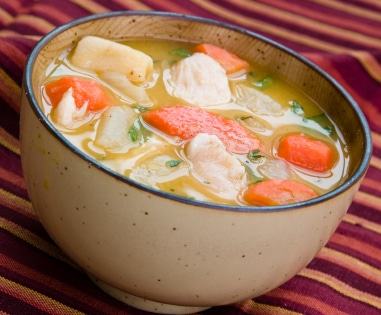 My homemade chicken soup recipe isn't usually something that I'm thinking about during the summertime – I spend that time of year thinking about my favorite chicken enchiladas and my homemade recipe for PF Chang's lettuce wraps.
Even though it's warm out, I still love hearty soups, but it's generally reserved for cold, rainy weather, when I'm looking for something warm and hearty to perk me up during the short days of winter.
This week, though, I was felled by one of my top ten pet peeves: the summertime cold virus. I woke up to aches, pains, and one of the worst sore throats I've ever experienced – all while it's 90 degrees outside. Gross!
After a throat culture confirmed that I did not have strep, I dug up my old homemade chicken soup recipe and made a gallon's worth, enough to last me a few days.
I swear, this is the best thing to eat when you've got a cold – packed with ick-fighting ginger, garlic, and vegetables, chicken soup will cures whatever ails you.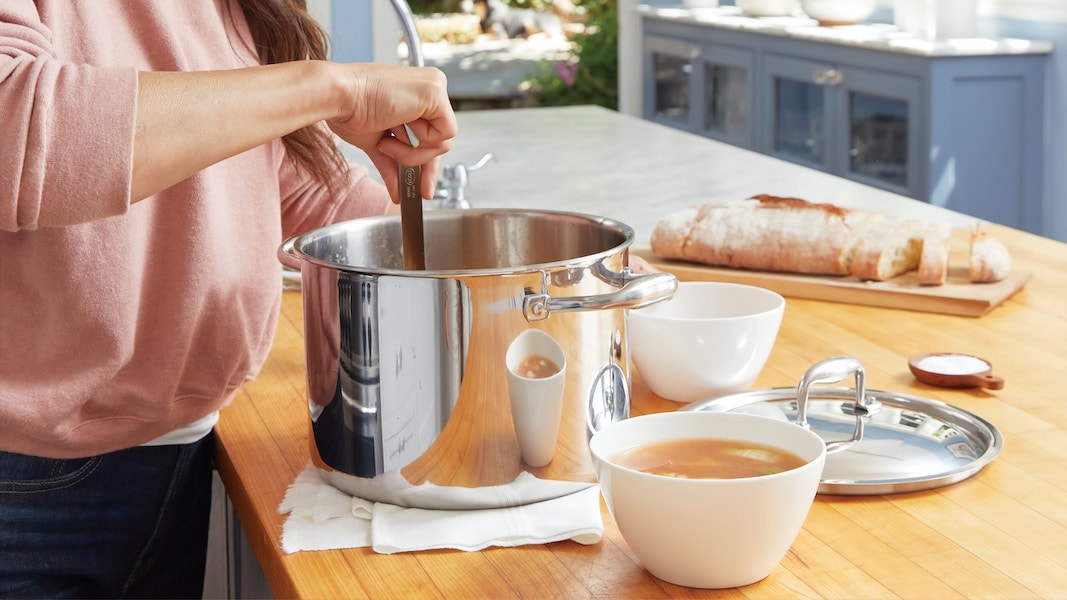 I muster my energy and make enough to feed myself through the inevitable week of sore throats and runny noses. If I'm planning ahead, I make a gallon and freeze some for emergencies.
If you're preparing this dish during the winter when celery and bell peppers are out of season, replace them with winter root vegetables, such as parsnips and turnips.
Otherwise, feel free to use frozen veggies if that's all you have on-hand. The best thing about chicken soup is that it's relatively forgiving when it comes to ingredients.
A note on noodles: I've never been a fan of noodles in my chicken soup (even when I was a kid… is that weird?) but if you want to use them, go right ahead. I find that the little Vietnamese Maifun noodles work really well for this, otherwise use your favorite rice pasta in fun shapes.
Just prepare the noodles ahead of time and add them to the chicken broth at the very last minute to keep them from getting soggy.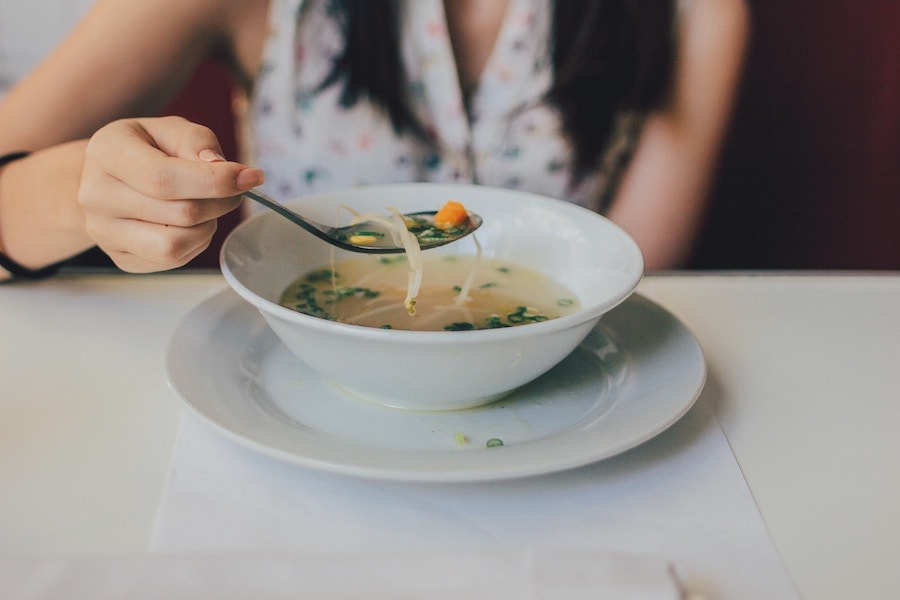 Looking for a little more chicken help? Check out this guide for how to roast a perfect chicken, every time.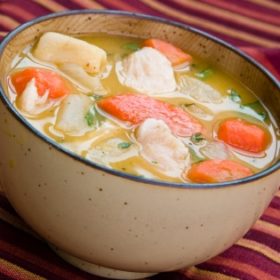 My Best Homemade Chicken Soup Recipe
Looking for the best homemade chicken soup recipe? This one is rich and hearty, full of vegetables and tender chunks of chicken. Better than my (and your) grandma's soup recipe!
Print
Pin
Ingredients
For chicken broth:
One 3-4

pound

chicken

cut into six pieces

2

whole

carrots

1

stalk

celery

(not the whole bunch!)

1-inch

knob

ginger

diced

1

small

onion

chopped

8

cups

water
For chicken soup:
3

tablespoons

olive oil

1

onion

chopped

4

cloves

garlic

diced

1-inch

knob

ginger

diced

1

whole

carrot

chopped into half-rounds

1

stalk

celery

chopped

1

whole

red bell pepper

chopped

1

bunch

of chard

chopped

1/4

cup

chopped green onions

1/3

cup

chopped parsley

3

tablespoons

tamari

1/2

teaspoon

salt

1/2

teaspoon

freshly ground black pepper

2

cups

cooked rice noodles

(optional)
Instructions
To make the chicken broth:
If you prefer a less fatty soup, remove skin and outer fat layer from chicken.

In a large soup pot, add chicken, carrots, celery, ginger, and onion. Pour 8 cups of water into the pot and stir gently to mix everything together.

Over a medium heat, bring the chicken broth to just a simmer. Lower heat and simmer gently while covered for 1 hour.

Remove chicken from broth and allow veggies to keep cooking in the liquid. Allow chicken to cool for a few minutes, and then using your hands or a pair of forks, remove all of the meat from the bird and place in a bowl. Return bones back to the broth and let simmer for another 15 minutes. Set bowl of chicken meat aside.

Once broth is done, strain using a cheesecloth or fine sieve, reserving broth and discarding all vegetables and bones. Wipe the soup pot clean for the next set of steps.
To make the chicken soup:
In the soup pot you used to make the chicken broth, heat olive oil over medium heat. Add onions and cook until they are translucent, about 3 minutes. Add ginger and garlic, cooking for 1 minute and stirring constantly. Add the carrots, celery, pepper, chard, and green onions one at a time, cooking and stirring for one minute each before adding the next.

Pour chicken broth and shredded chicken into the soup pot and give the whole thing a big stir. Heat until it reaches a simmer, then lower the flame to medium-low and allow to cook for 5 minutes.

Add parsley and tamari, stirring occasionally, cooking until vegetables are tender. Season with salt and pepper, adding more to taste. Add noodles, if you're using them, and let sit for a minute before serving. Serve in hot bowls, garnished with a bit of parsley.
Video
Notes
Nutritional analysis does not include optional rice noodles.
Nutrition
Calories:
581
kcal
|
Carbohydrates:
11
g
|
Protein:
40
g
|
Fat:
41
g
|
Saturated Fat:
10
g
|
Polyunsaturated Fat:
8
g
|
Monounsaturated Fat:
18
g
|
Cholesterol:
199
mg
|
Sodium:
882
mg
|
Potassium:
780
mg
|
Fiber:
3
g
|
Vitamin A:
13500
IU
|
Vitamin C:
77.6
mg
|
Calcium:
70
mg
|
Iron:
4.1
mg
This content was originally posted on FearlessFresh.com.