Brussels sprouts with bacon and maple syrup is probably one of my favorite flavor combinations ever — salty + sweet + green. Can you think of a better way to get your daily veg? And since we're in the thick of holiday planning, I thought this would be a good time to present you with not only this awesome recipe (perfect as a side for Christmas dinner) but the wonderful cookbook it came from:  The Gourmet Kitchen by my friend, Jennifer Farley.
Also, keep an eye out for another recipe from her cookbook, coming up in a few days: a fabulous Caramel Apple Pound Cake recipe. Yes, please!
Jennifer started her blog as a place to record her experience going through culinary school. Over the years she's developed a huge catalog of recipes at Savory Simple, making it of one of the best places to go on the web for cooking inspiration. Besides her recipes, Jennifer's site is filled with an endless number of gorgeously deep, rich food photographs. The saying says, "We eat with our eyes," and her photos are pretty much guaranteed to fill you up almost as much as her food will.
I'll get to the Brussels sprouts with bacon and maple in a second — first I am super excited to share this cookbook with you. The thing I like most about The Gourmet Kitchen is that while the recipes are indeed "gourmet," most of them are also practical and approachable. Jennifer says that many of her dishes are "geared towards special occasion cooking, such as casual dinner parties, a leisurely weekend meal, or a romantic dinner for two." And sure, some of the recipes in the book are aspirational, but I've found that the vast majority could be made by absolutely anyone. Even those without a lot of cooking skills.
The title of The Gourmet Kitchen might give it a certain air, but the truth is that Jennifer's dishes are the foods you love to eat every day, only they've been upgraded by someone with an educated eye towards flavor and style. Take the Honey Thyme Crème Fraîche Muffins (page 35). These muffins come together in literally 20 minutes, but they taste like you've spent all day in the kitchen. Same goes for the Black Bean Tortilla Casserole (page 196), which takes less than half an hour to prepare and carries so much flavor that you might need a second to recover after your first bite.
Looking for a quick but delicious weeknight dinner recipe? Linguine with Lemon, Crushes Red Pepper, Basil, and Burrata (page 191) that comes together in 30 minutes. Her Peach Panzanella (page 79), an old Italian-style recipe for a hearty dinner salad with bread, requires only 10 freaking minutes of actual work.
And of course, there's the Brussels sprouts with bacon and maple (page 127) that I'm featuring below. I mean, HELLO: Brussels sprouts with BACON and MAPLE SYRUP and BALSAMICO and SALT. These four things together create a trifecta of nom that just might be the best thing on your dining room table this Christmas.
Jennifer's dishes put the "simple" in savory simple while still tasting like you've gone out for a high-end dinner on someone else's dime. Really, how can you beat that?
(And hallelujah, I'm so glad to find another person who adds vanilla to her jam.)
Plus, as a classically trained culinary school graduate, Jennifer's recipes are as solid as they come. I know Jennifer to be unendingly focused on quality, both in her recipes and photography, and I've yet to have one of her recipes fail. That's saying a lot in this day of generic cookbooks that are thrown together by amateurs. This is not one of those books.
The Gourmet Kitchen is a great Christmas gift, including for yourself. Come on, I'm not the only one who slips a little gift under the tree for myself am I?
A note on affiliate links
Note: some of the links in this post are affiliate links. If you click them and make a purchase, I'll get a very small percentage of the purchase price. Thanks for helping me keep the lights on and pay my cookbook storage bill.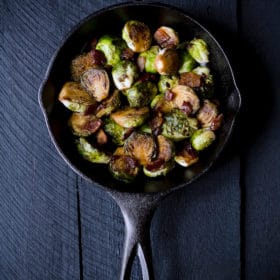 Brussels Sprouts with Bacon and Maple Syrup
From Jennifer: Brussels sprouts are one of those vegetables that everyone seems to either love or hate. I stand firm in my love of them as long as they are cooked properly. Brussels sprouts are not meant to be boiled in water. They should be caramelized with high heat, either in a sauté pan or roasted in the oven. I often prepare them simply with olive oil, garlic, and balsamic vinegar. But when I want a real treat, I like my Brussels sprouts with bacon and maple syrup for a tasty sweet and salty side dish.
Print
Pin
Ingredients
1

pound

Brussels sprouts

5

slices

thick-cut bacon

diced

2

tablespoons

balsamic vinegar

2

tablespoons

pure maple syrup

Kosher salt

Ground black pepper
Instructions
Cut off the root ends of the Brussels sprouts and remove any loose outer leaves. Slice in half.

In a large skillet, render the fat from the bacon over low to medium-low heat. Once the fat has mostly liquefied, turn up the heat to medium-high and cook the bacon until caramelized and crunchy. Set aside to drain on a plate lined with paper towels. Remove all but 2 tablespoons of the bacon fat from the pan.

Add the Brussels sprouts to the skillet and caramelize them on one side. Deglaze the pan with the vinegar, using a spatula to scrape up any brown bits and incorporate them with the Brussels sprouts. Continue to sauté the Brussels sprouts on high heat for a few minutes, swirling the pan, until they are tender. Add the bacon back to the pan along with the maple syrup. Stir until the syrup is evenly coating the Brussels sprouts.

Season with salt and pepper and serve hot.
Nutrition
Calories:
216
kcal
|
Carbohydrates:
22
g
|
Protein:
11
g
|
Fat:
11
g
|
Saturated Fat:
4
g
|
Polyunsaturated Fat:
1
g
|
Monounsaturated Fat:
5
g
|
Cholesterol:
18
mg
|
Sodium:
372
mg
|
Potassium:
668
mg
|
Fiber:
5
g
|
Vitamin A:
1200
IU
|
Vitamin C:
169.1
mg
|
Calcium:
70
mg
|
Iron:
2.3
mg