I've never had a caramel apple pound cake before this week. I've got a deep and abiding love for apple cakes in general, as you can see from this four-layer apple spice cake with honey sour cream frosting and hard apple cider caramel, but an apple pound cake? With a thick covering of caramel poured over the top? I have no idea how I could have possibly missed this.
I'm excited to share this recipe with you, from my friend Jennifer's cookbook The Gourmet Kitchen. A few days ago I showed you her gorgeous recipe for Brussels sprouts with bacon and maple syrup, along with a book review, which you should go check out. Go on, I'll wait.
.
.
.
Did you check it out? Good. That recipe is all the things I love for dinner: salty, green, tart, with a touch of sweet. And for the perfect followup, this caramel apple pound cake is all the things I love about after dinner: rich, buttery, sweet, and salty. (Ok, I may or may not have tripled the amount of salt in the caramel recipe.)
Jennifer's Caramel Apple Pound Cake Recipe
I grew up eating pound cake but not really enjoying it. The traditional pound cake — named as such because it contains one pound each of flour, butter, eggs, and sugar — was generally overbaked and one-dimensional. Dry pound cake became one of my least favorite things as a kid, and I'd avoid it even if there were no other sweets on the table.
As I matured, so did pound cake. Bakers began designing recipes with style and verve. How about some Sherry Olive Oil Pound Cake recipe, a la baking goddess Alice Medrich? Or Eggnog Pound Cake with Crystal Rum Glaze, from the baking world's grand dame Flo Braker? With all of these new and exciting recipes, I was able to relate to pound cake like I never had before.
With the exception of the two I mention above, I find most pound cake recipes require a little something-something to take it to the next level. Jennifer's Caramel Apple Pound Cake Recipe (page 228 in the book) is one of the best I've tried, with a touch of brandy, a layer of tart Granny Smith apples, and a thick blanket of caramel poured over the top to quell any concerns about dryness. If you love apples, or if you love cake, or if you love caramel, you will really love this pound cake.
The Gourmet Kitchen by Jennifer Farley
The Gourmet Kitchen is a great cookbook about taking simple foods and elevating them to new levels of greatness. The professional recipe developer over at Savory Simple, Jennifer has created 100+ recipes that will make your kitchen shine like you have a personal chef. If you're looking to eat better (and by 'better' I mean like royalty, but without the culinary school degree) I highly recommend you check it out.
A note on affiliate links
Note: some of the links in this post are affiliate links. If you click them and make a purchase, I'll get a very small percentage of the purchase price. Thanks for helping me keep the lights on and pay my cookbook storage bill.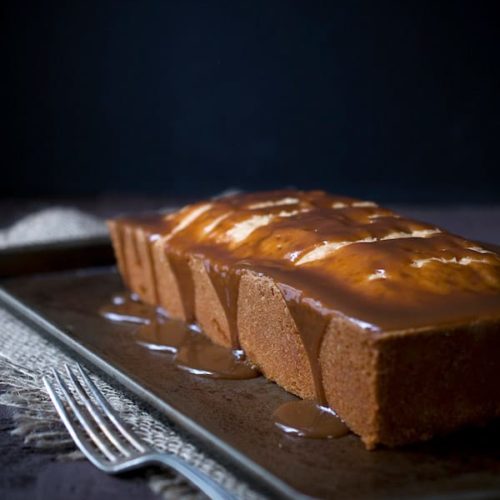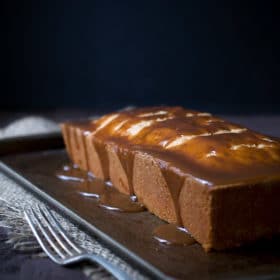 Caramel Apple Pound Cake
From Jennifer: Apple picking is one of my favorite autumn activities. Even though apples are often available all year at the store, seasonal apples have so much flavor and are wonderful in baked goods. Tart apples are especially good to use because they offer both sweetness and acidity. While I prefer to eat sweet apples, I use tart apples in almost all of my recipes. This caramel apple pound cake is sweet, eggy, and dense, but also quite soft. It has apples in every slice. And it's covered in a rich, creamy caramel sauce that keeps the cake moist and flavorful.
Print
Pin
Ingredients
For the apple pound cake cake
6

ounces (1 1/2 cups)

cake flour

1/2

teaspoon

kosher salt

1/2

teaspoon

ground cinnamon

8

ounces (16 tablespoons)

unsalted butter

room temperature

1 1/3

cups

granulated sugar

3

large

eggs

3

large

egg yolks

1

teaspoon

pure vanilla extract

2

teaspoons

brandy

1

large

tart apple

such as Granny Smith
For the caramel sauce:
1

cup

granulated sugar

1/4

cup

water

1/4

teaspoon

kosher salt

3/4

cup

heavy cream or half-and-half
Instructions
Preheat the oven to 325°F (163°C) and place an oven rack in the center position. Grease a 9 x 5-inch loaf pan with baking spray or butter and line the bottom with parchment paper.

In a small bowl, whisk the flour, salt, and cinnamon. Set aside.

In a stand mixer with the paddle attachment, cream the butter and sugar on high speed until light and fluffy, approximately 5 minutes. Scrape down the sides of the bowl and mix on high speed for another 30 seconds. Turn the speed down to medium-low. Add the eggs and yolks, one at a time, allowing each to incorporate completely before add- ing the next. Scrape down the sides of the bowl all the way to the bottom, add the vanilla and brandy, and mix again until everything is just combined.

On low speed, add the dry ingredients in three batches, and mix until the batter is just combined.

Peel and core the apple, then slice it in half from top to bottom. With the flat sides down, slice each half thinly.

Spread a small amount of the batter into the reserved loaf pan. Layer the apple in the pan, overlapping each other, until the bottom of the pan is covered. Pour in the rest of the batter, smoothing the top with a spatula. Place the loaf pan on a baking sheet.

Bake for 70 to 75 minutes, or until a toothpick inserted into the center of the cake comes out clean. Allow the cake to cool for 5 minutes in the pan and then gently flip onto a cooling rack. Allow the cake to cool to room temperature.

While the cake is cooling, prepare the caramel sauce. In a medium saucepan, heat the sugar, water, and salt over medium heat until the sugar is dissolved. Continue cooking until it starts to turn golden brown. Once it begins to caramelize, it will continue to darken quickly. Let the sugar get as dark as possible without burning for best results.

When the caramel is dark amber in color, remove the pan from the heat and pour the cream down the side of the saucepan. The caramel will splatter, so be very careful to avoid burns. The caramel will temporarily seize up and solidify when the cream is added.

Move the pan back to the burner and use a heatproof spatula to stir the caramel and cream until evenly combined. Allow the sauce to reduce while stirring, until it reaches the desired thickness, 5 to 10 minutes.

Before serving, drizzle the caramel sauce over the cake.
Notes
You can make the apple pound cake ahead of time, and even freeze it, and then make the caramel sauce just before serving.
Nutrition
Serving:
1
g
|
Calories:
430
kcal
|
Carbohydrates:
52
g
|
Protein:
4
g
|
Fat:
23
g
|
Saturated Fat:
14
g
|
Polyunsaturated Fat:
1
g
|
Monounsaturated Fat:
7
g
|
Cholesterol:
168
mg
|
Sodium:
145
mg
|
Potassium:
67
mg
|
Vitamin A:
950
IU
|
Vitamin C:
0.8
mg
|
Calcium:
30
mg
|
Iron:
1.4
mg
This content was originally posted on FearlessFresh.com.