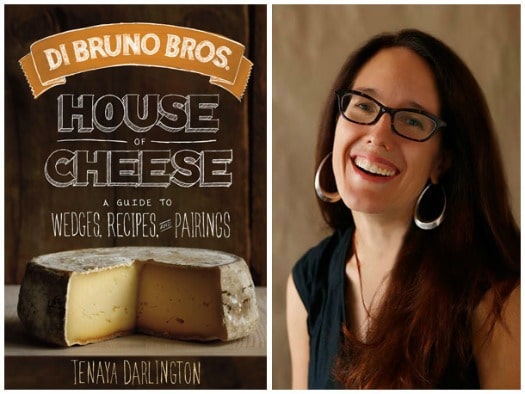 – Di Bruno Brothers House of Cheese – an epic cheese tome. –
The past few years have seen a lot of new cheese books in bookstores, due to the fact that cheese is becoming a hot topic here in the United States. As Americans, we're finally waking up to an idea that the rest of the world has been keen on for hundreds (maybe thousands) of years. Cheese is an art form, and it should not be taken for granted.
To celebrate this awakening, I'm very excited to introduce you to one book in particular: Di Bruno Bros. House of Cheese: A Guide to Wedges, Recipes, and Pairings. Written with wit and candor by cheese writer Tenaya Darlington (
of Madame Fromage fame
) and the legion of cheese knowledge behind Philadelphia-based gourmet grocery shop Di Bruno Brothers, this relatively new release is a testament to dairy appreciation. Here you will find 170 of the world's most beloved cheeses, divided into categories as charming as the cheeses themselves; think of anthropomorphized personality types, such as Mountain Men (alpine cheeses), Sugar Mamas (sweeter, desserty varieties), Wise Guys (cheeses that have been celebrated for ages), and Stinkers (not for the faint of olfactory sensibilities). Tenaya's descriptions share all you wish you knew about each cheese, such as its origin, what milk it is made from, its overall personality, and a list of pairings that include wine, beer, and nibblings. With this book in hand, it's like having a little cheesemonger in your pocket, whispering advice whenever you need it.
Besides details on the cheeses themselves, Di Bruno Bros. House of Cheese is filled with a lion's share of useful tips that will seriously up your cheese game. Tenaya answers so many questions that cheese newbies may wonder but are afraid to ask. Like, how should I taste cheese and what words do I use to describe what I'm experiencing? Why does this cheese smell one way but taste another? How can I create a cheese plate when there's no one around to guide me? What can I do with the cheese ends? She's also included little snippets about cheese makers, cheese history, and other gold nuggets that will keep readers engaged and entertained, some of her most valuable advice being suggestions for theme-based cheese plates. With these recommendations in hand, you'll be well suited to prepare impressive platters for any event you can think of.
Nestled between the tips and cheese profiles, you'll also find a series of incredibly luxurious cheese recipes that include the likes of grilled figs with Manchego, baked Brie with pears and apricots, a pecorino martini, and a hoagie piled high with pesto, pepperoni, olives, sun dried tomatoes, and two different kinds of cheese. While I don't count this book as a cookbook, per se, these recipes, developed by Tenaya and the inspired minds behind the Di Bruno Brothers counters, catapult this book from simply being a valuable cheese guide to the likes of "Holy epic cheese tome, Batman!"
And finally, I'd be remiss if I didn't explain just how beautiful this book is from an aesthetic standpoint. Every single page is laid out in full-color glory, from the gorgeous dairy photography, with wedges and blocks sprawled out like Burt Reynolds to share their most charming assets, to the cheese board-like sidebars and information boxes. Besides being a wonderful guide, Di Bruno Brothers House of Cheese is a visual love letter to the art and craft of dairy revelry.
If you love cheese and are just starting out, I heartily recommend this book. If you love cheese and consider yourself a learned virtuoso, I still heartily recommend it. Regardless of their level of cheese-pertise, everyone who carries with them an ounce of dairy adoration will enjoy Di Bruno Bros. House of Cheese, both for the wealth of well-delivered information it contains and its page after page of sultry, appetence-inspiring eye candy.
This content was originally posted on FearlessFresh.com.