– Duck, Duck, Goose, with a Crispy Roast Duck Recipe –
Since the holidays are rapidly approaching are here, it's time for me to share some of my favorite cookbooks that came out in the later half of 2013. The first book in this series is Duck, Duck, Goose: The Ultimate Guide to Cooking Waterfowl, Both Farmed and Wild, a deeply informative guide to expanding our protein horizons beyond the henhouse. If you've ever thought of cooking duck at home, this book will help you understand all there is to know about the other birds in the kitchen.
As someone who grew up on the standard American diet, the idea of eating a duck or goose was something so far from my plane of existence that it never actually occurred to me to try them until I was halfway through my twenties. My experience with ducks did not extend beyond the occasional observation of the head-on fowl hanging in the windows of our local Chinese roasteries, and as far as I was concerned, geese belonged in the pages of Victorian storybooks, where Dickensian families enjoyed their roast goose at a Christmas table flanked with candles, sugarplums, and figgy pudding.
I'd venture to say that a lot of Americans are unfamiliar with the idea of eating ducks and geese, but for a long time they were standard fare in the English-speaking world. Plentiful creatures that are relatively easy to hunt, waterfowl are a tasty and hearty, good sources of wild fat and protein. Then, with proliferation of cheap-and-easy chicken ranching in our culture, they fell from favor as our winged proteins of choice. Which is pretty unfortunate, because ducks and geese are not only delicious — they're easy to prepare.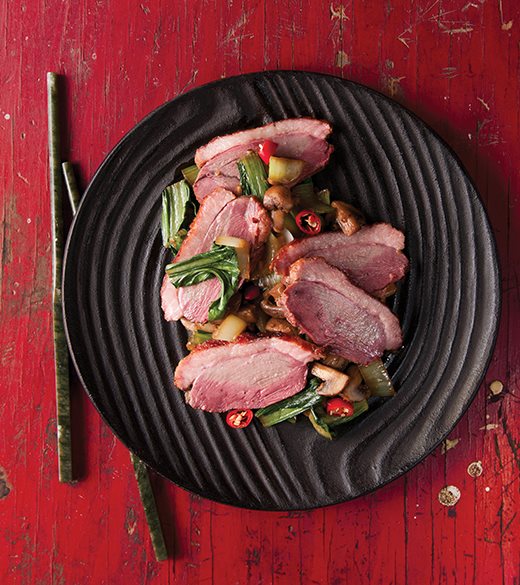 Duck, Duck, Goose contains a wealth of information that will satisfy not only the home cook, but also the curious would-be hunter. In addition to detailed photo tutorials showing how to dress and prepare waterfowl, Hank outlines the finer points of over 20 kinds of birds, explaining the differences between wild and domestic breeds. Readers will learn how each kind of bird tastes, feels, and cooks up, ultimately giving you the tools to make an educated decision on what type of duck or goose you'd like to eat.
While Hank is a hunter at his core, this book is certainly not weighted to cater only to the shotgun-inclined–meaning that anyone with access to a good butcher is heartily represented here; so if you're not interested in all the hoopla about different kinds of ducks, no worries. Feel free to dig right into the food. The recipes in Duck, Duck, Goose are diverse yet straightforward, so that even beginning home cooks will have an easy time working their way through Hank's instructions with little trouble. Advanced cooks will enjoy some of his more complex dishes, though the vast majority are easy enough for anyone to prepare.
To give you an idea of the recipe style, here are a few of my favorites dishes so far:
Duck Breast with Black Currant Sauce
Confit of Duck with Pasta and Lemon
Baked Beans with Goose "Ham Hocks"
Tea-Smoked Duck
Fresh Duck Egg Pasta
Details on how to roast ducks and geese whole
Grill-Roasted Whole Duck (this crispy roast duck recipe is below – click to skip right to the dish)
Besides the standard ducky rigamarole (confit, seared breast, roasted whole), Hank offers an abundance of advice for preparing ducks and geese from bill to tail, adhering to his mantra of using "everything but the quack," wasting no part of the bird. The final chapter is dedicated to this idea, with sections reserved for using the giblets, gizzard, and even the tongues. Got a pound of duck fat sitting in your freezer? Want to learn how to make duck prosciutto? What do you do with extra skin? Hank's got you covered.
The trove of written information in Duck, Duck, Goose is only half of its value. This book is a wealth of visual detail as well, with Holly Heyser providing a much-needed photographic element to Hank's tutorials. (Ever tried to take apart a bird with only words to guide you? It's a real bummer.) Holly's photos of both field and table provide context for the book, bringing with them warmth and candor that would be difficult to explain otherwise–a placid afternoons in a winter marshland, the unwinding of a hearty dinner after a long day in the cold.
Overall, Duck, Duck, Goose would be a fabulous gift to anyone that loves cooking adventurously, or for that cousin who's always wanted to hunt but never really found the inspiration to move past her Cabela's catalog. Even if the actual cooking isn't your thing, this is a lovely guide to a fascinating way of eating that few folks are exposed to, and any resource that expands the culinary horizons of the reader is a winner in my book.
Scroll down or click through for a fabulous recipe: Grill-Roasted Whole Duck. Stay tuned for an interview with Hank.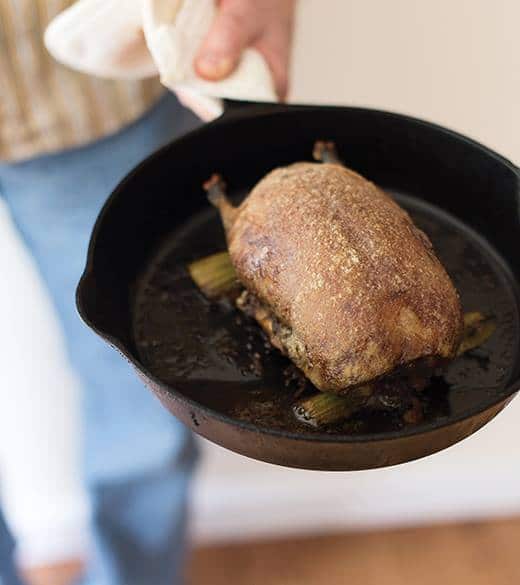 – All photos copyright and courtesy of Holly Heyser –
Grill Roasted Duck - Crispy Roast Duck Recipe
Grill roasting - cooking a whole duck in a scorching-hot grill - is a great way to cook a whole duck. This method works best for wild and Muscovy ducks, less so for fatty, standard supermarket Pekin ducks. Hank's rule: the smaller the bird, the higher the heat. This allows for crispy skin without overcooking the meat. With this goal, speed is your greatest ally.
This crispy roast duck recipe appears in Duck, Duck, Goose by Hank Shaw.
Print
Pin
Ingredients
2

wild ducks

or 1 Muscovy duck

2

tablespoons

vegetable oil

1

tablespoon

kosher salt

Juice of 1 lemon

Freshly ground pepper
Instructions
Start with a room-temperature bird by setting it out on the counter for 30 minutes or so. Fashion a drip pan for your grill out of aluminum foil, or use a cheap foil roasting pan from the supermarket, and pour water into it to a depth of 1/4 inch. This will catch any dripping fat and prevent it from igniting.

Set up your grill with an open space to one side. This means leaving off one of the three burners on a gas grill, or keeping a spot open on a charcoal- or wood-fired grill. The drip pan goes in the open space or on the unused burner. Get the grill, with its cover down, really hot, at least 500°F (260°C); even 600°F (315°C) is not too hot. Watch it if your temperature gets any higher, however, because duck fat can catch fire when the temperature climbs above 700°F (315°C).

Coat your ducks with the oil and then season them well with the salt. Quickly open the cover of the grill and put the ducks, breast side up, on the open spot, over the drip pan. Re-cover the grill.

A small teal can be fully roasted in 10 minutes. A large duck, such as a canvasback or mallard, will take about 15 minutes at 600°F (315°C), but never more than 22 minutes, as long as the heat is 500°F (260°C) or higher.

Take the ducks out and set them on a cutting board. Tent them loosely with foil and let them rest for as little as 5 minutes for a teal to as long as 15 minutes for a canvasback. Carve and serve with pepper and lemon wedges on the side. Simple--and perfect.
Nutrition
Calories:
2624
kcal
|
Carbohydrates:
2
g
|
Protein:
73
g
|
Fat:
256
g
|
Saturated Fat:
85
g
|
Polyunsaturated Fat:
34
g
|
Monounsaturated Fat:
123
g
|
Cholesterol:
482
mg
|
Sodium:
1810
mg
|
Potassium:
1346
mg
|
Vitamin A:
1050
IU
|
Vitamin C:
34.7
mg
|
Calcium:
70
mg
|
Iron:
15.3
mg
This content was originally posted on FearlessFresh.com.