Today we've got the best beef Stroganoff recipe I've ever had. It comes from my friend Josh, who, for reasons unbeknownst to me, is affectionately called "Formica." Josh doesn't have a blog (or even a website) to link to, so this came down the good old Web 1.0 way: email.
Here's Josh outlining his easy beef Stroganoff recipe and a little food science to boot. And yes, this recipe is gluten free. Woot! Be sure to also check out his perfect chocolate martini recipe.
Yes, the BEST Beef Stroganoff.
Beef Stroganoff has been one of my favorite foods since I was a very young boy. Prepared by my mother, it was diced onions, cream of mushroom soup and ground beef. Prepared by others it was sometimes a thin savory sauce over strips of beef, other times a cabernet-doused stir fry with onions that crunched. As a dish, easy beef Stroganoff has an endless number of regional varieties, ingredient combinations, and preferred preparations.
This easy beef Stroganoff recipe has been written from the ground up by myself, harnessing over twenty years of cooking experience to deliver a dish that fits my tastes to a T:
Rich, bold beef flavor
The wine accent and sour cream touch that Stroganoff is known for
Hearty potato instead of bland, limp egg noodles
Key techniques are applied to craft a well rounded dish:
Generating plenty of fond in the browning process – leverage an electric skillet if you have one
Cooling the slow-cooked dish completely for a tastier, more toothsome meat
On top of all this, the dish is entirely wheat and gluten free. Acidophilus-enriched sour cream or non-dairy sour topping (such as Imo) can be used for those who do not tolerate milk products, or it may be omitted entirely – it will still be delicious!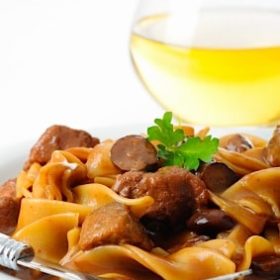 Formica's Righteous Best Beef Stroganoff Recipe
This is the BEST beef stroganoff recipe. It will make your house smell amazing as it cooks, and will taste delicious when you sit down to eat. This dish is served over smashed potatoes instead of noodles.Unlike typical egg noodles, potatoes bring a richness of hearty flavor that combines very well with the beef stroganoff instead of being lost in it. Enjoy!
Print
Pin
Ingredients
2

tablespoons

olive oil

1

large

yellow onion

sliced

2

cloves

of garlic

minced

1/2

pound

button mushrooms

quartered

3

pounds

top round/london broil

cut into either 1/2 inch strips or 1.5 inch cubes

2

cups

cabernet sauvignon

divided

2

cups

beef stock

2

teaspoons

cornstarch

1/4

cup

cold water

Salt

Freshly-ground black pepper

6

medium

Russet potatoes

boiled and smashed to a rough texture

1/4

cup

butter

1

cup

sour cream
Instructions
In a large pan, heat the olive oil over medium heat. Cook the onions until carmelized, then add garlic and cook for 1 minute more. Remove the onions and garlic to a bowl and cover with foil.

Add a little more oil to the pan and sauté mushrooms until they are tender. Set aside and cover with oil.

Pat dry and lightly salt the beef. Fry the beef on medium-high heat to brown. You are not trying to cook the beef through, only browning it to develop flavor. If you use strips they will probably cook through, and that's okay. Tip: meat won't brown if there's no space around it to dissipate liquid; it'll just steam, and then you'll get grey meat that tastes boring. Leave a reasonable amount of space around each piece of meat as it cooks, and turn occasionally with a wooden spoon. Do multiple batches as needed and remove finished batches to a bowl and cover with foil.

When you are done cooking the meat, reduce the heat to medium, let any remaining juices start to cook off, and then deglaze with 1 cup Cabernet. Stir and get the fond off the bottom of the pan with a wooden spoon – you should have a whole bunch of it, and this is where your flavor is going to come from.

Add the stock and the remaining Cabernet. Bring to a simmer. Reduce heat to maintain a simmer and add the onions, garlic, and meat back into the pan. Stir to combine. Cover and cook over low heat for 2 hours.

After 1 hour, combine 2 teaspoon corn starch and 1/4 cup cold water. Stir until dissolved, add to the mix, and then stir immediately to thicken the sauce. Add salt and pepper to taste; this is subjective and dependent on the saltiness of your stock.

Stir the mushrooms into the mix for the last half hour of cooking. If you put them in at the beginning, they will disintegrate.

Remove the beef Stroganoff from the heat. Let cool, semi-covered (i.e. not totally exposed, but not sealed so you don't get a layer of condensation on top), until room temperature; about 1 hour. You don't have to allow it to cool before serving, but the flavors meld beautifully once it's lowered in temperature a bit. if you're short on time, feel free to skip this cooling stage.
To serve:
Heat potatoes and mix with butter. Heat the beef Stroganoff through until piping hot. Remove from heat, add the sour cream, and stir to combine. Serve immediately scooped over a mountain of potatoes on each plate, and behold the deliciousness.
Nutrition
Calories:
744
kcal
|
Carbohydrates:
16
g
|
Protein:
34
g
|
Fat:
56
g
|
Saturated Fat:
24
g
|
Polyunsaturated Fat:
2
g
|
Monounsaturated Fat:
23
g
|
Cholesterol:
147
mg
|
Sodium:
753
mg
|
Potassium:
1029
mg
|
Fiber:
2
g
|
Vitamin A:
450
IU
|
Vitamin C:
19
mg
|
Calcium:
600
mg
|
Iron:
1.3
mg
Food Science: Why the cooling stage?
Did you ever notice how stews and braised meats seem to taste and chew better the second day? The reason is in the cooking process, and the cooling. When you cook a tougher piece of meat (like top round, with brisket being the most extreme case) over low and slow heat, the heat breaks down the collagen in the connective tissue, making the meat less tough and developing flavor. However, when allowed to cool afterward, these broken down products re-congeal as gelatin, developing even more flavor and making the meat much more tender and pleasant to chew.
This content was originally posted on FearlessFresh.com.