Traditional panettone bread is a pretty involved project, so a recipe for easy panettone always makes me raise an eyebrow. I can't help but be picky… I'm Italian! So I was excited to find a quick panettone recipe that requires very little work.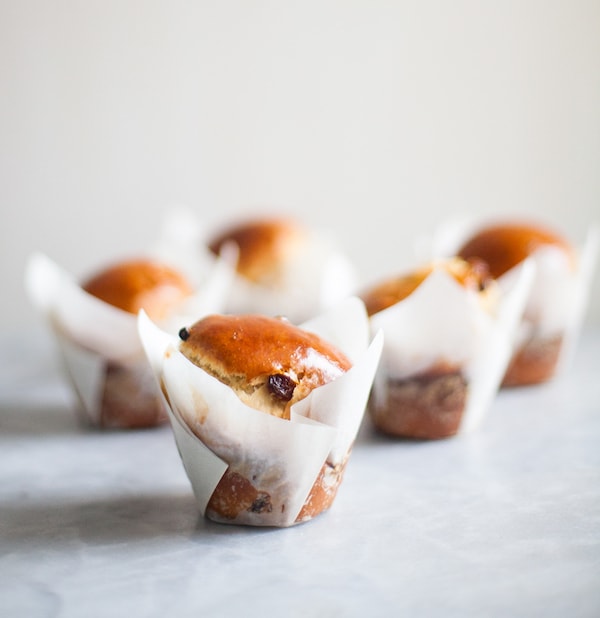 If you're unfamiliar, panettone is a soft, sweet, and fragrant Italian yeast bread that's studded with dried or candied fruit. It's a holiday tradition in homes all over the world (like this tender, lemony shortbread recipe) because it's a lot tastier than dense American or European fruitcakes. Since it's enriched with both beaten eggs and melted butter, panettone has a rich softness that makes it so, so good. Think brioche, but more tender and with a special holiday feel. Plus, panettone bread is WAY less sweet bread than dense holiday fruitcake. YES!
Easy panettone bread… what's the big deal?
If it's so good, why doesn't every single baker out there churn out panettone bread for Christmas every year? Well, a proper panettone can take up to two days to make, including mixing rising, etc. It also uses a sourdough starter or native yeast mixture, which can take weeks to develop at room temperature.
Or, you can buy panettone if you don't want to deal with the hassle of making one. You can get mass-made panettone loaves for between $15-$30 from supermarkets and import stores, but they often have preservatives in them. Freshly-baked is the way to go, but a really good panettone bread costs up to $50 from artisan bakers. Zoinx!
Enter a quick and easy panettone recipe
I was very curious about this quick panettone bread method. It was developed by Zoë François and Jeff Hertzberg in their book Holiday and Celebration Bread in Five Minutes a Day. It requires only 15 minutes of actual work, plus a few passive hours for rising, chilling, and baking.
Basically it goes like this: you throw a bunch of stuff in a bowl, stir, let it sit out for two hours, then throw it in the fridge. Then you shape, let rise for 90 minutes, and throw in the oven. The actual work it very minimal. In fact, the only hands-on parts here are the stirring and shaping.
The result of this is not a traditional panettone recipe, but rather something closer to a quick-brioche. Regardless, this is a wonderful stand-in that everyday home bakers can make, even with minimal skills. My stoic, not easily impressed grandma REALLY liked this panettone bread. She doesn't like much, so that's a pretty solid endorsement.
Panettone bread equipment
You don't really need any special equipment for this easy bread recipe. You can easily mix it with your hands or a wooden spoon. The only things you DO need are paper panettone molds, which you can get online pretty easily. (Sur la Table also sells paper molds in their local shops.) For this recipe you want a paper mold that is between 5.25- and 6-inches wide at the base. This is a pretty standard size.
Hanging quick panettone bread upside-down
When making traditional panettone, the method includes hanging the loves upside down after as soon as they come out of the oven. Here's a great example of what it looks like to hang panettone. What you do is poke two thin bamboo skewers through the paper mold, slide them through the bread, and poke them out the other side. For this quick and easy recipe you don't need to hang your bread, but it helps to keep them from sinking a bit as they cool.
If you want to hang panettone at home, it's not very hard. I simply used whatever kebab skewers I had in my drawer, because pretty much any will work. Then I pushed two straight-back chairs back to back and hung the panettone bread between them. There they stayed until completely cool.
Here's what it looked like: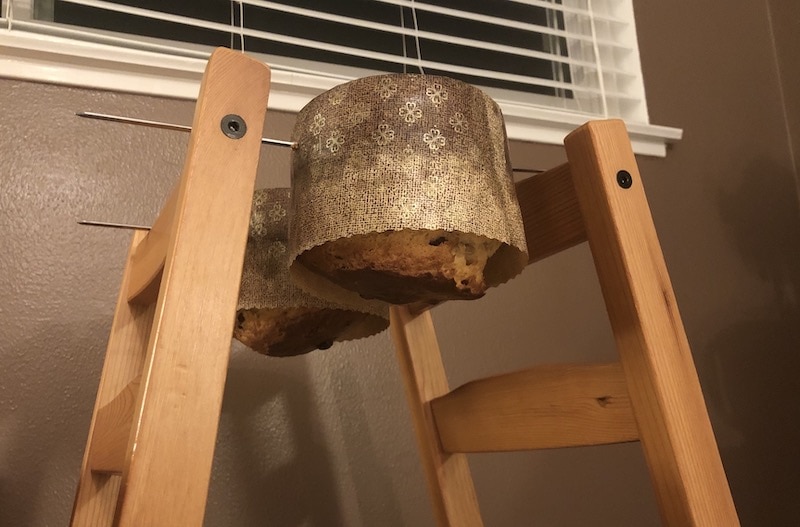 So, there you go! This is an incredibly simple baking recipe and pretty much any home baker will be able to pull it off. Enjoy!
From the book:
Panettone bread is one of the most popular Christmas breads sold all over Italy (and the United States) during the holidays. It originated in Milan around the fifteenth century and has been the subject of much lore. A commonly told story of how this bejeweled bread came to be goes something like this. A young nobleman falls in love with a baker's daughter named Toni. He disguises himself as a pastry chef 's apprentice and creates the tall, fruit-studded bread to present to Toni, calling it "Pan de Toni." The bread is a success in the bakery, and the father blesses the marriage.
The story is as rich and fanciful as the bread, made with dried fruit and the essence of lemons and vanilla. There are traditional panettone molds that are very high-sided and come either straight or fluted. They can be found at cooking stores or on the Web. You can use a brioche mold, but the bread won't have the classic high sides. Paper panettone molds are available from baking supply stores.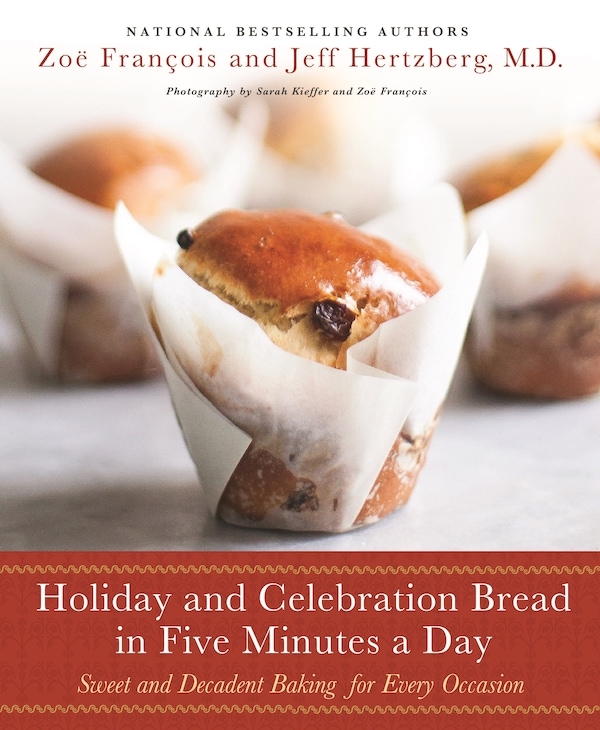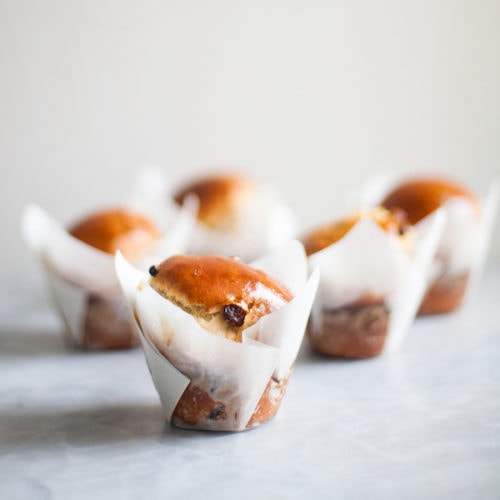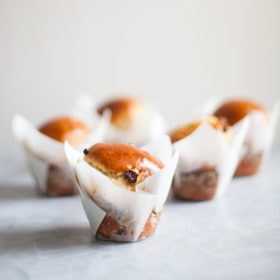 Easy Panettone Bread
This easy panettone bread is super simple, so home bakers can make it with ease, even if you've got very little baking skills. There's no kneading required. I's literally mix, rest, chill, shape, rise, and bake.
Makes three loaves that are about 1 1/2 pounds each. The recipe can easily be doubled or halved. From Holiday and Celebration Bread in 5 Minutes A Day by Zoê François and Jeff Hertzberg (©2018 St Martin's Press).
Print
Pin
Ingredients
1 1/2

cups (12 ounces/340 grams)

lukewarm water

(100°F or below)

1

tablespoon (0.35 ounces/10 grams)

granulated yeast

see note #1

1

tablespoon (0.6 ounces/17 grams)

Kosher salt

1/2

cup (6 ounces/170 grams)

honey

8

whole (1 pound/455 grams)

eggs

1

cup (8 ounces/225 grams)

unsalted butter

melted and slightly cooled

1

teaspoon

lemon extract

2

teaspoons

pure vanilla extract

2

teaspoons

grated lemon zest

2

cups (12 ounces/340 grams)

mixed dried and/or candied fruit

see note #2

7 1/2

cups (2 pounds, 5 1/2 ounces/1,065 grams)

all-purpose flour

Egg wash

1 egg beaten + 1 tablespoon water, for brushing

Pearl sugar

for sprinkling
Instructions
Mixing and storing the dough: Mix the water, yeast, salt, honey, eggs, melted butter, extracts, and lemon zest in a 6-quart bowl or a lidded (not airtight) food container.

Mix in the dried fruit and flour without kneading, using a heavy-duty stand mixer (with paddle), a Danish dough whisk, or a spoon. If you're not using a machine, you may need to use wet hands to incorporate the last bit of flour. The dough will be loose, but will firm up when chilled (don't try to use it without chilling).

Cover (not airtight) and allow to rest at room temperature until the dough rises for 2 hours.

The dough can be used as soon as it's chilled after the initial rise, or frozen for later use. Refrigerate the container and use over the next 5 days. To freeze dough see note #3.

On baking day, dust the surface of the refrigerated dough with flour and cut off a 1 1/2-pound (small cantaloupe-size) piece. Dust the piece with more flour and quickly shape it into a ball by stretching the surface of the dough around to the bottom. Rotate the ball a quarter-turn as you go. Place the ball in the paper panettone mold, seam side down.

Cover loosely with plastic wrap and allow to rest at room temperature for 90 minutes.

Preheat the oven to 350°F (176°C), with a rack placed in the center of the oven.

Brush the panettone with egg wash. Bake for 50 to 55 minutes, or until golden brown and hollow-sounding when tapped. The amount of dough and baking times will vary depending on the panettone mold size.

Allow to cool on a rack before serving.
Notes
Notes:
This easy panettone bread was made with active dry yeast — Red Star brand, though any brand of active dry yeast will work.
Golden raisins, dried pineapple, dried apricots, dried cherries, candied orange peel, or candied lemon peel are a few fruits that we've tried and loved in this panettone bread.
You can freeze thedough after its initial rise is completed. It's best to freeze dough in loaf-sized portions, then wrap tightly and freeze in a sealed container. Defrost in the fridge, then shape and bake as usual.
VARIATION: EASY PANETTONE BREAD MUFFINS (pictured)
Makes 6 muffins
Follow the easy panettone bread recipe but divide the dough into 6 equal pieces. Form them into balls and let them rest in muffin cup liners. (The ones in the photo are called tulip liners.) Cover and allow to rest for 45 minutes. Brush with egg wash. Bake at 350°F (176°C) for 30 to 35 minutes, or until golden and set.
Nutrition
Calories:
382
kcal
|
Carbohydrates:
56
g
|
Protein:
9
g
|
Fat:
13
g
|
Saturated Fat:
7
g
|
Polyunsaturated Fat:
1
g
|
Monounsaturated Fat:
4
g
|
Cholesterol:
134
mg
|
Sodium:
366
mg
|
Potassium:
146
mg
|
Fiber:
2
g
|
Vitamin A:
500
IU
|
Vitamin C:
0.8
mg
|
Calcium:
300
mg
|
Iron:
0.5
mg