T'is the season for baking madness, so I thought I'd indulge you with some cookie tips and fixes for crumbly cookies.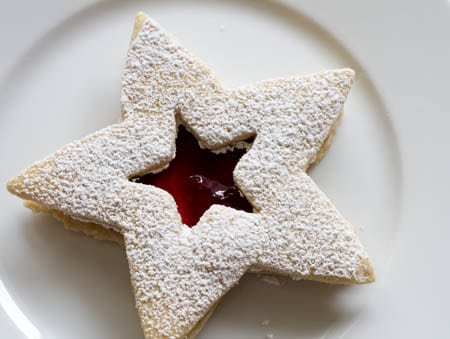 I recently got a request from one of my readers, Mackenzie. She asked:
"I was wondering if you could do a Christmas themed email? Like, baking tips so we can bake cookies for Good Ol' St. Nicholas. One of the biggest problems I have while baking Christmas sugar cookies (or really any cookies) is trying to keep them from falling into a big crumbly mess after I bake them. I don't know what I'm doing wrong! Other than that, maybe some tricks that you use when baking."
Ask and you shall receive, my dear. Here are some of my best cookie tips and tricks. Or, I've also got some great cake baking tips as well.
Fixing Crumbly Cookies
First, let's work on the crumbly cookies, because that sounds like an immediate problem. There are lots of reasons sugar cookies crumble after baking. These tips also go for that chocolate chip cookie recipe you can't seem to get a handle on, uncooperative gingerbread men, and most other cookies you want to be somewhat tender or chewy.
Over baking = tough on cookies
Is your oven running hot? Are you baking on a really dark cookie sheet? Are you using really thin cookie sheets? Are some of your cookie sheets really close to your oven's heating element? These can all contribute to over baking, which causes crumbly cookies. Be sure to pay attention to your baking time as well. I don't generally bake cookies above 350 degrees, and I turn the baking sheet around halfway through so make sure one side of the pan isn't getting baked more than the others. Your oven temperature changes in different parts of your oven.
Too much flour = crumbly cookies
Too much flour = too much dryness. Beside the possibility of a bad recipe, this can caused by measuring your flour out in such a way that you're packing too much into each cup. This is why pro bakers always measure by weight — flour always weighs the same no matter how much space it takes up. If you don't want to measure by weight, try sifting your flour first and scooping flour into your measuring cup with a spoon, and don't pack it down into the cup. If all else fails, try reducing the amount of flour in the recipe by 10%.
Wrong flour = wonky dough = crumbly cookies
You need some gluten to keep cookies tender, so using dough that are lower in protein will cause problems. I'm looking at you cake flour, gluten-free flour, and almond flour. All purpose flour is your best bet with ~11% protein, and in some cases, pastry flour (~9% protein) will work as well. Bread flour is a general no-go for cookies, and avoid self-rising flour because you may end up with too much leavener in your dough. (Note: In my experience, the protein levels of pastry flour can vary from company to company, so check the package if you're using it.)
Not enough fat = wrong texture
A shortage of fat can be due to a bad recipe, under measuring the fat, or using the wrong kind of fat (see next tip, below). All will result in crumbly cookies. If all else fails, see if adding another tablespoon or two of [room temperature!] butter to your recipe helps.
FYI, too much fat can also cause problems, as cookies spread too fast and get crunchy when they're supposed to be tender. Don't go crazy adding extra butter to cookie recipes!
Using margarine or "spread" instead of butter
Margarine contains a lot of water and less actual fat. Fat is needed to coat the flour granules in cookie dough, so if you use margarine instead of butter, you don't get the coating you need for the tender texture you're going for. If your recipe calls for butter, use butter. When butter and sugar are your two most important ingredients in a recipe, treat them with care.
Overworking = tough, misshapen, and crumbly cookies
Overmixing your dough usually makes cookies tough and shrink into weird shapes, but it can also make them crumbly. Generally you only want to mix just until the flour disappears, and then stop mixing! You can also overwork your dough by rolling it too much, which looks like either 1) taking too many turns with the rolling pin to get it flat, or 2) rolling your scraps too many times. The goal is to roll the dough as little as possible, because the gluten begins to freak out and tighten up. If you're rolling scraps out more than twice, wad the remaining scraps into a ball, wrap it up, and set it in the fridge for an hour before rolling some more.
Too much/not enough sugar
Too much sugar can cause problems with texture as well. I know we're all trying to cut back on sugar during the holidays, but messing with the ratio on your cookie recipe is cruising for a world of baking hurt. Also, for what it's worth, brown sugar has more moisture in it than regular white sugar, so can make for more tender cookies. But paradoxically, too much brown sugar can also make them more crumbly. Yay, science.
Let them cool completely before moving them around
Warm cookies are fragile and prefer to be left alone. If you move fresh cookies while they're too warm, they may crumble. Let them be until they cool off and firm up.
A terrible, horrible, no good, very bad recipe
It's always possible the recipe you're using isn't working. If all attempts at troubleshooting your crumbly cookies fail, try another recipe that you KNOW is good. Like, it's recommended by someone you trust. For example, I know Amanda has a good sugar cookie recipe.
Other Cookie Tips
Ingredients temperature: In most cases, your cookie ingredients should be at room temperature. That means NOT MELTED, which means throwing it in the microwave is a big no-no. Melted butter where it's not called for will cause your cookies to run all over the place. Also, listen to the recipe. If something is supposed to be cold when you use it, then leave it in the fridge until you need it.
Stretched-out sugar cookies: I learned this one while working with gluten-free sugar cookies, which are very stretchy and love to contort like a Cirque du Soleil acrobat. First, cut a piece of parchment the exact shape of your baking sheet, then roll out your dough out onto the parchment. Cut the cookies straight on the parchment, leaving 1 inch between them in all directions. Then remove your scraps and transfer the parchment to the baking sheet. No more stretching!
Don't use silpats, or other silicon baking mats. These tend to over-insulate your cookies from the heat coming up through the baking sheet, which can cause them to spread a lot more and end up too crispy (or even burnt). FYI, Airbake baking sheets have the same problem as Silpats, and God help you if you use a Silpat on an Airbake cookie sheet. I recommend parchment paper ONLY.
Don't use old baking soda or baking powder. Just like other things in your pantry, leaveners  have a shelf life. Old baking powder or soda will totally mess with the quality of your cookies (such as crumbly cookies or cookies that fail to rise). RULE: Date your baking powder and soda with a Sharpie when you buy them, and discard them after 18 months (or one year if you live in a humid climate).
Use a cookie scoop for round cookies. If you're making cookies that call for being portioned by a spoon, save yourself the drama of ugly cookies and uneven baking by using a cookie scoop. They come in all different sizes. Once you've scooped the cookies onto the baking sheet (lined with parchment, right???) use the bottom of a wide glass to flatten them to about 1″ tall. You'll end up with gorgeously round cookies that bake evenly. This can also help a problem with crumbly cookies. I just bought this three-pack of cookie scoops for $11 (affiliate link) and the different sizes are perfect for almost any scooped cookie recipe.
Or if you want to get really fancy, bake in a ring or muffin tin like Dorie Greenspan.