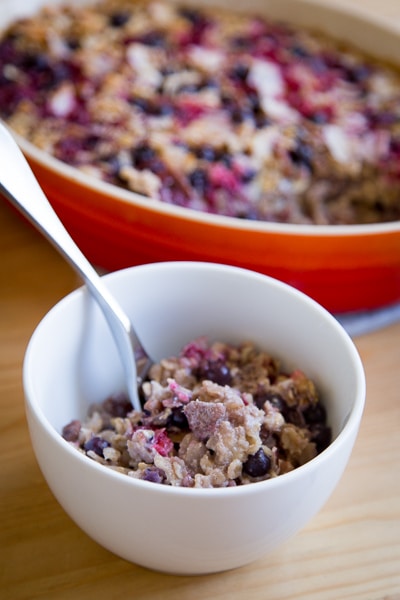 – Whole lotta baked oatmeal lovin' here –
There's no way around it – I'm a huge breakfast fiend. There's nothing I love more than a gorgeously fluffy soufflé pancake, tender French toast, or a hearty cheese and avocado frittata alongside hash browns and bacon. And of course, I can't forget about my favorite coconut-lime waffles with a hint of vanilla. Dammit, now I'm hungry for breakfast and it's almost dinnertime.
These days, I'm looking for breakfast recipes that are not only delicious, but take care of my body. As it turns out, breakfast is one of the most important decisions you make every single day of your life.
Personally, I'm not a fan of the word "healthy." There are so many stigmas at play when it comes to healthy eating, and "healthy" means different things to different people. Half of my family thinks that boxed Tater Buds are perfectly healthy, while I'd have to disagree 1000%.
So instead of using the word "healthy," I'm going to call this recipe real. It's real food, and it's good for you.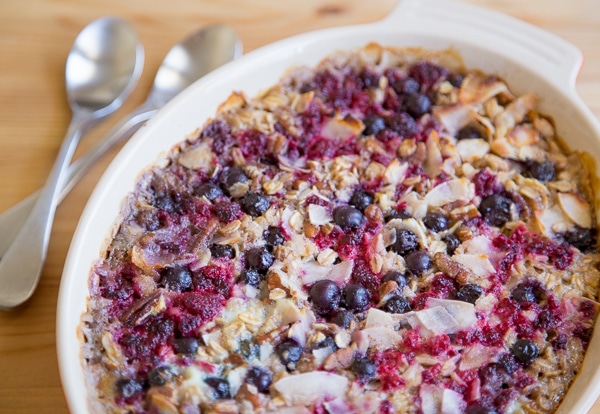 This baked oatmeal recipe is more like a breakfast bread pudding, only it's full of the stuff your body wants more of – namely whole grains, nuts, fruit, and healthy fat – without sacrificing any of the incredible flavor you want for your first meal of the day. It's got rolled oats (good for your gut), fresh berries (super nutrient bombs!), toasty pecans (yay protein…), and shredded coconut (healthy fats FTW!). It's got a supporting cast of ginger, cinnamon, vanilla, maple syrup, and a generous dose of BUTTER.
Because, you know, everything is better with BUTTER. So much so that it warrants ALL CAPS.
And I highly recommend you try this dish with a dollop of sweet mascarpone cream, too, which whips together in like 2 minutes.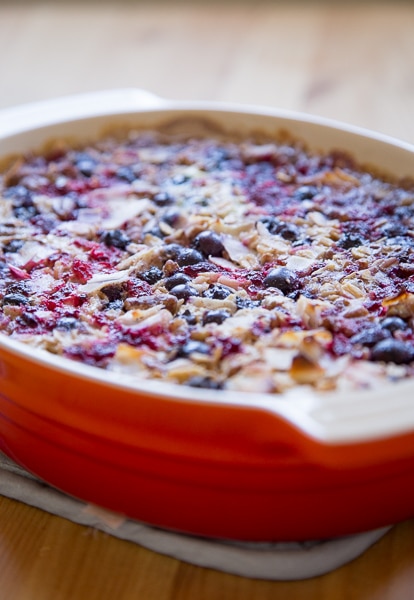 As a rule, baked oatmeal is pretty versatile. You can use whatever kind of milk you want, whether it be of bovine origin or otherwise. Don't like pecans? Use walnuts. Don't like nuts in general? Use sunflower seeds or hemp seeds. Out of fresh berries? Feel free to use frozen or dried fruit. Not a fan of maple? Use agave nectar or your sweetener of choice.
I like to cook up a big dish of this stuff on Sunday morning, eat a bowl-full, and then throw what's left in the fridge. Every morning during the week, I heat up a few scoops in the microwave. It's a fast, easy breakfast recipe that keeps me full until lunchtime. And for me, that's a godsend.
And if you're feeling really fancy try making your own clotted cream to go with it. SO GOOD.
Oh, and kids LOVE this dish, even though it's packed with good stuff they need while not being super sweet. Score one for moms and dads everywhere.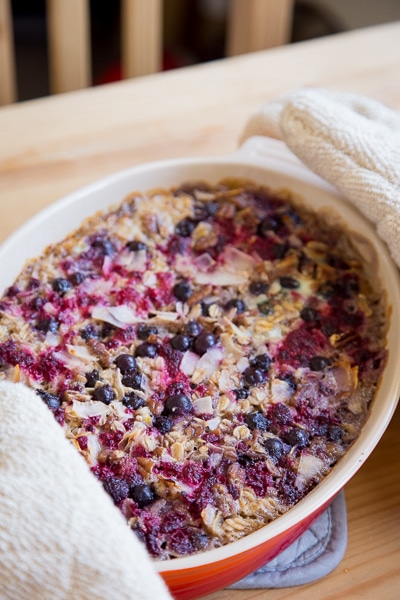 This dish has changed my entire concept of mornings. Who needs a $20 brunch when you can make this for $5? And did I mention it feeds 4-6 people? Hallelujah indeed.

Healthy Morning Baked Oatmeal with Berries and Coconut
Author:
Stephanie Stiavetti
Nutrition Information
Fat:

23g

Saturated fat:

9g

Unsaturated fat:

11g

Carbohydrates:

57g

Sodium:

530mg

Fiber:

7g

Protein:

13g

Cholesterol:

85mg
Prep time:
Cook time:
Total time:
This baked oatmeal recipe is full of goodness: fresh berries, thick coconut, toasty pecans, and maple syrup. You can make ahead and reheat throughout the week, or prepare the night before and slide into the oven first thing in the morning.
Ingredients
2 tablespoons butter
2 cups rolled oats
1 teaspoon baking powder
2 teaspoons ground cinnamon
1 teaspoon ground ginger
1/2 teaspoon salt
1/3 cup coarsely chopped pecans
1/3 cup thick-shredded coconut
1/2 cups mixed berries, fresh or frozen
1 large egg
1/3 cup maple syrup
2 teaspoons vanilla extract
2 cups milk - cow's milk, soy milk, almond milk, or whatever you prefer
Plain yogurt or crème fraîche (optional)
Instructions
Preheat the oven to 375°F (190°C). Place the oven rack in the top third of the oven. Set butter in a deep casserole dish or 8-inch square baking dish and set the dish in the oven. Allow to heat for about 5 minutes, or until the butter is melted. Remove the dish from the oven.
While the butter is melting, mix together the oats, baking powder, cinnamon, ginger, and salt. Pour into the baking dish with the melted butter, and toss the oats until they are coated with butter. Stir in pecans and coconut, mixing well, then toss in berries. Make sure blueberries are evenly scattered around the dish.
In the same bowl (yay fewer dishes!) whisk together the egg, maple syrup, and vanilla. Mix until well combined, then mix in the milk. Slowly and evenly pour over the oats. Bake for 35 to 45 minutes, or until the top turns gently golden and the edges are bubbling merrily away. Allow to cool a few minutes before serving. Top with fresh yogurt or crème fraîche, if you like.
Notes
You can use whatever kind of milk you want for this recipe: cow's milk, soy milk, almond milk, help milk, you name it. Not a fan of maple? Use agave nectar, or your sweetener of choice. You can use any kind of nuts or seeds you like, and you can plop frozen berries into the baking dish, right out of the freezer, just before sliding it into the oven. I've also used dried cranberries here for a delicious effect, though you'll want to add another 1/4 cup of milk to account for their plumping action.

I like to cook up a big dish of this stuff at the beginning of the week, and then heat up a few scoops in the microwave every day before work. It's a fast, easy breakfast recipe that's very, very good for you.

Nutritional information is based on 4 servings.

This content was originally posted on FearlessFresh.com.