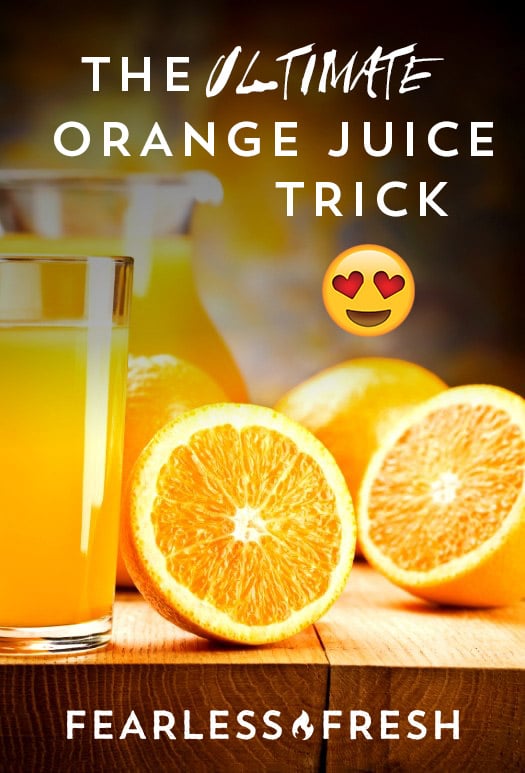 – This little orange blossom water recipe really perks up your standard glass of OJ. –
Flavor Secrets is a little series I'm running about a handful of single, simple ingredients that can take the flavor of your cooking to the next level with almost ZERO effort. Let's start with something innocuous: Orange juice.
And, orange juice is NOT the flavor secret I'm referring to — OJ is just a great example of how to use it.
Orange juice probably isn't something you think much about. Maybe you have it with breakfast, maybe you drink it at 1am in the middle of a serious "holy crap OJ CRAVING." (Or is that just me? Hrmm.) We all know there's a big difference between fresh squeezed orange juice and the concentrated dreck you get in a frozen can, but really, elevating one's orange juice is somewhere down near the bottom rung of most people's priority ladder (as it should be).
If you had a quick, cheap way to make your orange juice into the most flavorful part of your day, would you care? Personally I'm always looking for little ways to make my day better, so yeah, I'd care.
I swear, I'm going somewhere semi-important with this. This post isn't really about orange juice, it's about how one small ingredient can make a HUGE different in flavor — and how you can put that ingredient to use elsewhere.
Enter orange blossom water (also known as orange flower water). What is it? Well, have you ever smelled a flowering orange tree? You know that heady aroma that almost pulls you face-first into the leaves? Imagine that smell bottled into a magical liquid. Orange blossom water has the power to take everyday citrus, such as your morning glass of orange juice, and blast it into flavorful depths previous unknown by your tastebuds. To boost your OJ, you simple add a 1/4 teaspoon to an 8-ounce glass. You'll find the recipe below, but first I want to explain to you how orange blossom water can turn you into a total culinary boss, whom your friends beg for "your secret ingredient."
The flavor implications are pretty incredible with this little trick; orange juice isn't the only thing that orange blossom water will boost into something special. Here's a short list of all the things that can be made 1000% better by adding a touch of orange blossom water:
Mimosas become even more epic ? (which might cause you to need this list of hangover cures)
Lemon bars get a sweeter, slightly floral kick without any added sugar
Certain fruit pies/cobblers get a nice little punch, such as peach, strawberry, and rhubarb
Almost any fruit-based sorbet or sherbet will gladly accept a little love from orange blossom water
Lemon curd is taken to stratospheric levels…
…including lemon meringue pie, which tastes so good your friends will seriously end up licking the pie tin once it's gone
Orange or lemon-based cakes can be elevated with orange blossom water, like adding add 1 teaspoon to my Meyer lemon cheesecake recipe
Even some savory dishes get a boost from orange blossom water, including couscous and Persian stew recipes
If you pick yourself up a bottle of orange blossom water and familiarize yourself with its aroma and flavor, you might be surprised by all the places you can use a sprinkling to spice up your cooking and baking. It's relatively cheap — maybe $4 a bottle, max — so grab a bottle and start playing with it. There are many brands of orange blossom water available, but this is the brand I use (affiliate link). You can also find it at many grocery stores, in the international section (where you can also find pomegranate molasses, another one of my favorite flavor superheroes).
Of course, there's a caveat: Orange blossom water is pretty powerful stuff, so a little goes a long way. Seriously. If you overdo it, you'll end up tasting nothing but the essence, which becomes a not-so-pleasant experience. Make sure to keep an even hand when using orange blossom water, lest you feel like you're drowning in an citrus perfume factory.
Here's the recipe for your super special ULTIMATE orange juice. Give it a try, then get creative and experiment by adding a touch of orange blossom water to other recipes. You might be surprised where it works.
The Ultimate Orange Juice with Orange Blossom Water
Adding a little orange blossom water to your morning orange juice makes for an extra special touch to your AM ritual.
Print
Pin
Ingredients
4

cups

orange juice

1

teaspoon

orange blossom water

plus more to taste

1

whole

lemon

juiced
Instructions
Divide the orange juice between 4 glasses. To each glass add 1/4 teaspoon of orange blossom water, stir well, and taste each glass. Add a little more orange flower water to taste, if you like, but add slowly as the floral notes can quickly overpower.

Add a few drops of lemon juice to each glass, stir well, and taste. Serve ice cold.
Nutrition
Calories:
115
kcal
|
Carbohydrates:
27
g
|
Protein:
2
g
|
Fat:
1
g
|
Sodium:
3
mg
|
Potassium:
517
mg
|
Fiber:
1
g
|
Vitamin A:
25000
IU
|
Vitamin C:
108.9
mg
|
Calcium:
310
mg
|
Iron:
0.2
mg
This content was originally posted on FearlessFresh.com.