My husband and I recently moved into a gorgeous, though much older, apartment. The kitchen at the new place is a bit smaller than the one at old place, but the new digs are brighter and have a lot more personality. With the exception of the small stove – which is gas, at least – I thought that I'd love cooking in this new kitchen.
Wrong. Ever since I got it setup, I've avoided that room like the plague. I wanted to cook, even felt inspired to cook, but would I cook? No. Something about my new kitchen was off-putting and stressful. I feel overwhelmed when I walked in the door and turn right around and plunk my butt at my computer instead, which usually results in hours lost on the internet. I've only lived here a month! How could I already be tired of this room? I picked the pale yellow color of the walls and cabinets because they make me happy, but it wasn't helping in this situation.
I had to think a while about what the problem was. A few apartments ago (yay, the life of a renter) I had a feng shui specialist come in to look at our place. The first thing she did was stop in the kitchen. "This area is uncomfortable," she pointed out. "It's not the layout, though. It's that corner."
She pointed to an area of the kitchen where I tend to stick stuff without thinking. We all have a place like that – the default dumping ground for stuff that doesn't belong anywhere else. "Does that corner feel good to you? No, I'll bet it doesn't. We need to clean that up. Oh, and put a small red rug in the spot where you stand the most."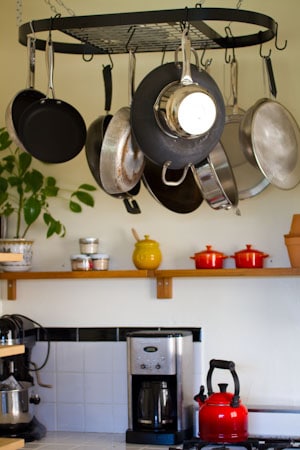 At the following apartment, I brought in a friend who works as an organizational consultant. That kitchen constantly had me feeling overwhelmed, despite the fact that it was new and roomy. She pointed out that my cabinets were terribly cluttered, and offered solutions for making things look and feel neater. Once I followed her advice, I felt much better moving about the room and working with my cooking tools.
Now, here I am again. A new kitchen that makes me uncomfortable. Instead of dragging everyone back over to my house – though I suppose I could bribe them with goodies, were I actually able to prepare anything – I decided to recycle the past advice I'd received.
First, I looked for the inevitable dumping place that I usually create without realizing it. I cleared out the clutter of cutting boards and cookie sheets, moved my monstrous KitchenAid Pro mixer to another corner, and stuffed my food processor in the closet. I also put all of my cookie sheets in the closet, slid in between a shelf where they're out of the way and not causing problems.
That was a good start, but the room still felt stifling. I took out my Cuisinart rotisserie brick oven that we almost never use, which takes up a HUGE amount of space considering how little we use it, and ditched the butcher block of knives for a magnetic wall strip. I installed some shelves on a black wall space, which now houses salt, pepper, cat treats, and a nice green plant.
Now, the kitchen feels much more open and inviting. I can actually breathe in there and I don't feel a dark cloud of impending doom whenever I step into the room. Going a step further, I organized the dishes in the cupboards with some handy accessories from The Container Store, but I still need to work a bit on organizing the food cabinet a bit. I'll save that for later in the week.
Today, I'm going to bake something.
This content was originally posted on FearlessFresh.com.