Holy light speed holidays, Batman! Every year Christmas creeps up on me, but this year must earn the record. This holiday season has been bittersweet, due to a burlap sack full of family hardship, but there are so many things to be thankful for. I have a life I love, good things on the horizon, and wonderful friends, one of which is keeping me safe and warm on the big day. (We'll be having a Very Corgi Christmas!)

I've been spending a lot of time this December curled up in my apartment, hiding. I didn't have the energy to get a tree, and getting myself to go out shopping was like pulling teeth. I just want to stay home with my electric blanket and Game of Thrones on audiobook (34 hours of sheer distraction, yay). My one little holiday indulgence has been the Mariah Carey Christmas channel on Pandora. Those that know my well might cock an eyebrow at this musical selection, but it's doing good things for me peace of mind.
Here in my little hidey-hole, I have my cookbooks. 700 of them, for a fairly close estimate. Sometimes I wake up surrounded by them in bed, piles of colorful books sliding over and into each other, while others are flipped open to something interesting or comforting that I hope to make someday. I don't feel much like cooking right now, but I do still love to peruse recipes and dream about the wonderful things I could be making if only life would chill out a bit.
One of my bestest of besties is currently in Europe, visiting the Czech Republic, where she was raised. She posted a photo from her hometown, Liberec, and since then I've been digging through all of my European cookbooks, trying to cull some inspiration from their photos and recipes. I mean, just look at this photo: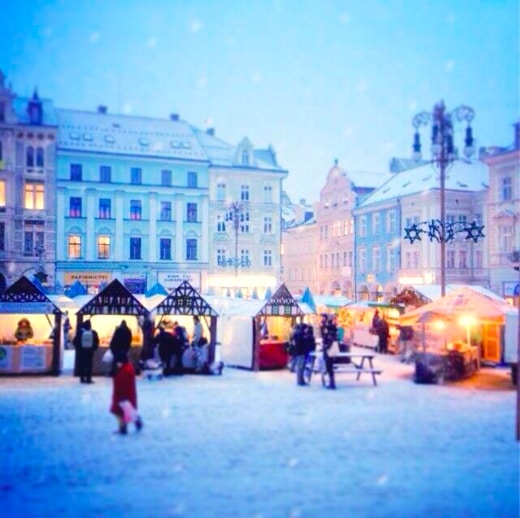 If that picture doesn't inspire you to want to get on a plane this minute, I don't know what will. Since I can't just pick up and go to Europe, I've decided to review a few of the European cookbooks I've had sitting on my desk for the past few months. These books would all make good gifts for the adventurous cook in your family that loves to look outside American food culture for culinary ideas, for those of you who love hearty German roasts or dainty Austrian pastries. I also recommend any one of these books if you're dreaming of Europe but circumstances keep you closer to home that you may like. Why not try cooking up a little staycation?
– The German Kitchen: Traditional Recipes, Regional Favorites –
– By Christopher and Catherine Knuth –
When I received this book in the mail, I had expectations of thick sausages, stand-up stews, and other Eastern European fare that would threaten to put hair on my chest. I'm a huge fan of German cold-weather fare — the fattier, the better. But while there's lots of hearty classics in The German Kitchen, I was pleasantly surprised to find many of the dishes built from the lighter, healthier side of the pantry. Smoked Salmon with Warm Potato Salad, Curried Sweet Potato Soup with Pumpkin and Coriander, Spiced Yogurt Relish all caught my eye for those nights when I can't invest in a 24-hours schnitzel digestion-fest.
Other dishes, though, tickled my comfort-food bone: Beef Pot Roast Braised in Dark Lager Beer, Grandma's Veal Stroganoff, and Braised Sausage with Lentils. These are the dishes that I was thinking of when I got the book in the first place, the kind of stout recipes that cling to you like a bear hug and linger for hours in the form of a lusciously indulgent food coma. In other words, perfect winter food.

Perhaps the best thing about this book is its concise direction. 99% of the recipes in The German Kitchen are incredibly simple, with the instructions requiring five or fewer very short steps. Even the afore-mentioned pot roast only has two steps, which consist of throwing everything in a pot and cooking. Now that's my kind of comfort food. Between the delicious ease of the recipes and the even balance of hearty and healthy dishes, this is a book that anyone with a penchant for European eats will appreciate.
– Austrian Desserts: Over 400 Cakes, Pastries, Strudels, Tortes, and Candies –
– By Toni Mörwald and Christoph Wagner –
If there's one place I would love to learn pastry besides Paris, it's Vienna. Many folks aren't aware that Austria is the lesser-known birthplace of yeast-based pastry, and many of the classic pastries we enjoy today originated there. Yes, really – not all those French pastries you enjoy are actually French. The term viennoiserie translates loosely to "things from Vienna" and refers to croissant, brioche, and other similar pastries. Now you know.
Given Austria's pastry history, the country has a very rich baking culture. I've been hunting out Austrian pastry books and when I find one, I jump on it. Austrian Desserts did not disappoint; here I found so many of the recipes I've been hunting for but did not want to trust from random sites on the internet. There aren't a lot of photo or headnotes in this book, which may put some people off, but the sheer breadth of recipes is a site to behold. Here you'll find cakes, ice creams, dumplings, noodles, creams, mousses, pastries, soufflés, sweet casseroles, and so much more. I was stoked to find a variety of gugelhupfs (bundt-like coffee cake), schnitten (single-portion sliced cakes), and other goodies from the region. The book does not adhere to only Austrian desserts — I've found a bunch of Czech, Hungarian, French, and other desserts in these pages as well, which no doubt bled into Austrian baking culture from these neighboring countries.
A few recipes that I'm fascinated by: Cream Schmarren (shredded cream pancake), Chestnut Sour Cherry Tartlet, Sachertorte (classic Viennese chocolate cake), Nougat Ice Cream, Riesling Brandy Pralines, and Jellied Sparking Champagne Soup with Blueberries and Lemon Basil Sorbet. These recipes call to me, leaving me intrigued with their textures and flavor combinations. If I ever get the opportunity to stage in Vienna, I'm all over it.
If you love baking and want to break out of the old American cookies/brownies/muffins rut, consider branching out with this fun book of exciting European desserts. Austrian Desserts is a unique cookbook for those who want something new and interesting in their baking repertoire.
– European Cookies for Every Occasion –
– By Krisztina Maksai –
 Ah, cookies. It's that time of year, isn't it? When you bake a billion cookies and distribute them to every living person you know? How many times have you made the same cookies over and over again? I know I get bored with baking the same things year after year, so I welcome new recipes that think outside the good, old cookie cutter.
European Cookies for Every Occasion is full of new and exciting cookie ideas, inspired by various European countries. Many of the recipes are "new" — meaning they are of the author's own design — while taking queues from more traditional cookies found throughout the continent. Filled with photos of both finished cookies and step-by-step tutorials, bakers across the spectrum of experience will enjoy making Coffee Shots (tender coffee sandwich cookies), Butter Rings (glazed, ring-shaped butter cookies with a jam center), Marzipan Kisses (soft almond cookies), Florentine Peaks (butter cookies piled high with caramel, almonds, and candied cherries), and Dipped Chocolate Mousse Cookies (fluffy bittersweet chocolate cookies with a butter cookie base). The recipes are so creative and beautiful to look at. I'd dare to call this baking book inspiring.
Organized by chapter according to difficulty, these recipes are categorized as Quick and Easy, Moderately Easy, Moderately Difficult, and Challenging. That said, I've found that the degree of difficulty is subjective, as many of the "challenging" are not all that hard to create; rather, they are time consuming but completely approachable by intermediate bakers or determined beginners.
This is a fabulous little book, full of gorgeous photos that will keep you moving towards the kitchen. European Cookies for Every Occasion is a perfect gift for your cookie-loving friends and family, or for yourself to treat said loved-ones on a cookie odyssey next Christmas.
This content was originally posted on FearlessFresh.com.