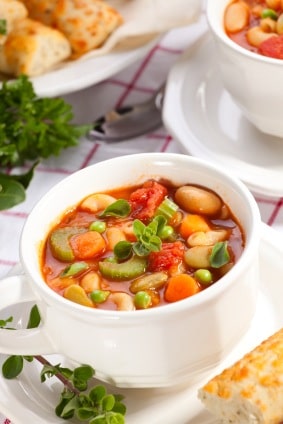 Summer is officially over here in Oakland, with overcast mornings turning into cool evenings. As the hot season turns into autumn, it's time to start thinking of soup recipes. This turkey minestrone soup, compliments of the ever-talented Thadeus Jones, was created just for seasonal changes like this. Make a lot and enjoy it for days.
If you're looking for post-Thanksgiving recipes, there are lots of good ones here:
When you are a kid, the world is a huge place that is at once exciting and full of wonderment, but also scary and daunting. The funny thing is that your whole 'world,' when you are that young, is just the few blocks you are allowed to wander or go to a friend's house. It's not even a world in the adult sense. It's funny to look back and see that what you thought was this huge place is really just a few minutes of walking, and nothing like what adults have to contend with. That's not saying that when we were kids we didn't think of what we had as one giant playground full of friends, mean kids, homework, girls (eww cooties!), and other parents.
Life consisted of a strictly regimented schedule you never had a say in. School, homework, dinner, bed. The weekends were a magical time of playing with friends all day long, or if you were lucky, an overnight stay. Looking back it seems so easy, but back then it felt like the rest of your life would be like that. Riding the bus to school, the bologna sandwiches you had for lunch everyday, the homework you got, and participating in those book clubs where you bought a book and waited what seemed like years until it arrived.
Then one day you find out that life is dramatically different from what you saw at the movies or on television. I'm not sure when I realized this as a young boy, but there was a movie I saw called 'Darby O Gill and the Little People.' It was set in Ireland, and when I got home from the movies I looked on the map of the world on my wall, and it was the first time I realized that I was different from everyone else. Not that I wasn't from Ireland, or that Ireland was far away; but rather that moment was the first time I realized that there are other countries that spoke English.
Everyone spoke English. I was not used to that at all. It literally blew my young mind away. While I was born in the United States, I grew up in Germany. I spoke German in school and had German friends. The idea that there were countries where people spoke the same English language I did was amazing! I starting pestering my parents about when we would move to America.
My dad was in the Air Force, and we lived all over Frankfurt. I was too young to know that my dad's job would keep us there till I was twenty. He did something very special that would keep us there; all other military families were on rotation. That would usually mean four years at an assignment, and then moving to a new place. I was confused by this, and I acted out in many ways. Depression was common in military BRATs from all the moving and losing friends, and mine was no different — save for the fact that I always wanted to go to America. Year after year, little by little, I realized we were never going to move back.
I, along with every other person living in Germany that was American first, developed coping strategies at a young age. Some kids were downright bullies, others learned the sports of Europe and played football all year long, and still others got to live on post and had a lot of other kids around that spoke English. My coping mechanism was helping my mom with household chores. I loved it. From helping at the commissary, to going to the library, I was really close to my mom from early on.
One day, when I was in fourth grade, she asked if I wanted to learn to make chocolate chip cookies. How could I resist? The best part, in my opinion, was eating the dough before you made the cookies. My mom wouldn't let me eat the dough when she made them, so if I learned, I could eat as much as I wanted to! Which, as it turned out, wasn't much before I felt sick.
That opened up learning how to cook so many things. From meatloaf to tuna casserole – which was a favorite when my dad was on TDY (essentially leaving for days to a year at a time, doing something secret for the military) – to learning how to make the all the courses that went with Thanksgiving dinner and traditional Christmas cookies.
I cooked all through the years, even when we moved to officer's housing on base. I made dinner because both my parents worked and it was easy for me to get everything going so that when my mom came home, all that was really left to do was set the table. And since we lived in Germany, that meant NO DISHWASHER! I washed every dish by hand every night until I moved out.
Over the years I started to pick up skateboarding. I would go to the skatepark that was 40 minutes away and became quite good on the vertical ramp. This was the mid 80's, and skateboarding was no were near as big as it is today. Once I started to skate, cooking starting to become more and more a thing of the past. I still made holiday cookies and some meals, but as I got older, cooking wasn't on my radar of things I wanted to do — especially when I started to discover girls.
When I moved out, and finally moved to the US, I cooked for myself. But I cooked because I need food, rather than the enjoyment or the pleasure of cooking itself. This ultimately lead to the entire removal of cooking from my life, especially when I was making decent money and could eat out all the time. Work would pay for lunch and some dinners, and since I was dating, I was going out to eat all the time.
This obviously lead to bad choices with eating. When I was skating as a semi-professional, I needed as many calories as I could get, but when I stopped due to a really bad accident where I almost paralyzed myself, all that food I was consuming turned into a lot of extra weight.
Last year, I spent Thanksgiving and Christmas with my parents on the East Coast. I haven't had Thanksgiving with them since the late 80's, so it was a real treat. My mom asked me to make some of the dishes I'd made when I was younger, and for the first time in a long time I was having fun cooking again.
One night, before a particularly bad Nor'easter storm that whipped through DC, my mom was at work and asked me to make a huge pot of her turkey minestrone soup recipe. Something that would last for more than a few days, and would be nice and warm and stick to your ribs when all the snow was falling. I took to the task, and everything about cooking that I loved came back that day. The preparation of the vegetables, putting ingredients together at the correct time, and then letting it just sit and simmer so all the lovely juices could penetrate the ingredients. From that day on, cooking for myself became something that I wanted to do.
When Stephanie and I started dating, we had this built-in desire to cook, which we both loved. Now we cook all the time. Sometimes she makes dinner (her oxtail soup is to die for), and sometimes I make everything. The end result is this passion about food… and life together.
Here is the minestrone soup recipe that changed my outlook last December in the cold mid-atlantic snowy weather. It makes a lot, and it's worth sharing with everyone!
Turkey Minestrone Soup Recipe
Rich and savory, this is a great after-Thanksgiving recipe and a welcome change from your standard turkey soup. Serve with garlic bread. Yield: 6 quarts of soup
Print
Pin
Ingredients
One

28-ounce can

crushed tomatoes

Two

8-ounce cans

tomato sauce

Two

15-ounce cans

kidney beans

drained and rinsed

12

cups

water

4

cubes

of chicken bouillon

3

cups

chopped turkey meat

3

whole

celery stalks

chopped

3

large

carrots

chopped

6

small

potatoes

quartered

1

large

onion

chopped

2

cloves

garlic

minced

2

tablespoons

chopped basil leaves

1

teaspoon

oregano leaves

bruised

1/4

teaspoon

cumin

1

cup

sliced mushrooms

2

medium

zucchinis

diced

1

cup

dry small pasta shells

Parmesan cheese

for topping

Garlic bread

for the side
Instructions
In a large soup pot, combine all ingredients except for mushrooms, zucchini, pasta and cheese. Bring just to a boil, then simmer for 45 minutes.

Add remaining mushrooms, zucchini and pasta. Let simmer for another 15 minutes, or until pasta is tender.

Serve with a few spoonfuls of parmesan cheese sprinkled across the top, with a side of garlic bread.
Nutrition
Calories:
397
kcal
|
Carbohydrates:
59
g
|
Protein:
27
g
|
Fat:
7
g
|
Saturated Fat:
2
g
|
Polyunsaturated Fat:
2
g
|
Monounsaturated Fat:
2
g
|
Cholesterol:
48
mg
|
Sodium:
1290
mg
|
Potassium:
1678
mg
|
Fiber:
10
g
|
Vitamin A:
8900
IU
|
Vitamin C:
51.2
mg
|
Calcium:
120
mg
|
Iron:
5.8
mg
This content was originally posted on FearlessFresh.com.