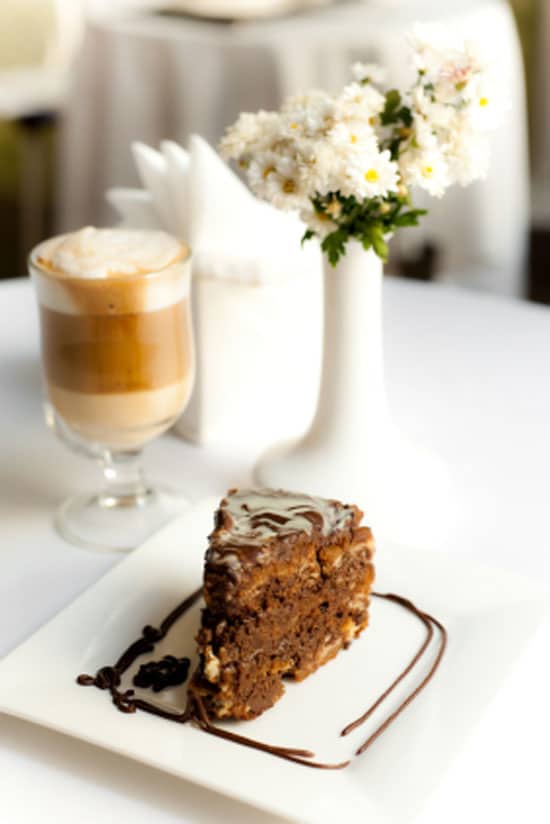 When I was growing up, my grandma baked the world's best German chocolate cake recipe. Everyone who tasted it used to swoon in ecstasy. She still makes it, and I still love it. But sometimes you need to strike out on your own, you know?
I recently had to make a German chocolate cake for a friend's birthday, so I dug around the internet looking for a new recipe that I could convert to gluten free. My friend Kris has made a cake a few weeks prior for her longtime beau, and swore by the recipe she'd used – which happened to belong to none other than the infamous David Lebovitz. I had just spent some time with David, so I emailed him to ask if it would be ok if I shared this recipe with my readers here on The Culinary Life. He graciously said yes, so here you go!
This German chocolate cake recipe is INSANELY rich and creamy. I could eat the caramel filling right out of the bowl, and in fact, I'll probably find a billion other uses for it besides this particular recipe. Also, don't scrimp when it comes to brushing the cake layers with the rum syrup. This seriously makes the cake, and you want a lot of that rummy goodness in every bite.

Oh man, this is making me hungry. Thank you David for sharing! Be sure to check out his most recent book, Ready for Dessert.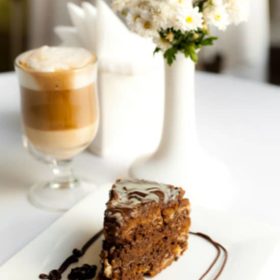 World's Best German Chocolate Cake
Looking to bake the world's best German Chocolate Cake Recipe? This rich, caramely cake is so tender and moist that your friends will beg for the recipe.
Print
Pin
Ingredients
For the cake:
2

ounces

bittersweet or semisweet chocolate

chopped

2

ounces

unsweetened chocolate

chopped

6

tablespoons

water

8

ounces (2 sticks)

unsalted butter

at room temperature

1 1/4

cup plus 1/4 cup

sugar

4

large

eggs

separated

2

cups

gluten free flour mix

(or all purpose flour)

3/4

teaspoon

xanthan gum

(omit if using all purpose flour)

1/4

cup

almond flour

ground to super fine

1

teaspoon

gluten free baking powder

1

teaspoon

baking soda

1 1/2

teaspoon

salt

1

cup

buttermilk

at room temperature

1

teaspoon

vanilla extract
For the filling:
1 1/2

cup

heavy cream

1 1/4

cup

sugar

4

large

egg yolks

4

ounces

unsalted butter

cut into small pieces

1

teaspoon

salt

1 1/2

cup

pecans

, toasted and finely chopped

1 3/4

cups

unsweetened coconut

, toasted
For the syrup:
1

cup

water

3/4

cup

sugar

2

tablespoons

dark rum
For the chocolate icing:
8

ounces

bittersweet or semisweet chocolate

, chopped

2

tablespoons

light corn syrup

1 1/4

ounces

unsalted butter

2/3

cup

heavy cream
Instructions
Make the cake:
Butter two 9-inch cake pans, lining the bottoms with rounds of parchment or wax paper (trust me, this will make your life much easier). Preheat the oven to 350°F (176°C) for at least half an hour to regulate temperature.

Over a double boiler, melt both kinds of chocolates together with the 6 tablespoons of water. Stir until smooth, then set aside until room temperature.

With an electric mixer, beat the butter and 1-1/4 cup of the sugar until light and fluffy, which should take about 5 minutes. Beat in the melted chocolate, following with the egg yolks one at a time.

Sift together the flour, xanthan gum, almond flour, baking powder, baking soda and salt.

Mix half of the sifted dry ingredients into the creamed butter, then add the buttermilk and vanilla. Follow with the rest of the dry ingredients.

In a separate bowl, beat the egg whites until they hold soft peaks. Add the 1/4 cup of sugar and continue beating until stiff peaks form.

Fold a third of the egg whites into the cake batter to lighten it up a bit, then fold in the rest of the whites, stopping just when there's no trace of egg white visible. Do not overbeat or you will flatten your batter.

Divide the German chocolate cake batter into the two prepared cake pans with parchment rounds in the bottom. Smooth the tops of the batter with your finger and bake for about 45 minutes, until a toothpick inserted into the center comes out clean.

Cool cake layers completely.

While the cakes are baking and cooling, prepare the filling, syrup and icing portions of the recipe.
Make the filling:
Mix the cream, sugar and egg yolks in a medium saucepan.

Add the 3 ounces of butter, salt, toasted coconut and pecan pieces to a separate large bowl.

Heat the cream mixture and cook, stirring constantly and scraping the bottom as you stir, until the mixture begins to thicken and coats your spoon. It should be heated to 170°F (76°C) if you are measuring with a thermometer.

Pour the hot liquid immediately into the bowl with the pecans and coconut, stirring until the butter is completely melted. Cool to room temperature, allowing it to thicken as it cools.
Make the syrup:
In a small saucepan, heat the sugar and water until the sugar has melted.

Remove from heat and quickly stir in the rum.
Make the icing:
Place the 8 ounces of chopped chocolate in a bowl along with the corn syrup and 1-1/2 ounces of butter.

Heat the cream until it just begins to boil, stirring constantly and making sure not to let it scorch.

Remove from heat and pour over the chocolate. Let stand one minute, then stir until completely smooth.

Let sit until room temperature.
Assemble the cake:
Once they are cool, remove the cake layers from the pans and cut both cake layers in half horizontally. You can use a serrated bread knife or a cake leveler (which is a handy tool for even slicing!).

Set the first cake layer on a cake plate and brush the top well with syrup, making sure to get the entire top. Spread 3/4 cup of the coconut filling over the cake layer, making sure to reach all the way to the edges. Set another cake layer on top.

Repeat, using the syrup to brush and soak each cake layer, then spreading 3/4 cup of the coconut filling over each layer. Include the top of the cake.

Ice the sides of your German chocolate cake recipe with the chocolate icing, then pipe a decorative border of chocolate icing around the top, encircling the coconut topping. (David's note: this may seem like a lot of chocolate icing, but use it all. Trust me.)
Notes
Nutritional analysis is based on using all-purpose flour method.
Nutrition
Calories:
1070
kcal
|
Carbohydrates:
93
g
|
Protein:
12
g
|
Fat:
79
g
|
Saturated Fat:
44
g
|
Polyunsaturated Fat:
5
g
|
Monounsaturated Fat:
26
g
|
Cholesterol:
270
mg
|
Sodium:
671
mg
|
Potassium:
490
mg
|
Fiber:
8
g
|
Vitamin A:
1850
IU
|
Vitamin C:
1.7
mg
|
Calcium:
140
mg
|
Iron:
4.1
mg
So, do you have a favorite German chocolate cake recipe that you've loved your entire life? Maybe it was your grandma's, or one from your favorite bakery? Do tell me about it in the comments!
This content was originally posted on FearlessFresh.com.