I've got a great recipe for swirly Cinnamon Honey Bun Cookies below, straight out of Irvin Lin's kitchen. Below you'll find the recipe alone with my thoughts on his new baking book, Marbled, Swirled, and Layered: 150 recipes and variations for artful bars, cookies, pies, cakes, and more.
There are a billion baking books out there. This number may or may not be an exaggeration, but it certainly doesn't feel that way when you walk into the cookbook area of your local Barnes and Noble. This section of most bookstores has expanded in the past ten years, now resembling an ocean of colorful spines crying out Cake! Pies! Cookies! Bake All the Thing! —  to whomever finds themselves stuck in the stacks. There are now so many baking books that it's an exercise in sheer overwhelm to pick through them, yet so few have anything interesting or unique to share.
I've whined at length about my own cookbook angst, as well as a few select titles that have managed to break through and touch my old, battered bowling shoe of a heart, and as such this will likely be the last book review I do for a while. But I wanted to share one last new cookbook with you, one that was written by a dear friend of mine who I respect a great deal.
Note: the links to the book are affiliate links. If you click them and make a purchase, I'll get a very small percentage of the purchase price. Thanks for helping me keep the lights on and pay my cookbook storage bill.
Irvin Lin, who blogs over at Eat the Love, has been baking and photographing goodies for years now. He receives more press copies of cookbooks than any other person I know, which means he's got his finger on the pulse of the culinary publishing world. Irvin has probably received hundreds of baking cookbooks over the years, so if there's anyone who's acutely aware of what's been done to death, it's him.
Perhaps this is how Irvin managed to do what I consider nearly impossible — he wrote a baking book that is, for once, unique. Let me introduce you to Marbled, Swirled, and Layered: 150 recipes and variations for artful bars, cookies, pies, cakes, and more.
While Marbled, Swirled, and Layered is a multi-topic baking book (it's got recipes running the culinary gamut of cookies, cakes, etc) what sets it apart is that every recipe in the book is in some way layered and/or marbled with multiple flavors, making every dish in the book multidimensional by default. You won't find any boring one-note brownies or lackluster pound cakes here; rather every recipe touts a primary element that's got its arms wrapped firmly around other supporting ingredients.
A great example is Irvin's Black Forest Chocolate Muffins with Cream Cheese Swirl (chocolate, cherry, cream cheese), which take your average chocolate cream cheese cupcakes and give them a fat injection of cherry-flavored steroids. Another is his Pistachio Butter Swirled Fudge Brownies, which take a generic American favorite — fudge brownies — and swirl into the mix a layer of salty-sweet pistachio butter, giving these brownies a fascinating green swirl that you can't help but take a second look at (or a second serving of).
Looking or something a little fancier? Sure, here you go: Irvin's Raspberry and Almond Battenberg Checkerboard Cake, in a gorgeous checkerboard pattern (duh), will have your guests gushing at the aesthetics and then emptying their superlative vocabulary once they take a bite.
And then, finally, my favorites — Cinnamon Honey Bun Cookies, literally a swirl of colors and flavors, which are almost too pretty to eat. Make these for Santa and you might just guilt the old man into whatever he's been avoiding on your Christmas list for the past decade.
It's also worth mentioning that Marbled, Swirled, and Layered was just crowned by the New York Times as one of the year's best baking books, along books by veteran authors Dorie Greenspan and Genevieve Ko. That's a pretty incredible distinction, especially when you consider that this is Irvin's very first cookbook. (BTW: congrats, dude.)
Overall, Marbled, Swirled, and Layered is an original idea full of other original ideas. I know for a fact that Irvin slaved over this book for years, and his endless hours of hard work show in every cup of flour and teaspoon of baking powder.
This cookbook is perfect for anyone who wants to take their baking to a new, more interesting place, where primary ingredients mingle and share the limelight with grace. The recipes are not difficult (save for a few intermediate recipes) and would make a great gift for beginning and seasoned bakers alike. I highly recommend Marbled, Swirled, and Layered.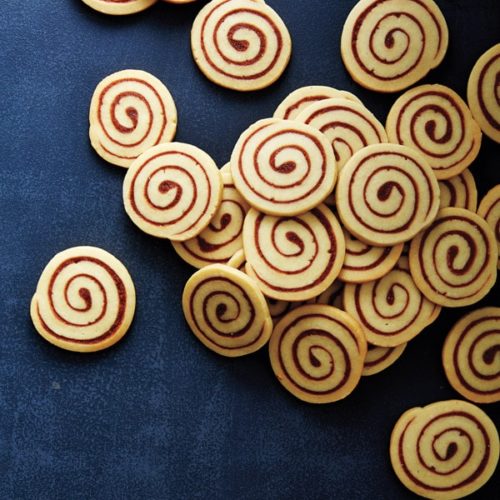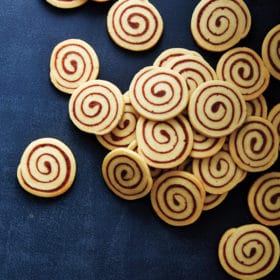 Cinnamon Honey Bun Cookies
From Irvin: I took these cookies to a holiday cookie swap years ago. The host, a fellow food blogger, let me know that she had invited a number of other food bloggers, which, in turn, made me feel the pressure to bring my A game. Not that food bloggers are judgmental, but you always want to present your best when faced with folks who write and make food for an Internet audience. Luckily these cookies more than did the trick and were snapped up quickly by everyone.
Print
Pin
Servings:
4
dozen cookies
Ingredients
Cookie Dough
1 1/2

cups (175 g)

powdered sugar

sifted

1

cup (225 g or 2 sticks)

unsalted butter

at room temperature

1/2

teaspoon

kosher salt

1/2

teaspoon

baking powder

2

teaspoons

vanilla extract

1

large

egg

2 1/2

cups (315 g)

all-purpose flour
Cinnamon Filling
6

tablespoons (85 g or 3/4 stick)

unsalted butter

at room temperature

1/4

cup (55 g)

packed dark brown sugar

3

tablespoons

all-purpose flour

1

tablespoon

honey

1

tablespoon

ground cinnamon

1/2

teaspoon

ground nutmeg
Glaze
2

tablespoons

honey

1

tablespoon

buttermilk or whole milk

1

teaspoon

vanilla extract

1/2 to 3/4

cup (60 to 90 g)

powdered sugar

sifted
Instructions
Make the cookie dough
Combine the powdered sugar, butter, salt, and baking powder in the bowl of a stand mixer fitted with the paddle attachment. Start mixing on low speed and slowly increase the speed to medium until the butter looks creamy and starts to cling to the sides of the bowl, about 2 minutes.

Add the vanilla and beat on medium speed until incorporated. Add the egg and beat until incorporated.

Add the flour and mix on low speed, then slowly increase to medium speed until the flour is incorporated and a dough forms. The dough will be soft.

Scrape the dough out onto a clean, floured surface and shape into a ball. Flatten into a circle and then square off the edges. Roll out the dough into a 13 x 14-inch rectangle with a long side facing you, occasionally adding more flour to the bottom and top of the dough so it doesn't stick.
Make the cinnamon filling
Combine the butter, brown sugar, flour, honey, cinnamon, and nutmeg in the mixer bowl (no need to clean it). Beat together until the filling is uniform in color, fluffy, and light, about 2 minutes.

Scrape the filling out onto the rolled-out dough and spread to cover the entire surface. You may need to use your fingers for this, as the filling will need to be spread thinly. Tightly roll up the dough starting from the bottom edge. Wrap with plastic wrap and freeze for 1 hour.

Preheat the oven to 350°F (176°C) and line baking sheets with parchment paper or Silpats.

Remove the dough from the freezer and unwrap. Carefully slice 1/4-inch-thick cookie disks from the rolled log, slicing straight down (do not saw back and forth). Place on the baking sheets, spacing the cookies about 1 1/2 inches apart. Bake until the edges of the cookies start to turn golden brown, 12 to 14 minutes. Let cool on the baking sheets for 5 minutes, then move to a wire rack to cool completely. Repeat with the remaining dough.
Make the glaze
Combine the honey, buttermilk, vanilla, and 1/2 cup (60 g) powdered sugar in a bowl and stir together. If the glaze looks too thin, add more powdered sugar, 1 tablespoon at a time, until it has thickened to the right consistency. Brush the glaze onto the cooled cookies with a pastry brush.
Notes
*Make sure the butter for the cinnamon filling is truly at room temperature or even slightly warmer than that. It makes spreading the filling so much easier.
* You can make and freeze this cookie dough for future baking. Once it's been frozen for an hour, place the log in a labeled zip-top plastic bag. Slice and bake cookies at your convenience. The dough should keep for up to 2 months in the freezer.
Nutrition
Serving:
2
cookies
|
Calories:
206
kcal
|
Carbohydrates:
26
g
|
Protein:
2
g
|
Fat:
11
g
|
Saturated Fat:
7
g
|
Monounsaturated Fat:
3
g
|
Cholesterol:
37
mg
|
Sodium:
56
mg
|
Potassium:
33
mg
|
Fiber:
1
g
|
Vitamin A:
400
IU
|
Calcium:
20
mg
|
Iron:
0.9
mg
Text excerpted from Marbled, Swirled, and Layered © 2016 by Irvin Lin. Reproduced by permission of Houghton Mifflin Harcourt. All photos © 2016 Linda Xiao. All rights reserved.