Today's German cucumber salad recipe – also known as gurken salat in German – is compliments of Thad Jones. Last week he shared the recipe for his Bavarian torte with nectarines, the dessert for said dinner, and there were several requests for the cucumber salad that he mentioned making as a side to his roast chicken. It also goes amazingly well with my pan to oven roast pork chops.
Well, dear readers, you're in luck! Thad's been generous enough to share his gurken salat recipe with you all… so be sure to say thanks in the comments. :) And if you think it's stressful to cook for someone else, check out these tips for making it easier.
Another invite for a picnic? Hmmmmm. Well, it's summertime after all, and social networking servers are doing their best to handle the demands for day parties, family get-togethers, and the all-encompassing invites from friends for nice BBQs that provide music but are BYOF(ood). This is perfect; free food all day, people from all over you haven't seen in awhile, and more food, music, and MORE food. Just get down to the grocery store and pick up an obligatory fruit platter, possibly the vegetable medley, or be really cheap and buy a few beers.
Why does it have to be this way, though? You could spend less money and put together a cool, refreshing cucumber salad that would feed plenty, and probably impress a few people along the way. If this happens to be a picnic with your girlfriend's family, then this would definitely put you ahead of the game.
German cucumber salad – or rather it's German name, Gurken Salat – consists of cucumbers, sweet onions, vinegar, sugar and… Das ist alles! The only caveat is that it NEEDS to soak for four hours or more, that way the flavour is bursting tart versus sweet, infused in every delicious bite. It would be best to prepare the salad the night before, although four hours ahead of time is plenty. I wouldn't let it sit less than two hours as the flavour intensifies the longer the cucumbers marinate.
Making Gurken Salat
First is picking out 4 large cucumbers. Not very hard for the vegetable section naive, though finding a nice sweet onion might prove to be harder. Ask someone working in that department for help. It can be a Vidalia or a Walla Walla onion, but any type will work for our purposes. Also pick up some dill. It can be fresh or dried. It's more a personal preference than a necessity for this salad. Apple cider vinegar is what I use, though white vinegar works fine, and if you don't have sugar, get some! Those two are going to provide the tartness and sweetness that makes this cold salad so amazing.
Prepping the cucumbers is simple. Use a potato peeler and get the skin off, or use a knife; just don't cut too much of the cucumber off. Now slice all the cukes so they are almost transparent. The thinner the slice, the more flavour it's going to have; you definitely want them sliced to no more than 1/8″ thick.
The onion is a bit more of a challenge. I'm not an onion person at all. I really dislike them to the point of always ordering food without. That said, the onion really adds to the overall flavour. It's not optional at all. However, if you cut the onion in thin round slices, people like myself can maneuver around them. I wouldn't use the entire onion as well. Depending on the size, anywhere from 1/2 to 1/4 will do. If you have fresh dill, cut up a tablespoon full.
There is no need to keep this German cucumber salad chilled when bringing it out. If you happen to bring other items that need to be chilled in a cooler, you can chill this too, but it's not necessary. This recipe should make enough for everyone to try a bit, but it can also be cut down for two people; I'll include the smaller amounts after the initial recipe. When people ask the name of it, it's cucumber salad, but honestly, say it in german: Gurken Salat. I guarantee than no one else will bring this, and it will win a lot of people over with it's unique flavour!
This German cucumber salad recipe is a perfect way to get more veggies into your diet. It's right up there with my favorite PF Chang's Lettuce Wrap recipe!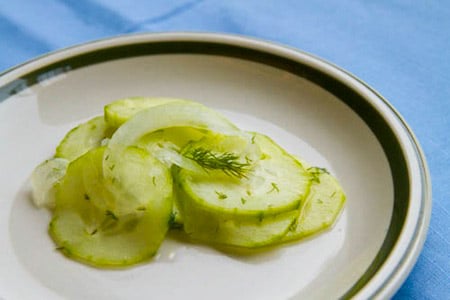 German Cucumber Salad Recipe or Gurken Salat
Nutrition Facts
German Cucumber Salad Recipe or Gurken Salat
Amount Per Serving
Calories 74
% Daily Value*
Sodium 182mg 8%
Potassium 312mg 9%
Total Carbohydrates 18g 6%
Protein 1g 2%
* Percent Daily Values are based on a 2000 calorie diet.
This pickled German cucumber salad, or gurken salat, is a fresh, tart dish perfect for picnics or a summer meal on a hot day. No cooking required!
Ingredients
3

tablespoons

sugar

1/3

cup

white or apple cider vinegar

1/4

cup

water

1/2

teaspoon

salt

4

large

cucumbers,

peeled, very thinly sliced

1/2

sweet onion,

thinly sliced

1

tablespoon

chopped fresh dill weed,

(or 1 1/2 teaspoons dried)
Instructions
In a medium mixing bowl, mix sugar, vinegar, water, and salt. Stir until the sugar and salt are dissolved. Now you need to taste; if it's too tart, add more sugar, 1 tablespoon at a time till you reach the point where it's neither too sweet nor too sour, but a balance of the two. Same goes for the vinegar - if you want it more tart, add more vinegar. If it's too strong, add more water. Set aside.

In a large serving bowl combine the cucumbers, onions, and dill. Pour the sugar-vinegar liquid over cucumbers and onions, letting them sit in the refrigerator for 4 or more hours. The longer it sits, the better it will taste! I would turn the salad once to make sure every bit of cucumbers gets coated. Serve at room temperature, or chilled.
If you like this German recipe, check out these others:
This content was originally posted on FearlessFresh.com.