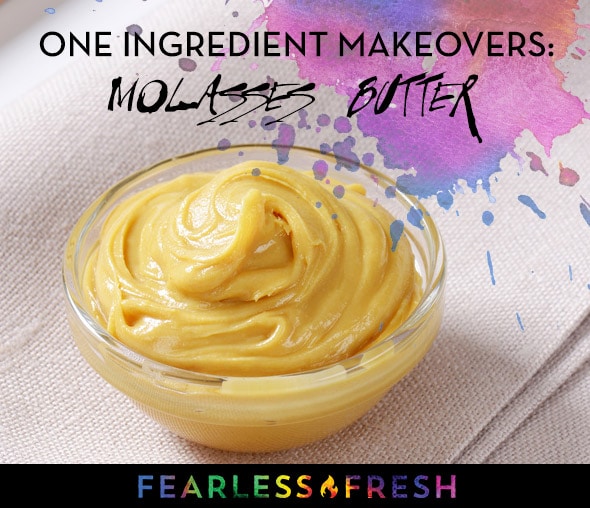 This molasses butter recipe is something I'm SO excited to share with you. If you're surprised that I'm posting such a short recipe, there's a reason for it: I'm starting an ongoing series called One Ingredient Makeovers: 1 single ingredient to supercharge your cooking. The purpose of this series is to show you that sometimes it only takes one small thing to cause a big effect, especially when it comes to flavor. I'll be highlighting single ingredients that pack mega-power in new ways, along with simple blends of a few humble items that together create a big change.
Now, on to our first One Ingredient Makeover: molasses butter.
I first had molasses butter in the foothills of the Sierra Nevada mountains, not far from where I live. Just before the roads start to climb upwards to 7,000 feet at Donner Pass, there are a few little towns scattered through the golden hills and miles of evergreens. One town in particular has become a regular stop on our day-trip travels: Nevada City. A sweet little town with a gold-rush feel yet cultured with modern sensibilities, Nevada City has a few amazing restaurants that we can't get enough of.
One place we almost always end up eating at is Bistro 221, located on the main drag just steps away from the famous National Hotel. Bistro 221 has some of the best fried chicken I've ever eaten; it's tender, flavorful, and crispy, without a lot of greasy heaviness. But it's not the fried chicken I'm writing about today.
Before your dinner arrives, the waitress always drops off a plate of freshly baked buttermilk biscuits and a little bowl of butter. The biscuits are pretty incredible on their own right, but for me, the real star is THE FREAKING BUTTER.
Now, I had no idea one could much improve upon the near-perfect combination of buttermilk biscuits and melty salted butter. It's probably one of my simplest, most favorite things in the world: how the biscuit erupts into a geyser of steam when you rip the top off, how the butter instantly turns into a blanket of creamy molten silk when it hits the hot bread. Seriously, how can it get any better than that?
Well, my friend. Let me educate you.
Molasses Butter: So simple, so good.
Someone, somewhere in Bistro 221's kitchen learned to combine butter with something I never would have considered: molasses. Apparently this was an old Southern idea, but I'd never heard of it. Even typing it here, I'm like, "Meh, sounds kind of weird." BUT! As it turns out, this combination of salty butter with the deep, earthy sweetness of molasses creates some sort of witchcraft that I can't even explain. (Well I could explain the science of it, but it would probably get boring really fast.)
The simple act of mixing soft salted butter and room temp molasses creates a spread that is the perfect amount of sweet, salty, creamy, and just firm enough to hold its shape when it spreads. It still melts like butter, so it doesn't lose that beloved molten quality, but it "sticks" more, if that makes sense. It really hangs onto that biscuit like its life depends on it.
I grilled my waitress about the molasses butter she'd just brought to the table and she was happy to share the ratio. So, I brought the recipe home and gave it a try, and guess what? It's delicious and easy and made me the happiest person in the world for like 90 seconds.
The recipe is below. If you like, you can adjust the ratio a little. Do you want a deeper flavor for your molasses butter? Well, add more molasses! Or are you looking for a subtler flavor? Then reduce the molasses by 25% to lighten its intensity. And if you're looking for a little extra something-something, I've included notes in the molasses butter recipe below to create something even more magical: gingersnap butter. If you're a huge gingersnap fan, be forewarned that this might change your life.
Molasses butter goes great with pretty much any bready item: biscuits, scones, toast, bagels, waffles, and pancakes (like these cherry coconut scones). This super simple one-ingredient makeover also goes particularly well with wholesome whole grain breads, like the crazy heavy kind with all the seeds and nuts on top. Spread onto a thick wedge of rye bread, molasses butter is a revelation.
I'm hoping to post more of these one-ingredient makeovers going forward. (Click the link for an archive of all of them — there will be more in the future.)
To do for you:
Follow the simple recipe below to make your own molasses butter. Seriously, it only takes 2 minutes to complete. Then slather it onto your favorite bread or scone. Enjoy!
Do you have an incredible one-ingredient makeover you'd like to share? Maybe it's a simple mixture that packs a surprising punch, or maybe it's one single ingredient that you've used in a new or unique way that totally needs to be shared. Either way, let me know! Send an email to help at fearlessfresh.com, because I'd love to hear about it. Maybe I'll make you the star of the next post. ?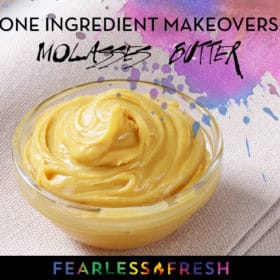 Molasses Butter
Molasses butter is a super simple, but CRAZY delicious addition to your flavor library. You can whip it up in literally 2 minutes and slather it on anything that you want to give a hint of gingersnap flavor. Goes great with scones, buttermilk biscuits, or even just spread onto toast. LOVE IT. I like a stronger molasses flavor so I add more molasses to my butter, but I've created this recipe to be a little more conservative, allowing you to taste and then add more if your taste prefers it.
Print
Pin
Ingredients
1

stick

unsalted butter

(1/2 cup), at room temperature

3

tablespoons

molasses

(more to taste)

1/4

teaspoon

salt
Instructions
Add butter and molasses to a small bowl and whip with a fork or small whisk until completely mixed. Taste and add more molasses if you like, whipping again before storing.

Transfer molasses butter to a small airtight container. Serve at room temperature. You can store your molasses butter in the refrigerator for up to a month.

See notes for the gingersnap butter variation!
Notes
Variation - Gingersnap Molasses Butter: If you want to make gingersnap butter, add 1/4 teaspoon of ground ginger and a small pinch of ground cinnamon to the butter along with the molasses. Taste after mixing, and add more ginger or cinnamon if you want a stronger flavor. So good! If you're feeling sassy, you can even add the tiniest pinch of ground cloves. (Be careful -- a little goes a loooooong way!)
This content was originally posted on FearlessFresh.com.
Nutrition
Serving:
1
g
|
Calories:
122
kcal
|
Carbohydrates:
5
g
|
Fat:
12
g
|
Saturated Fat:
7
g
|
Monounsaturated Fat:
3
g
|
Cholesterol:
31
mg
|
Sodium:
187
mg
|
Potassium:
116
mg
|
Vitamin A:
450
IU
|
Calcium:
20
mg
|
Iron:
0.4
mg
This content was originally posted on FearlessFresh.com.