– This orange marmalade recipe packs a bunch with Clementines, cranberries, and… tequila. WOOT!! –
When I first thought of adding booze to my canned fruit, I pretty much stuck with sweet liquors such as spiced rum. They gave the jam a boost, much like vanilla does in my strawberry-cranberry jam, but didn't really stand on their own. (Which was fine – I was looking for subtlety more than anything else.) I made a variety of boozy jams and marmalades, which were all incredibly good; the alcohol flavor cooks off, leaving only an interesting—and often unidentifiable—complexity of flavor. When adding liquor to a jam or marmalade recipe, I always kept my pouring hand under control so that the liquor was not a major player in the flavor profile. I was constantly asked questions by anyone who tastes these jams – "What is that I'm tasting?" they'd wonder aloud. "Whatever it is, it works!"
It finally occurred to me to try adding harder liquor to my fruit preserve recipes. (One for the pot, one for me…) My mind started racing with ideas of delightfully bracing gin jams, piquant vodka compotes, and yes, maybe even a tequila marmalade. The goal was to give the liquor a stronger supporting role, making sure to keep its personality under control. No breathing fire from my jams, thankyouverymuch.
Over the years I've not had a great relationship with tequila. We butted heads a few times when I was in my late teens and early twenties, leaving me in the exact position you'd expect after having a bad date with Senior Cuervo. In fact, I can still barely think about those nights without feeling queasy. But after a hotshot tequila tasting in Mexico that lessened my fiery hatred of the stuff, I've learned that tequilas can have a range of complex qualities, and that this frighteningly boorish liquor might actually have culinary value in the sweet section of the kitchen.
So I tried a few different fruit combinations, finally coming up with an orange marmalade recipe that reminds me of the very drink that left me torn and tattered in my younger years: the tequila sunrise. It worked surprisingly well, tempting everyone who tasted it with a second and third helping. I even added some champagne to my peach freezer jam recipe to make it more bellini-like, and it was a huge hit.
The key to making this orange marmalade recipe work is to not go overboard. Booze be booze, as they say, and your jam will taste unpalatably alcoholic if you add too much. Ideally, alcohol will give your jam just a nudge in the flavor department without knocking your tasters on the floor. This is a weekday morning breakfast treat, after all, and not a Friday night smack-you-silly indulgence. Also, this recipe does not require pectin – cranberries contain all the pectin you'll need to hold this marmalade together.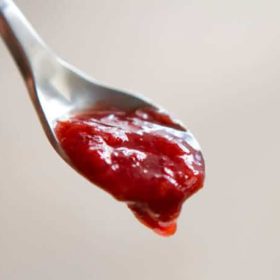 Tequila Sunrise Clementine Orange Marmalade with Cranberries
I like sweet-tart jams, and this marmalade recipe is one of the best I've tried. Sweet Clementine oranges explode with even more flavor when coupled with a tart hug from bright-red cranberries, and the whole thing is given a buzzy kiss from a a mere hint of tequila. The booze cooks off, so no worries there! With the alcohol gone, this jam is left with a complex flavor of sweet orange, gently bitter rind, and the autumn depth of cranberries. Little bits of zest add a lively texture to this tenderly bitter marmalade, which goes amazingly on toasted brioche or stirred into yogurt.
Print
Pin
Servings:
6
(8-ounce) jars of jam
Ingredients
4

pounds

Clementine oranges

scrubbed clean

1

pound

cranberries

fresh or frozen

1 1/2

cups

hot water

1/4

cup

high quality tequila

4

cups

sugar

1/2

teaspoon

butter

1/4

teaspoon

salt
Instructions
Place a small ceramic plate in the freezer to test the marmalade for proper thickness later. Sterilize your jars and lids.

Remove the zest from the Clementine oranges. Add the zest to a large, deep, heavy-bottomed pot. Remove the remaining peels from the oranges and wrap them in cheesecloth. Wrap the cheesecloth into a bundle and tie with butcher's twine. Add to pot.

Use a sharp knife to cut the Clementine slices in between the pith into clean segments, making sure to work over a bowl to catch any escaping juice. (

See video here

.) Squeeze all the juice from the trimmings of pith. Save the juice and discard the pith.

Chop the orange segments into coarse chunks that are about 1/2-inch across. Add the orange chunks to the pot with the zest and peels. Add the juice you saved while segmenting the oranges to the pot as well.

Whiz the cranberries in a food processor until they are coarsely chopped, about 3-4 pulses. Add cranberries to pot.

Add hot water to the pot and bring to a boil over medium heat. Once boiling, turn heat to low and simmer for 20 minutes. Remove from heat and allow to cool somewhat. Once it's at a temperature you can handle, remove the bag of peels from the pot and gently squeeze the juice from the bag. Do not wring it completely, which will make the marmalade excessively bitter—-just release any loose, excess juice absorbed by the peels and then discard the bag.

Add tequila, sugar, butter, and salt to the pot, stirring to combine. Cook over medium heat, stirring frequently, until the fruit begins to bubble and spit. Cook for 30 more minutes, stirring every few minutes to keep the fruit from sticking to the bottom and burning.

Begin testing the marmalade for doneness: Spread 1/2 teaspoon of the marmalade on the cold plate and set it back in the freezer for 30 seconds, then run your finger through the fruit. It should be thick enough to maintain a clear path when you run your finger through it. If you'd like your marmalade thicker, place the plate back in the freezer and cook the fruit for another 4 minutes and test again. Repeat until desired thickness is achieved. Be careful not to cook the marmalade too long or you will alter the taste and texture of the finished product.

Remove pot from heat and use a spoon to skim any foam from the surface of the fruit. Ladle marmalade into sterilized jars and process them in a hot water bath for 10 minutes. Unopened jars can be kept at room temperature for up to 6 months. Opened marmalade should be refrigerated and will last two weeks.
Notes
SPECIAL EQUIPMENT: cheesecloth, six 8-ounce sterilized mason jars, water bath for processing
NOTE: If you can't find cranberries, look in the freezer section! Make sure they are defrosted before using. Also, this recipe does not require pectin - cranberries contain all the pectin you'll need to hold this marmalade together.
Nutrition
Serving:
2
tablespoons
|
Calories:
84
kcal
|
Carbohydrates:
21
g
|
Sodium:
12
mg
|
Potassium:
50
mg
|
Fiber:
1
g
|
Vitamin A:
250
IU
|
Vitamin C:
13.2
mg
This content was originally posted on FearlessFresh.com.