Learning how to make cottage cheese at home is so easy. In fact, you can do it in five minutes and only three ingredients (one of which is salt).
This recipe is so simple that even total beginners can do it successfully. Advanced cooks will still love being able to make their own cheese at home in very little time.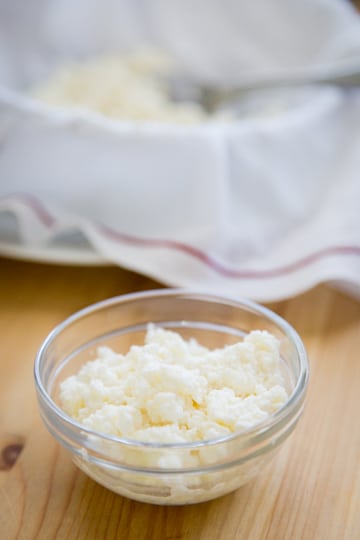 – After making blueberry pecan buttermilk pancakes, try this homemade cottage cheese recipe with the leftover buttermilk. –
How to Make Buttermilk at Home — 5 Minutes
This is another post in an ongoing series that highlights amazingly easy recipes that maximize your time in the kitchen. Because I'm overly fond of alliteration, I've dubbed it the Super Simple Series.
I'll be sharing a series of DIY projects to whole dishes, and every last one of them will take almost no work.
Amen to that!
To start the series, I've got something really fun and interesting: making homemade cottage cheese. This recipe will come in handy when you've got extra buttermilk leftover from some other dish.
Ever wondered what to do with all the leftover buttermilk after you make pancakes? Or biscuits? Or a cake/pie/whathaveyou? Buttermilk isn't cheap and no one likes to waste food. The best trick I've found is to turn it into cottage cheese.
It's true. You can learn how to make cottage cheese at home with just buttermilk, cream, and salt. And… the cream is optional. So you could totally get away with this with just two ingredients.
Why is it better to make homemade cottage cheese instead of using store bought? Well, as I said above, it's a fun way to use up excess buttermilk so you don't have to throw it away. But, if you make it at home, you can also flavor your cottage cheese with tasty things like fresh herbs and other flavors.
I personally like adding a little chopped parsley and chive to my DIY cottage cheese. You can also sprinkle it with a little lemon juice to give it a really amazing ZING of flavor.
What else is in the Super Simple Series? You can also learn how to make mint tea with fresh mint, or try your hand at making homemade ricotta cheese with Meyer lemon.

Homemade cottage cheese is SO simple
This simple recipe is perfect for whatever amount of buttermilk you've got left. Technically it takes no additional ingredients, though we're adding salt and cream to improve the flavor and texture of the finished cottage cheese. You can leave them out if you like, but I encourage you to give them a try first.
At its simplest, you don't even need to measure anything for this recipe. All you have to do is pour some buttermilk into a pot, heat it for a few minutes, and let it sit.
That's it. See, I told you it was super simple!
Also, here's a fun aside. When you make your own cottage cheese at home, you're making curds and whey — just like in the Little Miss Muffet nursery rhyme. ;)
I found this idea in one of the Short Stacks Editions I picked up last year. I love these little cookbooks; they're clever and creative, and since they're so short, they really get to the heart of cooking with no extra fluff. I highly recommend you check them out. They're a lot of fun and pretty cheap.
And in case you don't believe me when I say how easy it is to make this homemade cottage cheese recipe at home, with just your leftover buttermilk, let me give you a visual guide: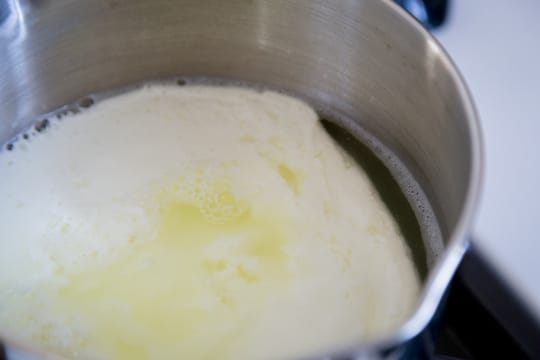 First you heat the buttermilk over a gentle heat. It begins to form curds, even with no added acid. Be careful to not crank the heat, or your homemade cottage cheese will scorch to the bottom of the pan and the entire batch will taste burnt.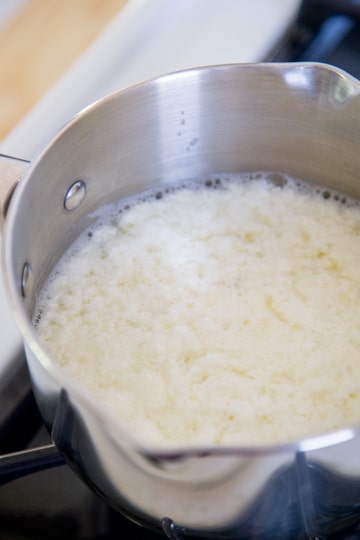 It only takes five or so minutes for the curds to form. You'll notice that little white lumps begin to appear almost out of nowhere. These are your curds, and the body of all cottage cheese, whether it's homemade or store-bought! Yes, you just made curds and whey. Woot!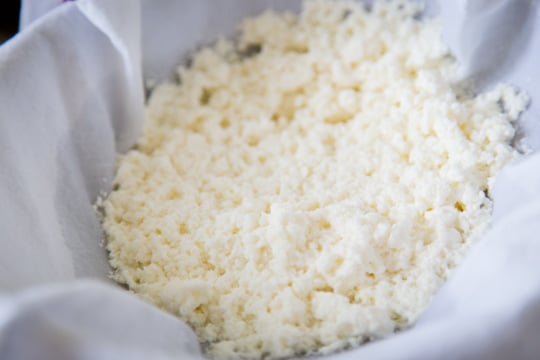 Strain your homemade cottage cheese through some cheesecloth, a cotton tea towel, a fine-mesh metal strainer, or even a coffee filter.
If you want to save the whey (the liquid that drains off) you can do so by placing a bowl underneath your homemade cottage cheese as it drains. You can use the whey for soups, stews, or as a general protein supplement. It's very high in protein.
What's next? Here's where we stir stir in a little salt and cream for flavor. You can use whole milk or half & half as well, if you'd like a lighter cottage cheese. Chopped fresh herbs go well, too, as does giving it a light sprinkle of lemon juice to give it a tart, fresh flavor.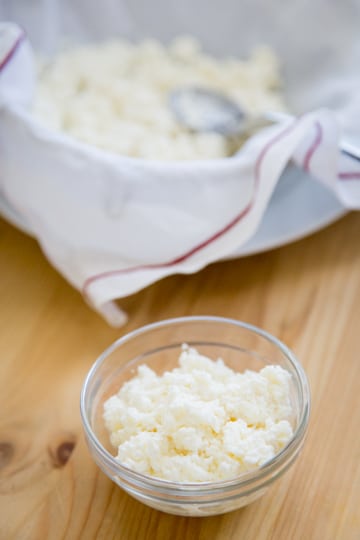 That's it! You just learned to make cottage cheese at home, just like a pro cheese maker. How awesome is that?
If you're looking for another easy homemade cheese recipe, I've also got this ricotta cheese recipe, made with lemon juice.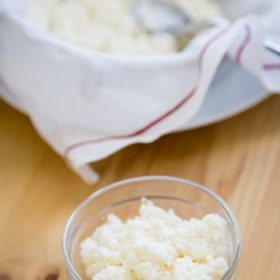 How to Make Cottage Cheese at Home in 5 Minutes
Learning how to make cottage cheese at home is the perfect way to use up all that leftover buttermilk after making pancakes, biscuits, or any other buttermilk-based cooking project. Homemade cottage cheese is so simple even a child could do it. In fact, this is a great recipe to make with the kids.
Print
Pin
Ingredients
4

cups

buttermilk

3

tablespoons

heavy cream

(optional)

1/2

teaspoon

salt
Instructions
Heat buttermilk in a large saucepan over low heat. Watching carefully, allow the buttermilk to heat until it steams and small bubbles slowly saunter to the surface, but do not let it boil. 

As the buttermilk heats, you'll notice curds form. Don't stir, which will break up the small curds even smaller. Once the buttermilk is about to boil, remove from heat and let sit for 5 minutes.

Line a strainer with cheesecloth of a clean cotton handkerchief. Discard the whey, if you like, or keep it for another use. (See notes.) Allow the curds to sit in the strainer until completely cooled, about 20 to 30 minutes. 

Transfer the cottage cheese to a bowl and gently fold in heavy cream and salt, being careful not to smash the curds. Salt to taste, if you think it needs more salt. This is also when you would add any chopped fresh herbs or lemon juice it give it more flavor.

Homemade cottage cheese keeps in the refrigerator for up to a week in an airtight container.
Video
Notes
Homemade cottage cheese is a GREAT way to use up extra buttermilk. You can further prevent food waste by saving the whey from this recipe.
If you want to keep the whey that's leftover after you make your cottage cheese at home, store in in a sealed container in the fridge for up to a week. You can add it to soups, smoothies, or rice/pasta cooking water for a little extra flavor and protein.
If you don't want to use cream, you can sprinkle in a few tablespoons of half & half or whole milk. Or leave it out altogether for a drier, firmer homemade cottage cheese.
You can also stir in chopped herbs for a really amazing experience.
Nutritional analysis is based on using the heavy cream.
Nutrition
Calories:
137
kcal
|
Carbohydrates:
12
g
|
Protein:
8
g
|
Fat:
6
g
|
Saturated Fat:
4
g
|
Monounsaturated Fat:
2
g
|
Cholesterol:
24
mg
|
Sodium:
528
mg
|
Potassium:
379
mg
|
Vitamin A:
250
IU
|
Vitamin C:
3.3
mg
|
Calcium:
290
mg
|
Iron:
0.2
mg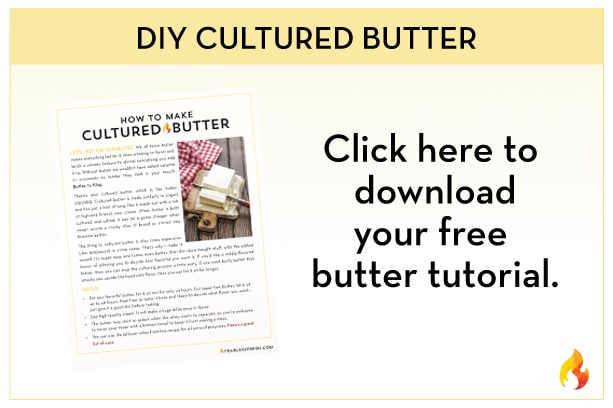 This content was originally posted on FearlessFresh.com.