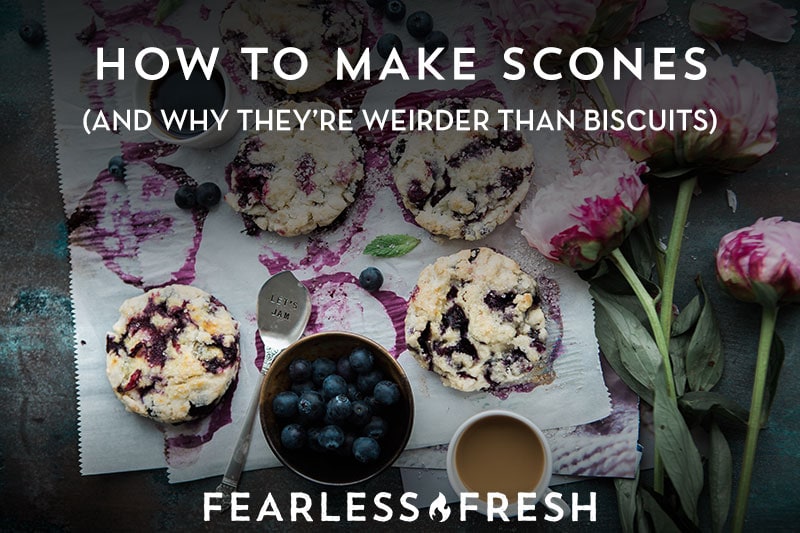 Why learn how to make scones? Well, when you buy a scone, you don't always know what you're going to get. That's because scones are tricky and not every baker makes them the same way. Part of the finesse of making scones is in the process itself. (Read: it's specific AF.)
How to make scones: more than weird-shaped biscuits
Scones are the product of a muffin-on-biscuit love affair. ? They have the structure of a biscuit, but the softness of a muffin. If we look at the ingredient ratios for muffins and biscuits (a brilliant way to make any recipe customizable and simplify your baking) we see that scones lie somewhere between the two (and that goes for vegan scones as well):
Basic muffin recipe: 2 parts flour, 1-part fat, 2 parts liquid, 1 egg, plus baking powder and sugar
Basic biscuit recipe: 3 parts flour, 1-part fat, 2 parts liquid, no egg, plus baking powder
Basic scone recipe: 3 parts flour, 1-part fat, 2 parts liquid, 1 egg, plus baking powder and sugar
Basically, scones are like a biscuit but with eggs and sugar added. These two additional ingredients take the pastry from flakey, light, and relatively plain, to a more dense, airy, and sweet-but-not-overly-so. When learning how to make scones, this is an important distinction to make.
The process for how to make scones
The first thing to know about making scones is that all ingredients must be cold. The characteristic fluffy texture of scones depends on this! This includes the butter, the eggs, and even the dry ingredients. After combining the dry ingredients, stick the bowl in the fridge for 20-30 minutes for optimal chillage.
Cold butter is cut into the dry ingredients, breaking it into teeny-tiny flour-coated pieces. When I say "cut," I mean the butter is coarsely combined with the dry ingredients, using your hands or a pastry cutter (affiliate link), which leaves cohesive chunks of butter within the mixture. These bits of butter need to stay cold until the scones hit the oven.
In the heat of the oven the cold butter melts and creates steam, and the space around the once-fully-solid butter becomes a pocket of air and steam within the dough. The dough cooks around these pockets, and the result is the fluffy, delightful, somewhat structured crumb of a scone.
If the ingredients are too warm — even room temperature — before they go into the oven, the butter softens before baking. Melted butter means no glorious pockets of steam and air. No glorious pockets means dense, dry, non-scones. Got it?
Baking scones at home is a great way to experience the pastry in all its glory; fresh from the oven, airy but dense at the same time, hints of flavor and mix-ins catered to your liking. Making them from scratch also allows you to flirt with the different variations of the scone process itself.
If you're a biscuit person, you might make your scones more flakey and round. If you're a muffin person, maybe you make them with powdered sugar or coat your scone in a sweet glaze. As with everything, making scones from scratch puts you in the driver's seat of your pastry experience.
No matter what style of scones you prefer, don't forgot the toppings… such as molasses butter or homemade clotted cream.
Scone Recipe
Learning how to make scones from scratch is a great way to experience the pastry in all its glory; fresh from the oven, airy but dense at the same time, hints of flavor and mix-ins catered to your liking.
Note: remember, all of the ingredients need to be cold! So leave about 30 minutes before baking to prep the early ingredients and put them in the fridge to chill.
Print
Pin
Ingredients
2

cups

all-purpose flour

3

tablespoons

sugar

1

tablespoon

baking powder

3/4

teaspoon

salt

6

tablespoons

unsalted butter

cold

1/3

cups

heavy cream

plus more for topping

2

large

eggs

lightly beaten

Sugar

for topping
Instructions
30 minutes beforehand, preheat oven to 400ºF

(204°C)

. Line a baking sheet with parchment paper and set aside.

Cut butter into 1/2-inch cubes and place in the fridge or freezer to keep cold.

Measure cream into a large liquid measuring cup, add eggs, and beat lightly. This will save you time later! Place the cream-egg mixture in refrigerator to keep cold.

Sift flour into large bowl. Add sugar, baking powder, and salt. Whisk until fully mixed. Set the bowl in the refrigerator to keep cold.

Once the butter is chilled, cut it into dry ingredients using a pastry cutter or two forks. (

Here's a video on how to cut butter into flour.

) Continue to work butter into mixture until it's broken into pea-sized pieces. The mixture will become a coarse meal-like texture, but it's okay to have some larger (bigger being pea-sized) chunks of butter. These chunks will create your gorgeous texture later!

Make a well in the center of the mixture with a wooden spoon. Pour wet ingredients into the center. Gently mix the dough just until the wet ingredients are fully incorporated. Do not overmix! It's not supposed to be mixed all the way. It should have a messy look to it.

IMPORTANT!! Here's the thing: you're probably going to think it's too dry at first. If you're used to making muffins, cakes, and cookies, you might be used to dough that's thoroughly moist and a little dense. This is not how scones work. The dough is going to be a little moist at best, and definitely lumpy.

Now put the whole thing in the fridge for 10 minutes, so it chills back up.

Turn dough over onto lightly floured surface. Gently knead once or twice to bring dough together. The goal is to take the dough just to the point that it doesn't fall apart. Once it stays together, stop kneading. It should literally only need one or two pushes.

Shape the dough into a rough square, about 1 ½ inches thick. Grab a sharp knife, stick it into your flour container to coat it in flour, and cut the square into four equal squares. Re-flour your knife and cut each square diagonally to form a total of eight triangles.

Transfer the scones to the baking sheet lined with parchment. Brush the tops of the scones lightly with heavy cream (don't soak them!) and sprinkle with a little extra sugar. Pop those babies into the oven for about 18 minutes, or until they're golden brown. Rotate the pan halfway through baking. Serves warm, topped with butter or cream, or allow to cook completely before putting in a sealed container. Should keep for 5 days if well sealed.
Notes
Scones are best served fresh out of the oven because they dry out quickly, giving them a dense texture. We recommend planning to share the whole batch as soon as they're done! If you do want to save them, allow them to cool completely before storing in an airtight container. Aim to finish them off in the next day or two.
Nutrition
Serving:
1
scone
|
Calories:
262
kcal
|
Carbohydrates:
29
g
|
Protein:
5
g
|
Fat:
14
g
|
Saturated Fat:
8
g
|
Polyunsaturated Fat:
1
g
|
Monounsaturated Fat:
4
g
|
Cholesterol:
90
mg
|
Sodium:
406
mg
|
Potassium:
61
mg
|
Fiber:
1
g
|
Vitamin A:
26600
IU
|
Calcium:
1230
mg
|
Iron:
0.4
mg
Once you have the basic scone recipe down pat, scones offer a limitless number of mix-ins. Some of my favorites are: