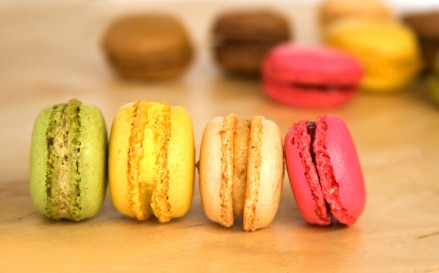 – What is the difference between macarons and macaroons? – 
This conversation recently came up in the cooking ninja support group. I'd like to clear this up once and for all. A lot of people are confused about a basic question: what is the difference between macarons and macaroons? No, they are not the same thing!
First off, macarons are sandwich cookies, filled with some sort of fruity or creamy filling. (Like this quick and easy cheater's Devonshire cream.)
Macaroons, with two Os, are tender mounds of shredded coconut that generally have no filling at all.
Behold, the macaron: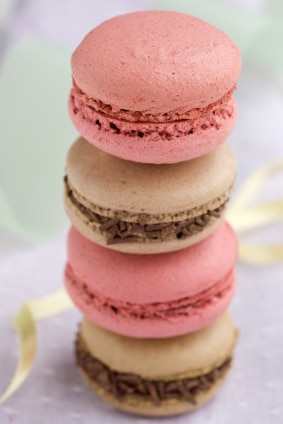 And now, the macaroon: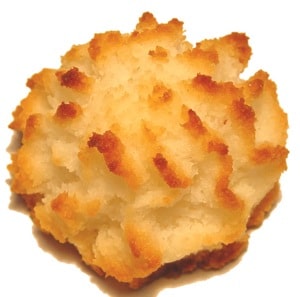 See the difference?
While both recipes are gluten free by default, they're entirely different cookies. The sandwich-like French macaron is more of a meringue cookie, getting its light, airy texture from a combination of almond flour and egg whites that have been gently folded together.
The Southern coconut macaroon, on the other hand, is a hearty lump of sweetness made of shredded coconut and condensed milk.
While you can prepare coconut macaroons in about ten minutes, French macarons are generally more difficult to make – though not so impossible that they elude the home cook.
Below are two recipes, one for each for basic French macarons as well as coconut macaroons. And for your further French pastry education, here are a few different macaron recipes I have on the site:
Enjoy!
French Macaron Recipe
Author:
Stephanie Stiavetti
Nutrition Information
Serves:

Makes 50-sandwiched macarons
Serving size:

1 cookie

Calories:

108
Fat:

7g

Saturated fat:

3g

Unsaturated fat:

4g

Carbohydrates:

11g

Sodium:

7mg

Fiber:

1g

Protein:

2g

Cholesterol:

11mg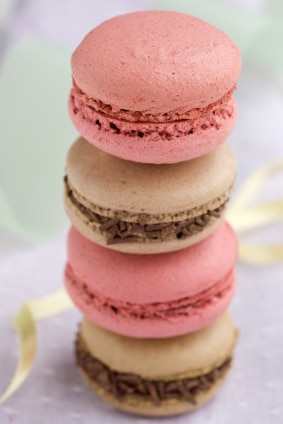 (Recipe swiped from Diana's Desserts - check out her site for other amazing recipes like bourbon truffles and chocolate marshmallows!)
Ingredients
For the macarons:
10 ounces powdered sugar (aka, confectioners sugar)
10 ounces finely ground almonds
5 large egg whites
Pinch of cream of tartar
1/3 cup granulated or superfine bakers sugar
Red and yellow food coloring
For the filling:
9 ounces unsalted butter, softened
5 ounces confectioners' sugar, sifted
2 ounces finely grated orange zest
1 teaspoon orange blossom water or orange flower water
1/2 cup raspberries
1 teaspoon rose flower water
Instructions
For the macarons:
Using a fine sieve, sift confectioners' sugar and finely ground almonds, pushing through with a wooden spoon.
Using an electric mixer, whisk egg whites until foamy. Add cream of tartar and whisk until soft peaks form. Add sugar, 1 tbsp. at a time, and whisk until dissolved. Stir meringue mixture into almond mixture (mixture will be stiff), then halve. Tint one half pink, the other half orange.
Spoon 1 mixture into a piping bag fitted with a 1/2-inch plain round tip. Pipe walnut sized rounds onto parchment paper-lined baking sheets, then repeat with other mixture. Set meringues aside, uncovered, on baking sheets for 1 hour (this will help minimize cracking).
Preheat oven to 300°F (149°C) and bake macarons, 2 baking sheets at a time, swapping sheets halfway through cooking, for 20 minutes or until firm to the touch. Remove from oven and cool on baking sheets. Slide a knife under each macaron to release from paper, then store in an airtight container until ready to fill.
For filling:
Using an electric mixer, beat butter until pale and fluffy, then gradually beat in confectioners' sugar until combined. Transfer half the mixture from the bowl to another bowl and add orange zest and orange blossom water. Stir to combine. Add raspberries and rose flower water to remaining mixture in mixing bowl and, using the electric mixer, beat until well combined. Sandwich pink macarons with raspberry filling and orange macarons with orange filling.
Notes
Tip: To create a perfectly smooth top on your macaroons, dip a finger into a bowl of water and gently smooth out any peaks.

This content was originally posted on FearlessFresh.com.
Coconut Macaroon Recipe
Author:
Stephanie Stiavetti
Nutrition Information
Serving size:

1 cookie

Calories:

69
Fat:

3g

Saturated fat:

3g

Unsaturated fat:

trace

Carbohydrates:

9g

Sodium:

50mg

Fiber:

trace

Protein:

1g

Cholesterol:

3mg
Prep time:
Cook time:
Total time: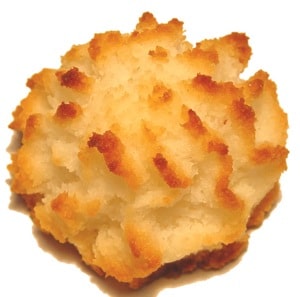 Macaroons are tender cookies made of shredded coconut and condensed milk.
Ingredients
3 cups shredded coconut
1 cup sweetened condensed milk
1/4 teaspoon salt
2 teaspoons vanilla extract
1/2 teaspoon almond extract
Instructions
Generously grease two baking sheets, or use silicon baking sheets. Combine all of your ingredients and stir until completely blended.
Drop by teaspoonfuls, 1 inch apart, on prepared baking sheets. Gently press down with the back of your spoon to give them a uniform shape.
Bake at 350°F (176°C) for 15 minutes, or until cookies are golden brown. Allow to cool before removing from baking sheet.
Makes 30-36 cookies.
Notes
This content was originally posted on FearlessFresh.com.
Further macaron reading, in case you're still curious, or intimidated (don't feel bad, I was too):